Two weeks after the controversial Kendall Jenner ad brought Pepsi to its lowest consumer perception levels in nearly 10 years, the brand is showing early signs of a slow recovery.
Possible reasons for Pepsi's protracted recovery: being lumped together with United Airlines' woes in the media, and the press hounding Kendall Jenner at Coachella about the commercial.
The ad was pulled on April 5th, only 24 hours after it first appeared, prompted by a swift consumer backlash against the appropriation of protest imagery to market soft drinks. The company also apologized immediately in statements both to the public and Jenner herself.
Pepsi may also experience some weakness in its next earnings period according to YouGov BrandIndex's purchase consideration metric, a key indicator of potential future revenue.
On April 4, the day the ad aired, 28% of adult consumers stated that they would consider buying Pepsi the next time they wanted to purchase a carbonated soft drink. By April 12th, that percentage had dropped to 20%. As of this past Monday, Pepsi had managed to recoup half of its decline with its score at 24%.
YouGov BrandIndex measured consumer perception in this research with its Buzz score, which asks respondents: "If you've heard anything about the brand in the last two weeks, through advertising, news or word of mouth, was it positive or negative?"
A score can range from -100 to 100 with a zero score equaling a neutral position. Example: A score of 35 means that 35% more people said they were positive than negative about the brand.
On April 4th, Pepsi's Buzz score was 9, falling to -7 by April 11th. One week later, their Buzz score slowly pulled back to -3, but still below its pre-crisis level.
Buzz: Pepsi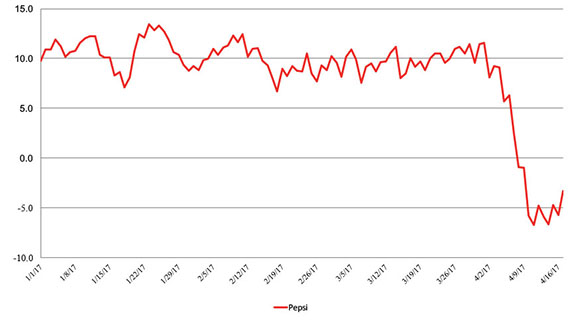 Purchase Consideration: Pepsi