Two years after overpricing allegations were leveled at Whole Foods, which ultimately forced it to apologize, pay fines, and attempt to woo back customers with some lower prices, the grocer shows no signs of value perception recovery.
Whole Foods' consumer value perception typically runs well below its closest competitor, Trader Joe's. And while Whole Foods CEO John Mackey once argued in the Los Angeles Times that its "Whole Paycheck" nickname was "fundamentally a myth," the false labeling crisis seems to have led to a long term decline in value perception. The brand, which was close to neutral on value perception pre-crisis, has been firmly in negative territory since the findings were unveiled.
Furthermore, the fallout seems to have impacted Whole Foods' purchase consideration score, a key metric of potential sales revenue. Before the incident, about 15% of adults would consider making their next grocery shopping purchases there, versus Trader Joe's range of 21% to 22%. Whole Foods purchase consideration is now tracking lower, averaging 13% since the crisis.
YouGov BrandIndex measured value perception with its Value score, which asks respondents: "Does it give good value for what you pay?"
A score can range from -100 to 100 with a zero score equaling a neutral position.
Value: Whole Foods vs. Trader Joe's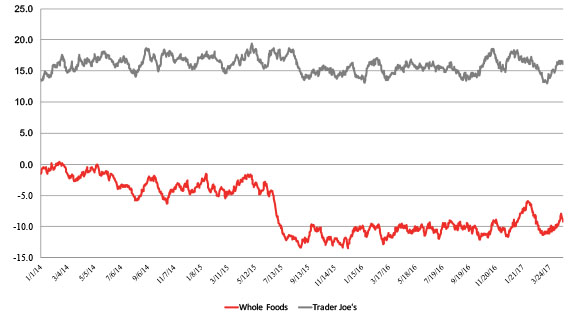 Purchase Consideration: Whole Foods vs. Trader Joe's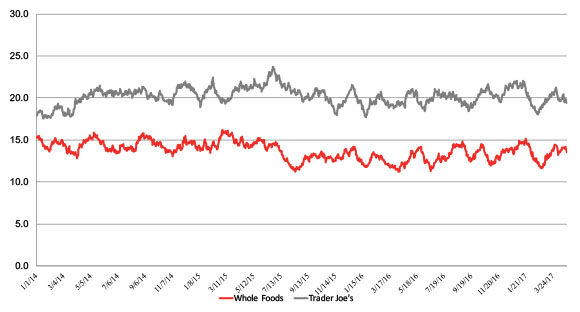 Photo: Getty