45% of US adults have left a review on Amazon
Last Tuesday, famed comedian Aziz Ansari joined Jimmy Fallon on "The Tonight Show" to read aloud angry Yelp reviews and dramatically recite heated online exchanges between customers and business owners. While completely comical, the segment also emphasized the very real "review culture" which has blossomed on the internet, where people don't just buy products and services, but interact with and critique them.
New YouGov data investigates this phenomenon, revealing that while one in ten US adults have left a review on Yelp (11%), over four times that number, 45%, have taken time to write a review on Amazon. Amazon was by far the most popular site for reviews among survey respondents, topping other popular outlets like Rotten Tomatoes and Seamless.
While there is a significant chance that the reviews read during Ansari and Fallon's Yelp sketch were indeed authentic experiential narratives, nearly a quarter of reviewers have written about a product or service that they've never actually bought, used or tried (24%). Of the 24% who have indulged in writing fake reviews, almost a third (30%) have written one simply because they "felt like it."
Gender also seems to play a role in why people leave false reviews. For example, men are more likely than women to write one because they think their actions are humorous – 28% to 8% respectively.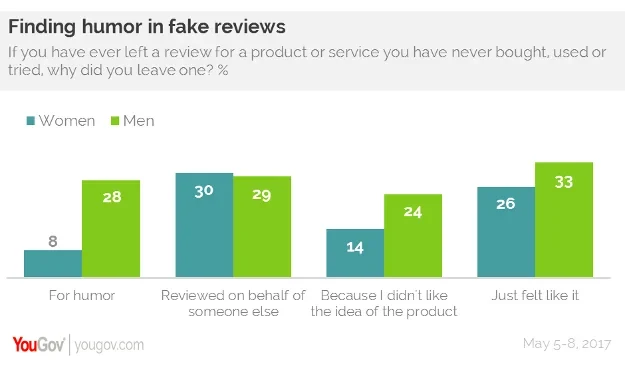 Despite the possibility that reviews are not genuine, 34% of Americans always check them before purchasing something – only 6% never read reviews.