Since the introduction of the American Healthcare Act of 2017 to Congress in March, quality perception of health insurance companies has trended downward except with one distinct demographic: baby boomers, according to YouGov BrandIndex, the only daily brand consumer perception research service.
The "fifty and over" demo maintained the highest quality perception levels of the health insurance industry since the Obama-era launch of Healthcare.gov on October 1, 2013, up until now. For many aging boomers, insurance companies are a bigger lifeline than ever before, perhaps explaining the higher quality perception among that group.
But quality perception among adults under 50 has been declining recently, after trending upward since October 2013. Fear of losing or paying more for benefits is a possible factor in this slide.
Millennials also appear sensitive to benefits that might matter most to them: the demo's quality perception spiked when the government required health insurance providers to cover birth control and preventive services for transgender people.
It's too early to say whether or not this three month slide will continue. The answer may very well depend on the final version of the AHCA health care bill, and whether or not it is ultimately passed by Congress and signed into law.
For each age demographic, YouGov BrandIndex measured several of the biggest health insurers with its Quality score, which asks respondents "Is it high quality or low quality?"
A score can range from -100 to 100 with a zero score equaling a neutral position.
Quality: Health Insurance Industry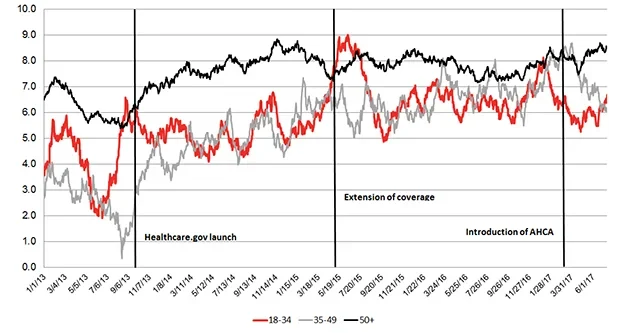 Health Insurance Industry includes metrics for Aetna, Anthem Blue Cross, Blue Cross/Blue Shield, CIGNA, Humana, Kaiser Permanente, and UnitedHealthcare.