Data shows that 40% of US consumers are open to purchasing the brand when next shopping for footwear and apparel
After a year of beating earnings estimates, Nike is scheduled to release its Q1 FY2018 results next week.
According to recent numbers recorded by YouGov BrandIndex, consumer perception of the athletic colossus has recently pulled away from competitors Adidas and New Balance in terms of Quality. At present, US adults aged 18+ give Nike a Quality score of 53, compared to 37 for Adidas and 33 for New Balance. All this happens as the NBA season gears up, and both LeBron James and Kevin Durant release their latest signature Nike sneakers.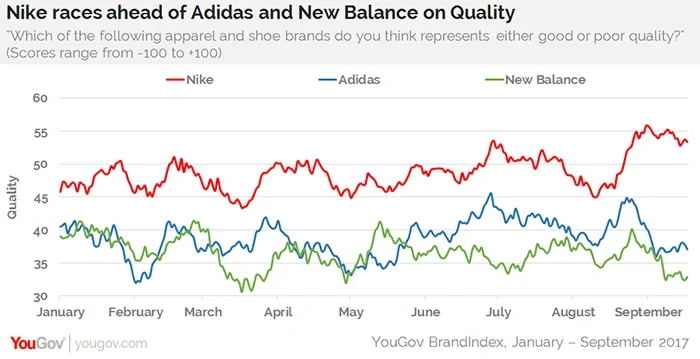 With the recent gap in Quality comes a bigger distance in Purchase Consideration, too – meaning more consumers are open to buying Nike than Adidas and New Balance when next in the market for athletic gear. The Purchase Consideration gap between Nike and its two rivals began around mid-June, when Nike began its six-point climb. Since then, Adidas' score has remained relatively stable, while New Balance's experienced a decline.