Welcome to the ninth installment in a series that delves into the latest insights from the YouGov Affluent Perspective 2017 Global Study. Throughout the year, we study the attitudes, lifestyles, values, and shopping behaviors of the world's most successful households.
Pressure continues to mount for professional financial advisors as investors demand immediate performance in a low-growth market At the same time, roughly four in ten affluent consumers don't even see the value of having an advisor anymore.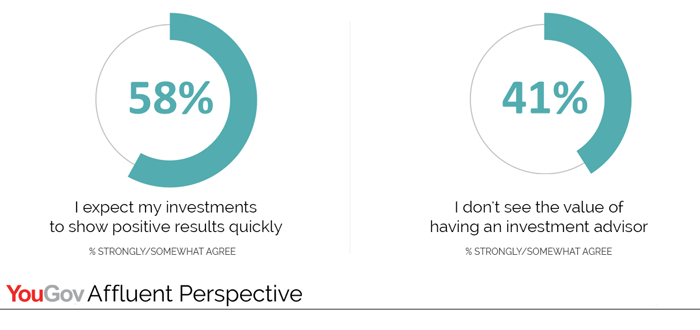 This desire for immediate action has motivated one in five affluent consumers to turn to automated investment services, or "robo investing". An even greater number of affluent millennials (36%) are currently using these services, as online collaboration and digital tools continue to play a starring role in their lives. Even those not using these services recognize the direction the industry is headed: 61% of affluent consumers view "robo investing" as the way of the future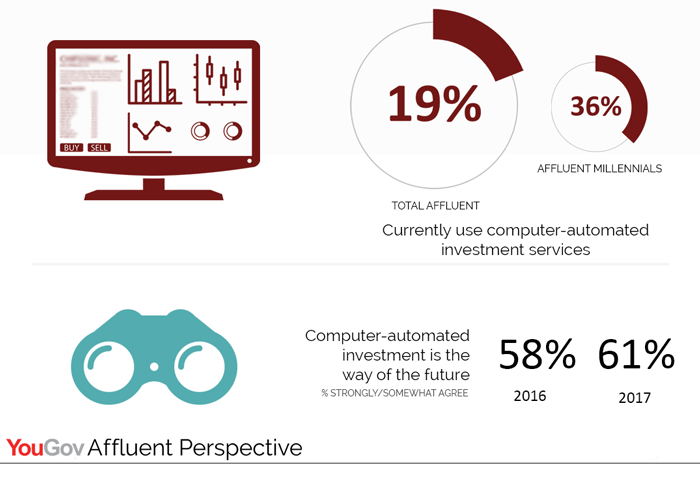 The good news is that there's still time for financial advisors who focus on traditional services to innovate their offerings to current and prospective clients. Just 23% of the affluent say they are likely to use robo investing in the future—and this is mostly driven by those already using it.

Harnessing the new AI tools can help drive stronger client connections and improve efficiency so that advisors can spend more time on the most important role of all -- that of a teacher, something robo investing can't replace.
Nearly half of affluent consumers agree that "it takes a long time to get used to living with money." Financial advisors must work as a guide to help those who are new to wealth adjust to a new lifestyle. Roughly 40% of the U.S. affluent have had their wealth for less than 5 years.

Another important reason to innovate now is that the financial advisor's role is not just about guiding the client; it is also about guiding their heirs as well. The vast majority (84%) of the affluent and wealthy agree that they would like their heirs to carefully manage what they leave behind. It is the role of the financial advisor to be a partner on this financial journey.
For more information, please visit AffluentPerspective.com