Figures show US consumers rate the warehouse chain much higher on Impression and Value metrics than its competitors
A week prior to releasing its Q4 earnings results, Costco appears to have fellow membership-only warehouse operators Sam's Club and BJ's Wholesale Club beat on public perception.
As data from YouGov BrandIndex reveals, Costco has averaged a positive Impression score of 38 with US adults aged 18+ since the beginning of 2017. Sam's Club, meanwhile, has averaged a 23, and BJ's Wholesale Club a 20. None of the warehouse retailers are viewed negatively, but the distance between Costco and its two competitors is rather significant.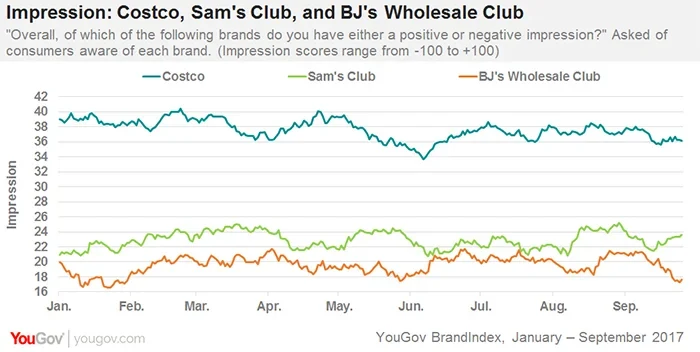 On YouGov's Value metric, which asks consumers if they think a particular brand represents either good or poor value for their money, Costco has also maintained a healthy lead throughout the year. At present, Costco's Value score sits at 31, compared to 24 for Sam's Club and 16 for BJ's Wholesale Club.