Throughout September, no brand experienced a greater rise in Ad Awareness than Tropicana's Trop50
Tropicana has taken an "old is new" approach to promoting its low-calorie Trop50 brand – and it seems to be working. Over the summer, the juice company began re-airing two popular television ads that originally premiered nearly three years ago. In September, YouGov BrandIndex data showed the brand earned a significant gain in Ad Awareness, which measures whether consumers have seen an ad in the past two weeks.
The jump is particularly significant for women in the coveted 18-to-34 age group. According to ad tracker iSpot.tv, the spots having been airing on cable networks such as E! and HGTV, which boast young female viewers and have seen their ratings rise in recent months.
At the beginning of the month, Trop50's overall Ad Awareness score stood at 9, but by Sept. 30 it had risen to 14. And with women aged 18 to 34, it rose from 8 to 17.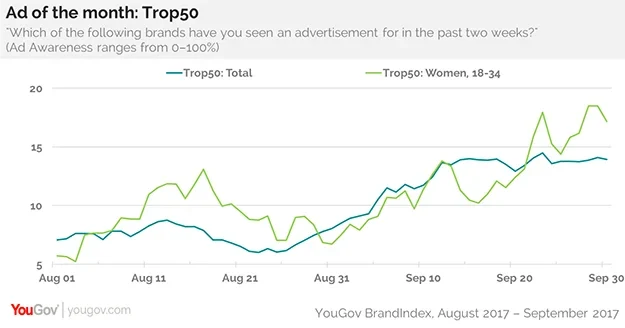 The commercials feature the actor Jane Krakowski and personal trainer Dolvett Quince, who also starred on NBC's popular weight-loss reality show The Biggest Loser. The longer of the two flirty ads features "Jane" and her trainer (Quince) discovering the low-calorie, low-sugar orange juice – which is dubbed Trop50 because it contains 50% the sugar and calories of full-strength orange juice. The second features Quince doing push-ups with Krakowski on his back, extolling the juice's virtues.
Trop50 clearly knows these ads have legs: a new set of commercials starring Krakowski is already in the works.
Photo: iSpot.tv