Less may be more for Chili's. After the chain cut 40% of its menu items in mid-September to focus on its core offerings, early Purchase Consideration data shows a short-term rise across the board in three key demographic groups, according to YouGov BrandIndex.

What may prove to be a barometer of the plan's success is current and former Chili's customers, who in early weeks gave the chain promising numbers. The challenge for Chili's is whether it can maintain whatever initial gains these first few weeks have brought. In the competitive dining field, every Purchase Consideration percentage point is significant.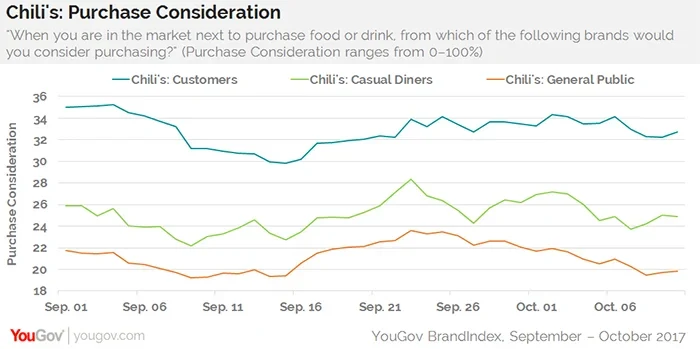 While current and former Chili's customers logically represent the demographic with the highest Purchase Consideration scores on a regular basis, this group may be the most important to keep from "abandoning ship." Fortunately, the first weeks went well: Purchase Consideration went from 30% of them considering buying Chili's for their next casual dining meals in mid-September to 34% by September 25, and then stabilizing at 33%, where it is now.
The biggest positive impact seems to be with casual diners, which went from 23% of them considering buying Chili's for their next casual dining meal in mid-September to 28% one week later. This demo is currently at 25%, two percentage points higher than when the menu program was rolled out.
The general population of adults 18 and over also experienced a five-percentage point jump in the same one-week period – from 19% to 24% ­– but is already back at 20%.
Photo: Getty