Over a quarter of Americans have used an online grocer (27%)
Food retail continues to exemplify how technology can transform two sides of the same coin – changing how consumers shop and how retailers are forced to adapt to compete in a sector as fierce as this one. The Aldi Meets Amazon – Digitalization & Discount Retailers: Disruption in Food Retail Report takes a close look at the current state of grocery retail in 2017, identifies emerging trends to keep an eye on, and analyzes the return of home delivery since the 60's – this time, families can expect much more than just milk.
If the Price is Right
Retail revenue, particularly for food, has increased by as much as 86% between 1992 ($337 billion) and 2016 ($627 billion). Data from YouGov Profiles reveals that retailers like Walmart, Kroger, Albertsons, Costco, and Sam's Club make up 40% of the market share, but competition is tight between these giants. Consumers still prefer these brick-and-mortar stores to online grocers, which brought in only $12 billion of $627 billion grocery sales revenue last year. But a trend in the last five years shows that in 2021, online grocery shopping will likely be five times what it was 2012.
Price – the strongest determinant for consumers as they're shopping – is the main driver of growth in this sector. Given that US customers say price (40%) and quality (37%) are the deciding factors in grocery purchase, over convenience (8%), variety (7%), or shopping experience (3%), retailers are forced to focus on making sure the price is right. While traditional retailers who offer weekly sales and deals try to outdo one another, German-based discount retailers like Aldi and Lidl are investing in US expansions to establish themselves as the go-to supermarkets for low prices. With 42% of consumers already saying that discount supermarkets are just as good as others, Americans no longer see low-cost and high-quality as mutually exclusive descriptors.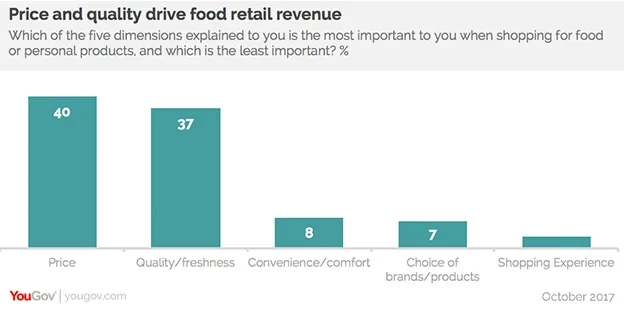 The Price-Driven Customer versus the Digital Pioneer
Two consumer groups standout as central players if traditional and online grocers want to continue growing in future years. The price-driven customer, who focuses on a product's value (price and quality) rather than the product's retailer, are crucial to creating a pricing strategy. Retailers who want to succeed with this type of consumer, which makes up 40% of the market, would do well to know that they tend to buy non-perishable goods in bulk, are enthusiastic about considering new discount retailers, and that though most of them say they have a favorite brand, if another is on sale, they'll buy that instead.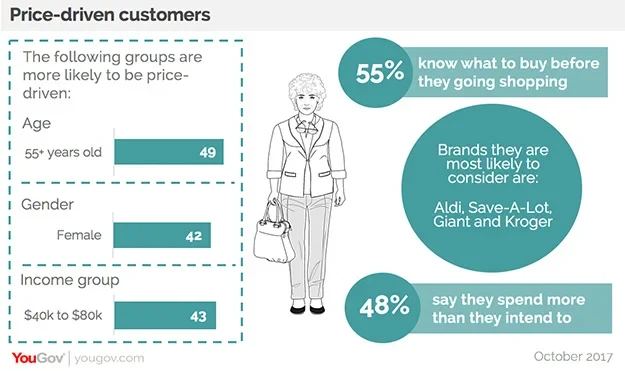 A slightly smaller group of online-focused customers, the digital pioneers, are no less important. They consist of millennials who tend to earn more than their price-driven counterparts and intend to increase their online shopping in the next few years. Digital pioneers, who make up 34% of consumers, serve as the best indicator that despite the uptick in online grocery sales, the future is not bleak for brick-and-mortar stores. In fact, a third of these young, online-oriented shoppers say that they miss the social contact of shopping "offline" in a store (34%) and that the ambience of a physical store is more important to them than price (31% versus 25%).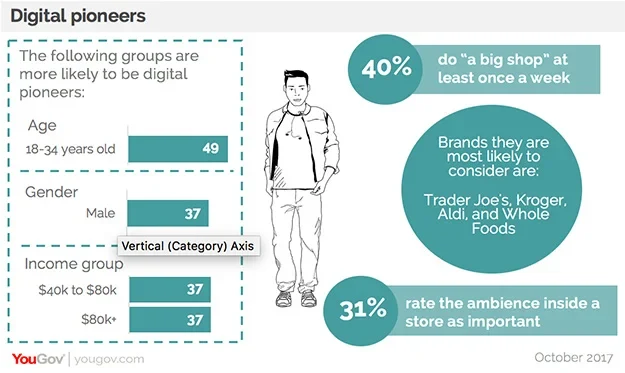 Remember the Milkman
Digitalization may be shifting how younger generations grocery shop but it also harkens back a facet of food retail that older Americans haven't seen in nearly fifty years. This time, rather than just a week's worth of milk, Americans can get that and virtually anything they want from a brick- and-mortar store from one deliveryman. YouGov's data shows that 27% of US adults have used an online supermarket and of those, most say that convenience (80%) and the punctuality of deliveries (74%) are huge draws for them. Given that quality was one of the main determinants for consumers and nearly a third of those who have ordered online like to purchase produce at least once a month (60%), online food retailers who want to succeed needed to meet the demand for fresh fruits and vegetables. The growth of online grocers is a testament to their success, with three-quarters of online shoppers saying they were pleasantly surprised by the freshness of the products.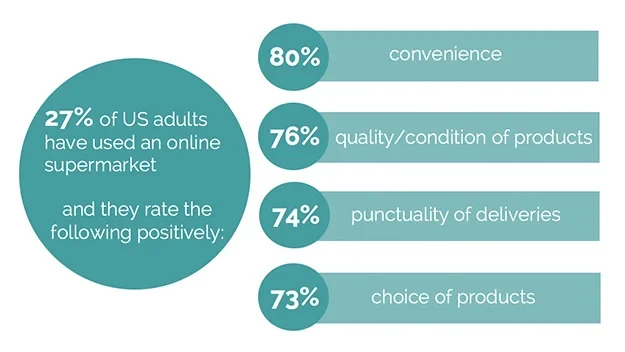 Grocers can differentiate themselves from one another by listening to their customers and incorporating new technologies. Online grocers are becoming increasingly smarter and efficient at analyzing consumer behavior and the products these consumers buy. This could ultimately lead to identifying when items expire or when a customer might need more and offering an option for automated reordering, which would appeal to online shoppers who value convenience. Competitive difference also arises when a retailer knows a customer's preferences and can create personalized shopping lists based on former purchases and what he/she has been browsing.
Piecemeal Success
The key takeaway from YouGov's latest report is that there is no one tried and true method for continuous growth. While older, price-driven shoppers won't completely opt for newer online grocers because they still prefer to touch and check products before buying them, they will leave their traditional retailers for newer ones like Aldi if it means they can keep costs low. Digital pioneers will be responsible for the success of online grocers but may only use ones that they also physically shop at in the real world. During a time when everything in food retail is being disrupted, there won't be one big win but a multitude of smaller success stories told from converging offline and online views.

Download the Digitalization & Discount Retailers: Disruption in Food Retail Report here

Find out more about YouGov Custom Reports