General impression of the two retail brands is also up among US consumers aged 18-34
The clothing store Abercrombie & Fitch and its sister brand Hollister have gained ground with their target demographic — young people. Millennials are more likely to recommend the brands now than at anytime in the past decade, according to YouGov BrandIndex.
The boost in metrics comes after both retailers have undergone major rebranding efforts, with tactics such as remodeling stores and enabling consumers to charge their smartphones in fitting rooms. In October, Abercrombie & Fitch launched a new ad campaign aimed at young people entitled "This Is the Time," which attempted to broaden the appeal of the brand beyond its traditional target audience.
For those aged 18 to 34, Hollister's Recommend score — which asks respondents if they'd recommend the clothing and apparel store to a friend or colleague — now sits at an 8, up from a -6 in the early months of 2015. Meanwhile, Abercrombie & Fitch has seen its Recommend score among young consumers rise from a low of -15 to a 3 in roughly the same time frame.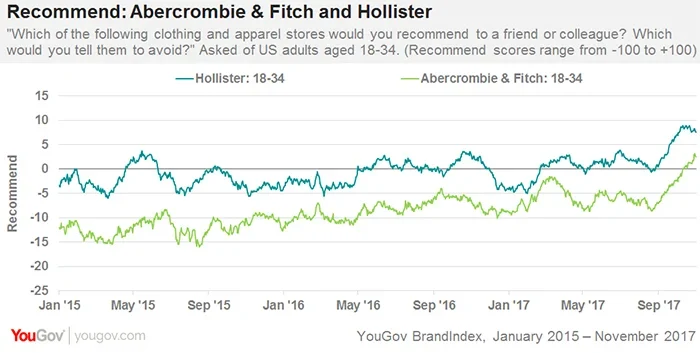 YouGov data also shows that US adults aged 18-34 have a better impression of both Abercrombie & Fitch and Hollister now than at any point in the past couple years. In the last few months alone, Hollister's Impression score has increased from a -1 to a high of 10, while Abercrombie & Fitch's score has climbed from -12 to a 1, meaning that slightly more young consumers have an overall positive impression of the brand, as opposed to negative.