Ahead of Walmart's Q3 earnings this week, the retail giant continues to improve in the eyes of US consumers
Three-fifths (61%) of US consumers have made a purchase from Walmart in the last three months, according to YouGov BranIndex data. That's more than double that of competitors in the department store and discount store markets.
As YouGov's report into grocery retail, Aldi Meets Amazon, details, the sector is evolving in two different but significant ways. Firstly, discounters like Aldi – who have had great success in Europe, challenging the incumbent giants of the sector – are bringing greater price competition to the sector. YouGov data shows that 42% of shoppers think that discount supermarkets are just as good as the others.
The report also focuses on the move online. Although consumers still prefer to buy groceries in person, the digitalization of grocery retail and the growing presence of Amazon is challenging existing players to work with and around this consumer preference. More than a quarter (27%) of US consumers have already bought groceries online.
Walmart appears well placed to benefit from the challenges of these changes, as its increasing market share and four years of consistent growth attest. In addition, the trajectory of some of the numbers behind these positives that make Walmart look especially strong.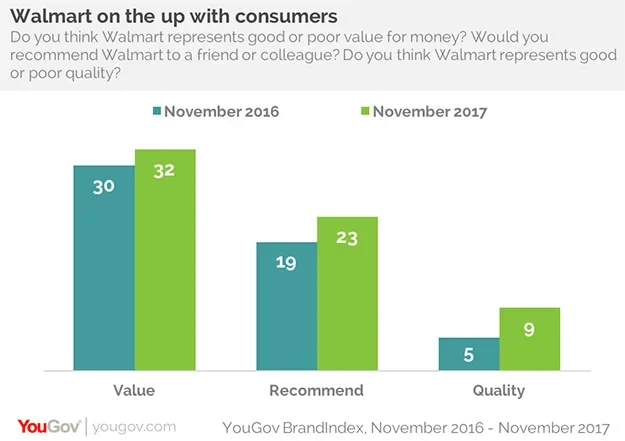 Of the many brand health metrics monitored by YouGov on a daily basis, Walmart has seen near universal improvement over the last year. Taking just three of these metrics – consumer opinion of the Walmart's Value, Quality, and whether they would Recommend the retailer to friends and colleagues – there is a clear trend for consumers seeing Walmart in an increasingly positive light.
Aldi and Amazon represent formidable opponents for Walmart on two different fronts but at present, consumers clearly view Walmart as moving in the right direction.
Download the Digitalization & Discount Retailers: Disruption in Food Retail Report here

Find out more about YouGov Custom Reports