And 15% of 18- to 34-year olds say they "never" send food back when there's a problem
Sending food back in a restaurant can be an awkward experience for diners, but it seems that age and experience make it easier. New data from YouGov Omnibus shows that millennials are less likely to send food back than older Americans.
On the whole, just over half of Americans who dine out (54%) say that they're comfortable sending food back if there's a problem with it, while 41% say they're uncomfortable doing so. But the numbers are almost flipped for 18- to 34-year-olds – 52% of this group say they're uncomfortable sending food back, while 41% say they're comfortable. In comparison, 61% of those over the age of 55 say they're comfortable sending food back, and only 35% say they're not.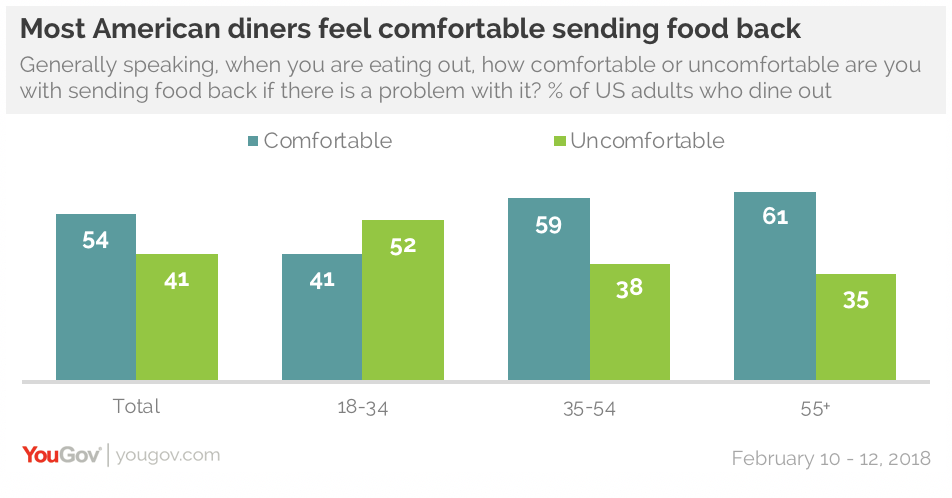 A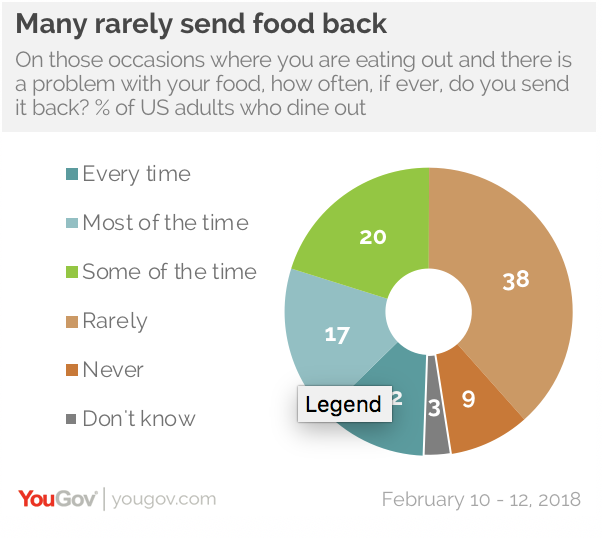 nd the younger crowd's comfort level affects their decision making. While only 9% of the general public says they "never" send food back if there was a problem, 15% of millennials say the same thing. When asked how often they send food back, the most common answer is "rarely", which 38% of diners choosing this option.
While most diners say they're comfortable sending food back in the abstract, the circumstances play a huge role in their decision. When brought the wrong meal, 85% of diners say they'd send the food back, with only 9% saying they wouldn't. Other top reasons to send food back are if it's undercooked or has a hair in it. But some problems aren't seen as worthy of sending the food back; only 15% of people would send the food back if the portion was too small. Other issues that would rarely get a dish sent back are poor presentation and disliking the food.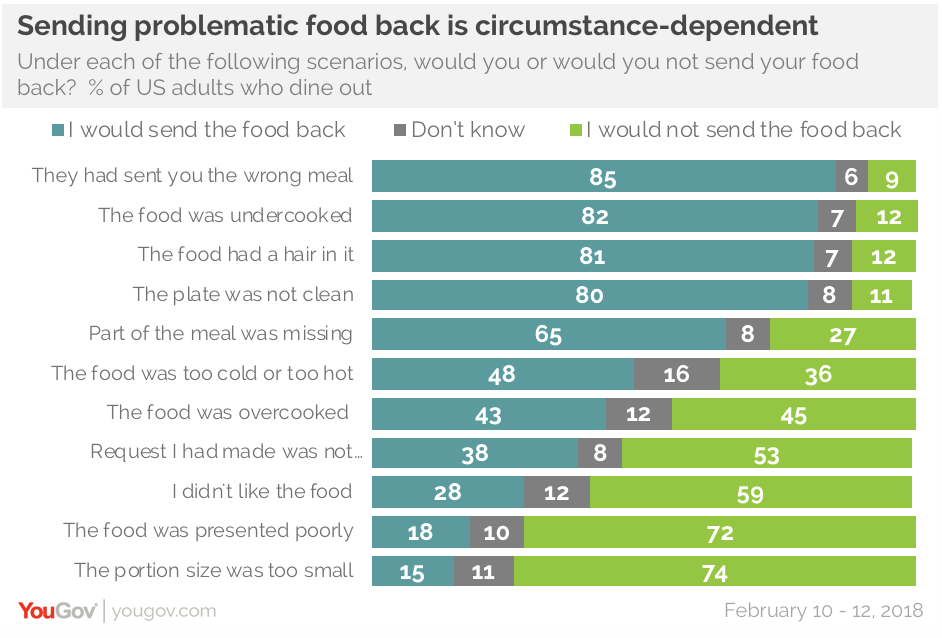 In almost all of these cases, diners over the age of 55 are more likely to send their food back than those in the 18 to 34 range. One exception was in the case of portion size – only 10% of the 55+ crew would send back food because the portion size was too small, compared to 16% of those between 18 and 34 and 18% of those 35 to 49.
It turns out these feelings about food may be universal; diners in the UK gave very similar results back in January.
Read more results from this poll here
Learn more about YouGov Omnibus.
Image: Getty