Over the past five years, Walmart has gradually become less of a "red state" brand and actually getting "bluer," according to YouGov BrandIndex.
The likely cause of this movement may be Walmart's increasing public stances on hot-button issues such as gay rights, gun purchases, and minimum wage.
Five years ago, Democratic-affiliated consumers had a significant negative perception of Walmart, while independents were mildly positive and Republican-affiliated consumers were very positive. In 2013, Walmart Political Action Committee's web site showed it spent more than $2 million influencing federal elections in three out of the five past federal election cycles, mostly supporting conservative causes.
Fast forward to the present: not only is Democratic perception firmly in positive territory, but it has surpassed the levels of consumers who consider themselves independents and is coming close to the Republican mark.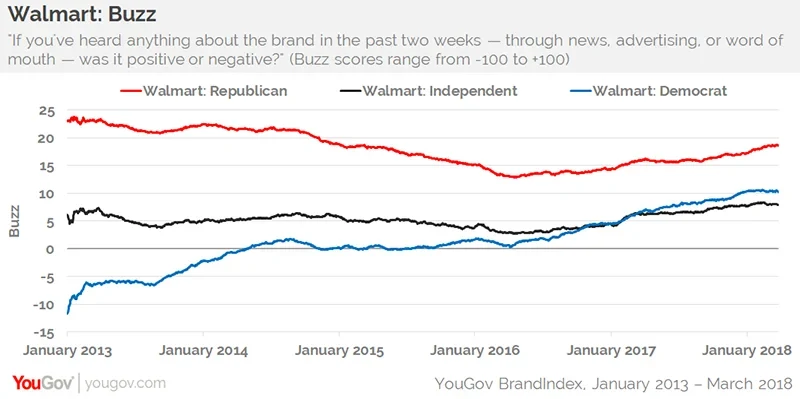 This trending seems to be impacting how all three political parties are faring with Purchase Consideration, YouGov BrandIndex's key metric of potential sales revenue. In early 2013, 44% of Democrats were considering purchasing from Walmart the next time they went department store shopping; currently, 52% are. During that time, they closed the gap with Republicans from a 22 percentage point difference five years ago to 13 percentage points now.
Comparatively, independents have remained steady at 57% over time. Republicans started at 66% on January 1, 2013, trended down slowly to 63% in July 2016, and have since made it back up to 65%.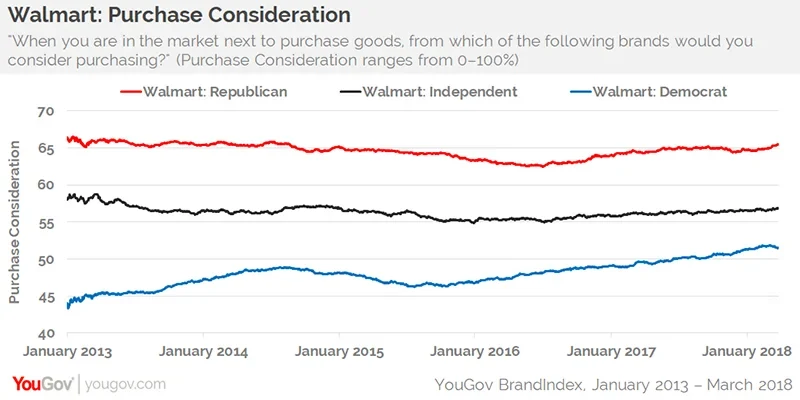 Over the past five years, Walmart took public stances on politically-tinged issues that may have encouraged this Democratic movement. For example, in April 2015, Walmart sided with companies like Apple in slamming religious freedom laws, which could have opened the doors to LGBT discrimination. In the same year, Walmart said they'd raise pay above federal minimum wage for half a million workers. Last August, Walmart CEO Doug McMillon criticized President Trump's reaction to the violence in Charlottesville, VA. Recently, Walmart raised the minimum age for gun buyers to 21 years old.
Photo: Getty