Starbucks may boast more current customers than Panera Bread, but it likely needs to improve key perception metrics to lure lunchtime business away from the café chain, according to YouGov BrandIndex.
Without a doubt, Starbucks keeps floor traffic high in its approximately 14,000 stores: approximately 22% of all adults 18 and over who eat lunch out at least once a month have purchased any items there in the past 30 days, compared to 15% for Panera.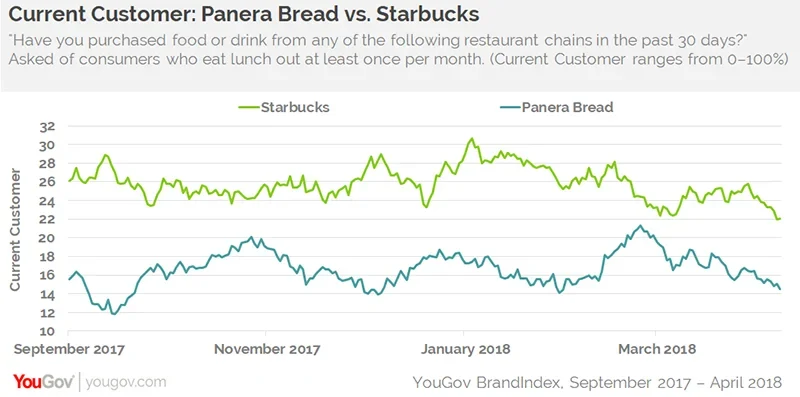 However, Panera has the upper hand with lunch buyers in other important metrics, most of them by a large measure: Value, where the gap between the two brands is the biggest; Quality, where Starbucks really dropped off around March 27th, when a judge ruled all California stores must post a cancer warning on coffee; Satisfaction; and Willingness to Recommend to a friend.
Even though the gap is much smaller, Panera has also dominated over Starbucks in Purchase Consideration the past 16 months with lunch buyers, YouGov BrandIndex's key indicator of potential sales revenue.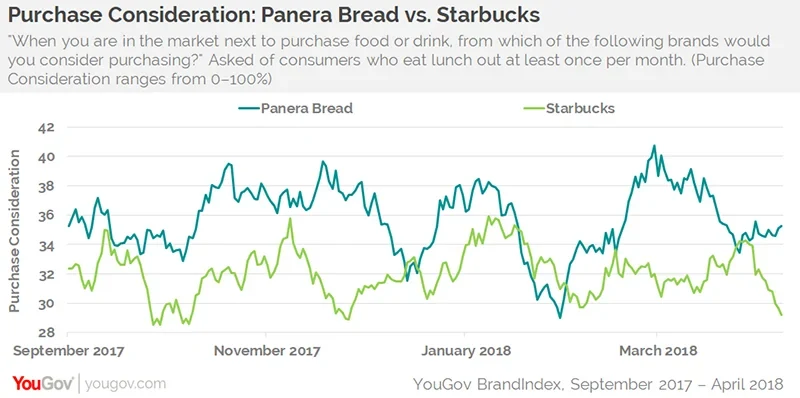 Panera has suffered recent woes too, announcing a huge data breach that could affect 37 million customers. So it would seem that in order for Starbucks to grab market share with the lunch time crowd, the coffee chain would need to increase favorability in important metrics such as Quality, Value, and Satisfaction with its already bigger current customer base.
Photo: Getty