An increasing amount of Americans are also willing to recommend the cookie brand to friends and family
In a nation where, according to data from YouGov Profiles, 72% of its adult population admits to having a sweet tooth, Oreo has plenty to celebrate.
At present, consumer sentiment toward the brand has reached its highest point in the past year, according to the latest figures from YouGov BrandIndex. This comes at a time when Oreo is encouraging cookie lovers across the country to vote on which fan-submitted flavor should win the #MyOreoCreation contest. The three finalists: cherry cola, kettle corn, and piña colada. Oreo began taking flavor submissions last May.
Oreo's Impression score — which asks consumers if they have an overall positive or negative impression of a specific brand — recently reached a score of 56 after climbing eight points from 48 in mid-April. Oreo both announced the contest's three finalist flavors and made them available nationwide for a limited time on April 30.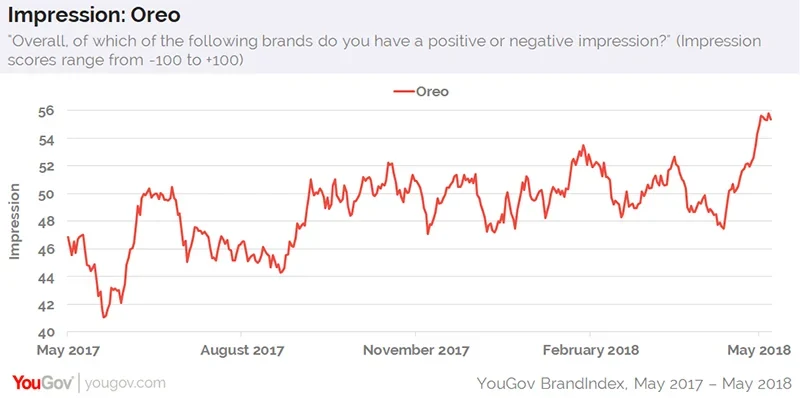 In addition to the brand's improved Impression score, more consumers recently reported a willingness to recommend the snack to a friend or colleague than at any point in the past year. Indeed, just last week Oreo hit a Recommend score of 45, which is 10 points higher than the same time last May.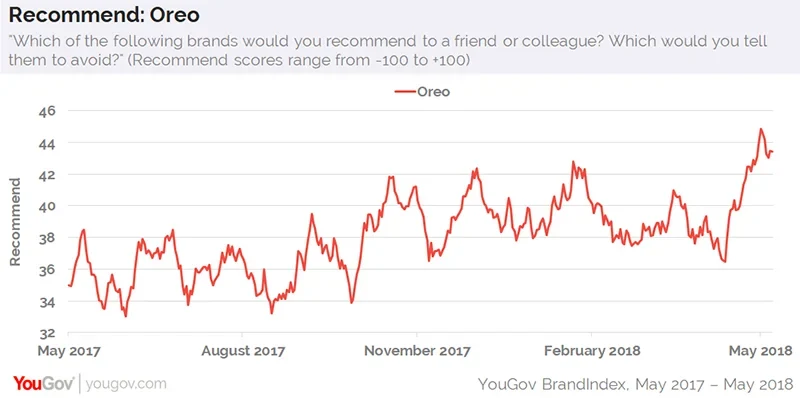 Perhaps it's no surprise that Oreo fans appear more into sweet treats than their peers: Over half (52%) of Oreo customers report eating cookies at least once per week, compared to 38% of the general public. Furthermore, 71% of Oreo customers say they often snack between meals, while the same is true for 63% of all US adults.
Oreo customers are more likely to fall into the millennial age bracket (18-34) than any other generation, and more likely to be female than male. They're also more likely to reside in a suburb than either a city, town, or rural area.
Photo: Getty