With Tuesday's racial-sensitivity training occurring at 8,000 Starbucks stores, the chain has been hit the hardest in one of its key corporate hiring points – its workplace reputation, according to YouGov BrandIndex.
Starbucks' workplace reputation score is at its lowest level in at least 10 years, a difficult blow for a company that has been well-known for its employee benefits and culture, including helping pay for college tuition.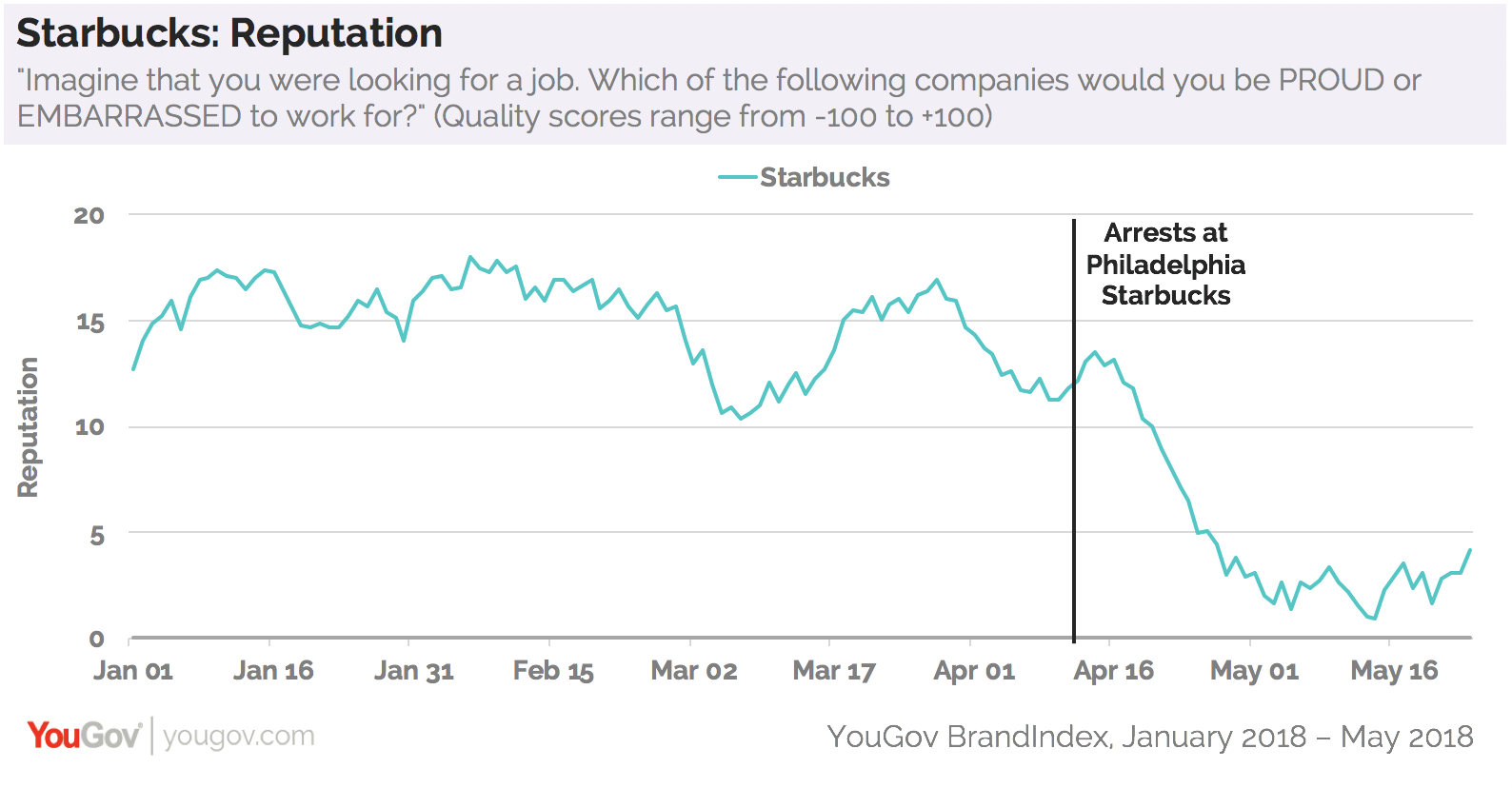 Several weeks after the racially-charged Philadelphia incident, the other metric which has not recovered is Purchase Consideration, YouGov BrandIndex's measurement of potential sales revenue. On April 20, 28% of consumers would consider purchasing from Starbucks the next time they were buying food or drink. For the past couple of weeks, the score has been hovering around 24%, its lowest since April 2017.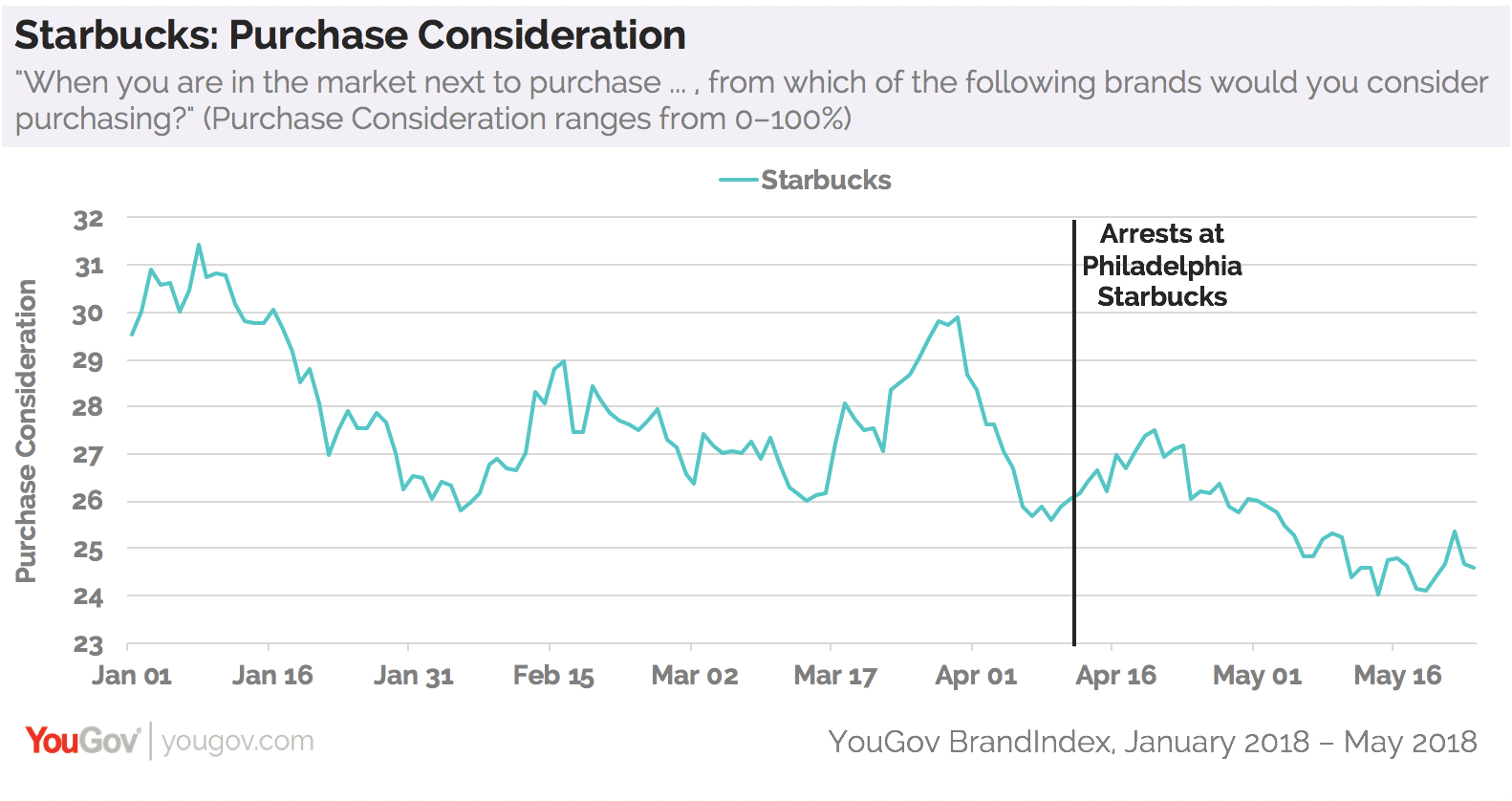 One metric which has shown improvement is Buzz, which asks respondents: "If you've heard anything about the brand in the last two weeks, through advertising, news or word of mouth, was it positive or negative?"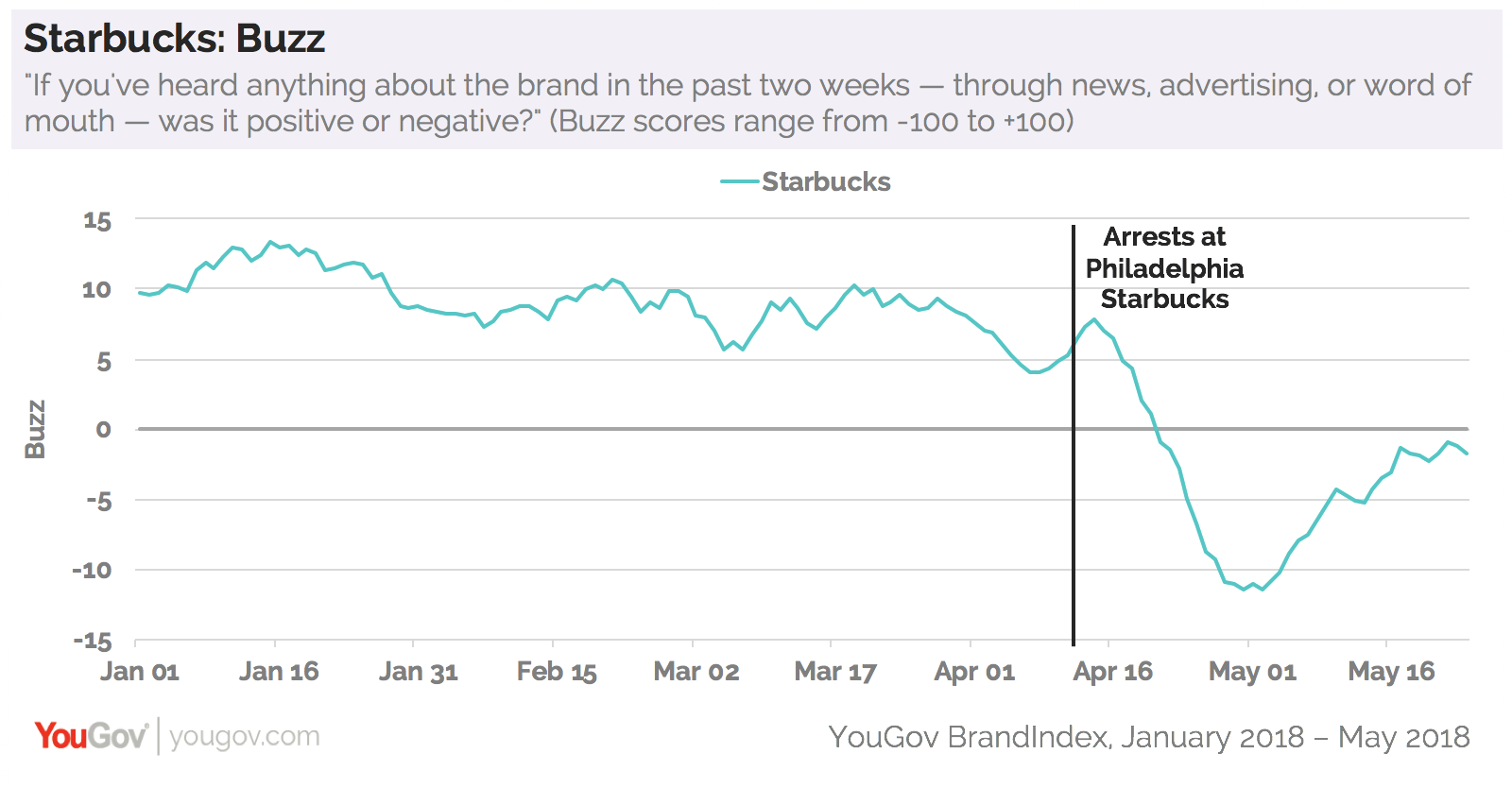 After reaching its lowest Buzz score since the November 2015 Christmas cup design backlash on May 2, Starbucks seems to be fitting the classic major crisis recovery pattern YouGov BrandIndex has seen many times with troubled brands. Starbucks's Buzz score began climbing in a more positive direction before hitting a "ceiling" around May 18, well below where it was pre-crisis – and it's staying there. This "ceiling" is just below the neutral score line, meaning there is still a little more negative sentiment about Starbucks than positive.
Starbucks recent guest policy changes – allowing even non-coffee buyers to sit in their stores while forbidding drug use or sleeping – don't seem to have encouraged any more positive sentiment.
A Buzz score can range from -100 to 100 with a zero score equaling a neutral position. For example: a score of 35 means that 35% more people said they were positive than negative about the brand.
Since last Friday, Starbucks' Buzz score fell from 13 to -8 on Tuesday, a drop of 21 points in four days. When the 2015 Christmas cup incident occurred, Starbucks fell from a Buzz score of 11 to -9 in just four days, eventually hitting a bottom of -13 the next day.
Photo: Getty