Over half of Americans say that determining what insurance policies they need is confusing
Better safe than sorry. Though insurance can be an additional budgetary expense, more than 90% of Americans do have insurance of some kind, according to new data from YouGov Omnibus. The most common insurance to have is auto insurance (72%), followed by health insurance (70%), life insurance (45%) and homeowners insurance (43%).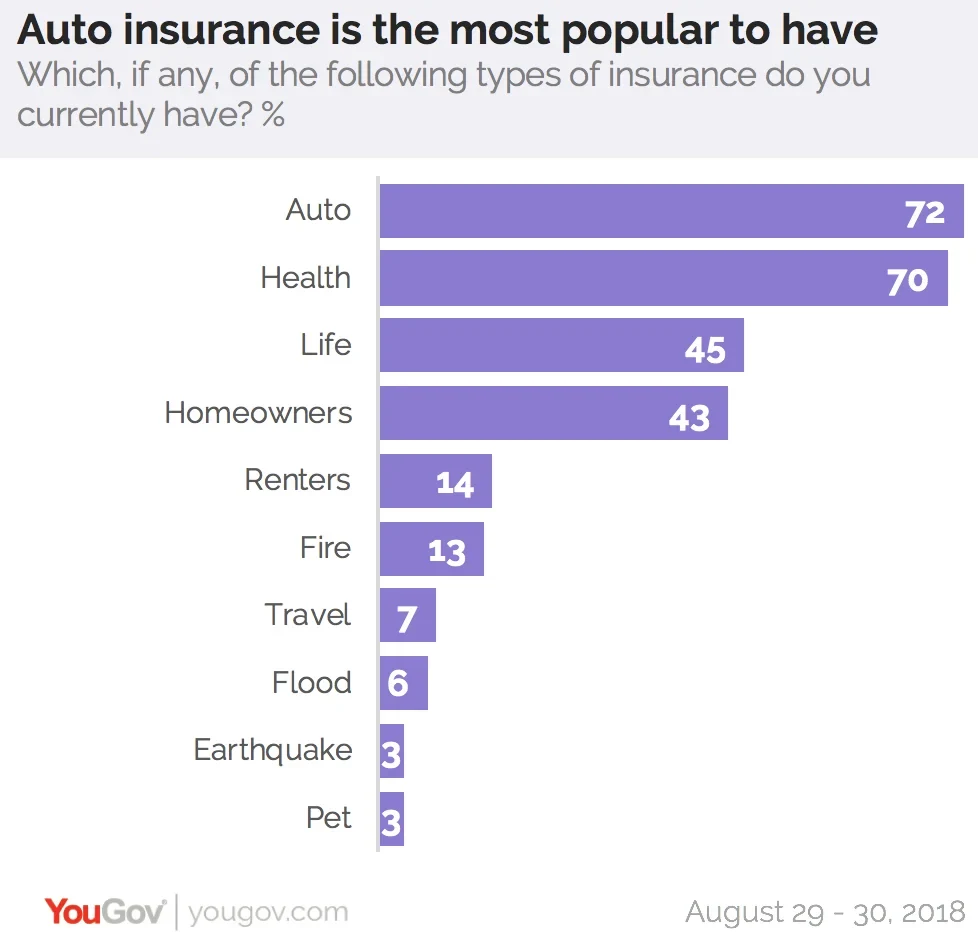 People who are 18-34 are generally less likely than older Americans to have any type of insurance, with the exception of renters insurance, travel insurance, and pet insurance. Millennials between 18-34 are actually slightly more likely to have these types than 35-54-year-olds and people who are 55 and older.
When it comes to buying insurance of any kind, one thing is clear: most Americans prefer dealing with a real, live person. Two-thirds of people say that when they are purchasing any kind of insurance, they generally work with at least one insurance agent. A similar number (64%) agreed with the statement "I'd prefer working with an insurance agent to help me find the best policy."
When asked about their top preferred method of purchasing insurance, "in-person" was the most popular answer for Americans, with 36% choosing this. The next most popular answer was "online" (28%), followed by "over the phone" (14%). People 55 and older are particularly likely to prefer purchasing insurance in-person (46%) or over the phone (17%). Meanwhile, Gen X'ers (35 to 54 years old) are almost equally as likely to prefer buying in-person (34%) or online (33%).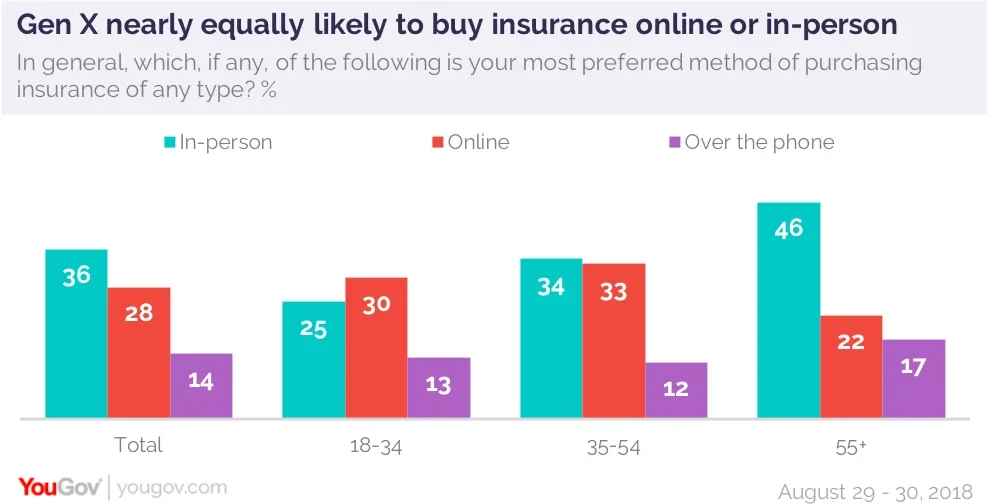 The general preference for working with an insurance agent might be in part because many people find the process of buying insurance to be confusing. Over half (53%) "strongly" or "somewhat" agreed that, "Determining which insurance policies I may need is confusing."
Working with an agent may also help people ensure that their new policy accounts for what they find most important: "quality of insurance coverage" (35%), "the value for money spent" (34%), and "the company's reputation" (11%).
Though a majority of Americans have some kind of insurance, fewer than one in five (18%) say that having comprehensive insurance is a top financial priority. When asked to choose their top two financial priorities, 41% say "sticking to a budget", 34% say "saving for retirement", and 32% say "paying off credit card debt." "Having comprehensive insurance" follows with 18%, and 17% say "saving for a home" is one of their top financial priorities. Hispanic respondents were particularly likely to say that "saving for a home" was one of their top priorities; about one-quarter (26%) chose this response.