One in five US adults recall discussing the restaurant chain recently
A few months have passed since IHOP switched its name to IHOb before changing it back to IHOP again. As YouGov data showed back in June, the marketing stunt meant to promote the brand's burger offerings generated a notable amount of attention for the restaurant chain. More people reported talking about IHOP with friends and family, and more remembered seeing ads.
Now, new data from YouGov's Plan & Track reveals that IHOP is still receiving more recognition than what's typical for the brand in recent years.
Consider IHOP's Word of Mouth score, which asks US consumers aged 18+ if they have discussed a specific brand with friends or family members in the past two weeks. On June 4, the day IHOP first announced it was changing to IHOb, 14% of American adults were talking about the restaurant chain. After peaking at 29% in early July, IHOP's current Word of Mouth score stands at 20% — a higher number than anything IHOP has attained pre-IHOb.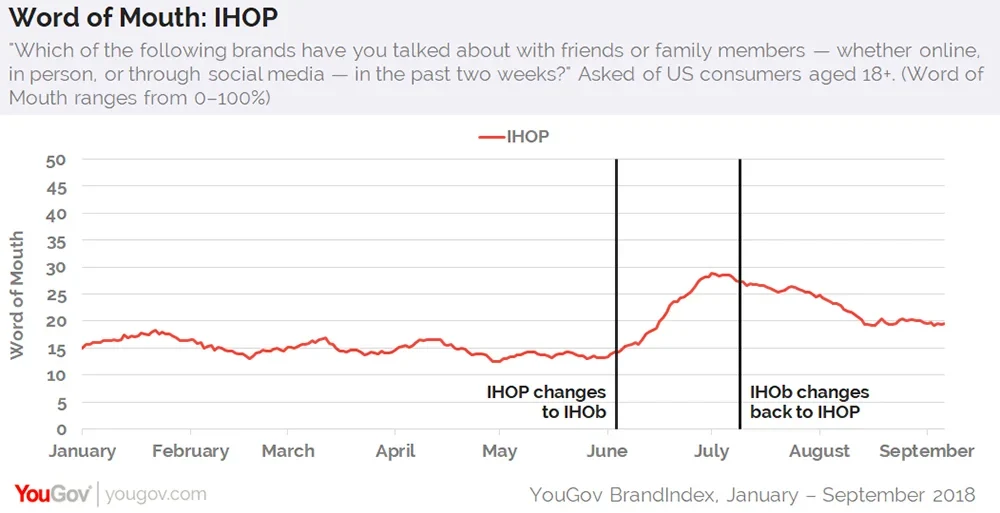 In a similar fashion, IHOP's Ad Awareness score — which asks US consumers aged 18+ if they've come across an advertisement for a particular brand in the past two weeks — reached an all-time high of 47% in late July before decreasing to its present score of 37%. A look back at IHOP's Ad Awareness levels reveals that 37% is still a significantly higher score than anything the restaurant chain has reached since YouGov began tracking it in late 2012.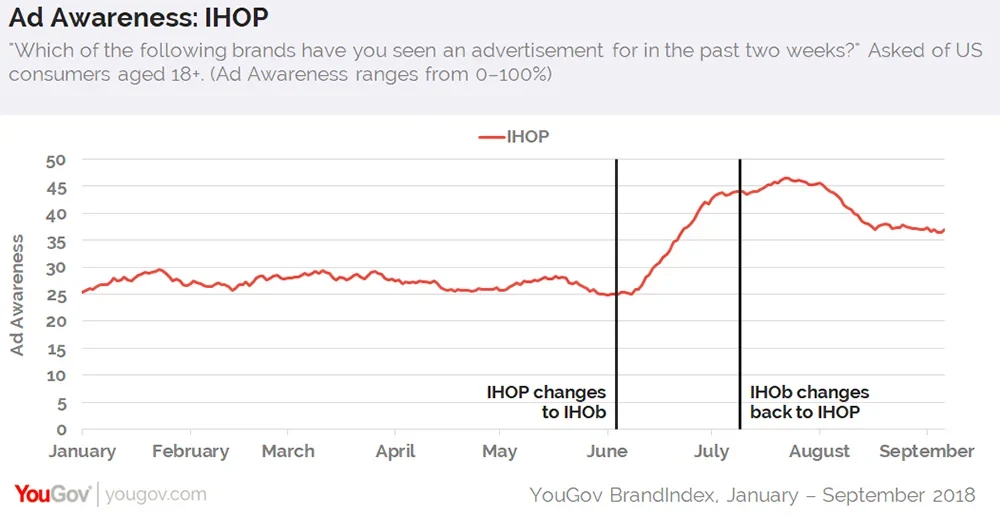 Although data indicates that IHOP's IHOb campaign got people talking about the brand, this increase in exposure didn't necessarily lead to an increase in potential sales.
According to YouGov's Purchase Consideration metric — which gauges the percentage of US consumers aged 18+ open to dining at a restaurant chain when next in the market for food or drink — interest in visiting an IHOP location declined from 45% on June 4 to a low of 33% about a month later among people who had either discussed the brand or seen an ad in the past two weeks.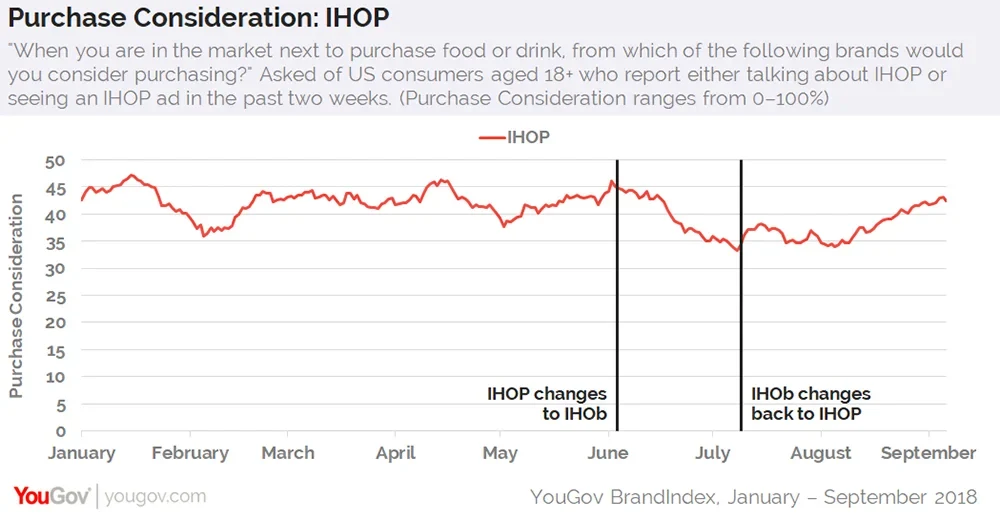 Following July 9, the day IHOb changed back to IHOP, the brand's Purchase Consideration score eventually began climbing back up to 43% among the same consumer group, essentially returning to pre-IHOb levels.
Photo: Getty