The brand's Ad Awareness and Word of Mouth metrics hit all-time highs
If attention is what Nike wanted to help commemorate the 30th anniversary of its "Just Do It" ad campaign, then the series' latest installment featuring former NFL quarterback Colin Kaepernick appears to be a major success.
According to new data from YouGov Plan & Track, 50% of all US consumers aged 18+ now report seeing an advertisement for Nike in the past two weeks. This marks the brand's highest Ad Awareness score since YouGov began tracking the metric in late 2012. On September 3, the day Kaepernick tweeted a tease of the spot, 33% of people said they'd recently come across an ad for Nike.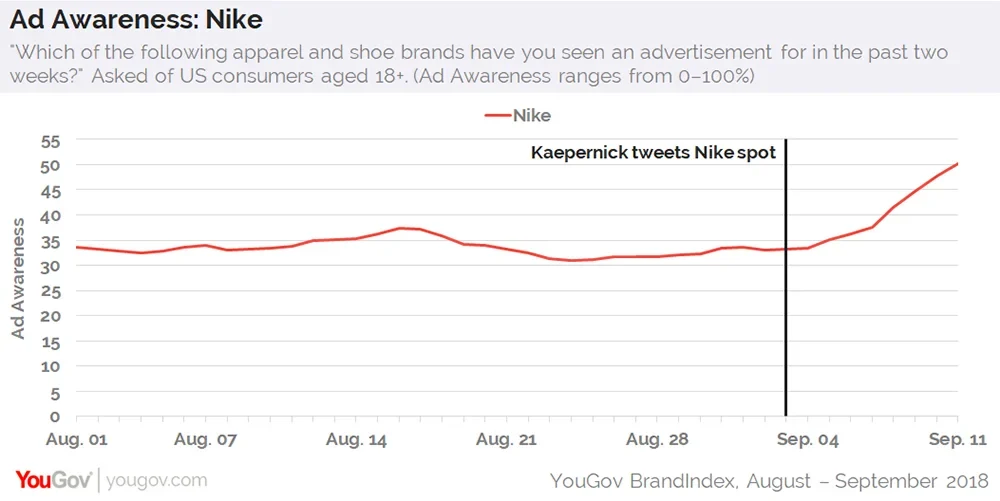 Likewise, Nike's Word of Mouth score — which asks American adults if they've discussed a particular brand with friends or family members in the past two weeks — has also reached a new high. At present, 46% of shoppers recall talking about Nike. On September 3, just 23% said the same.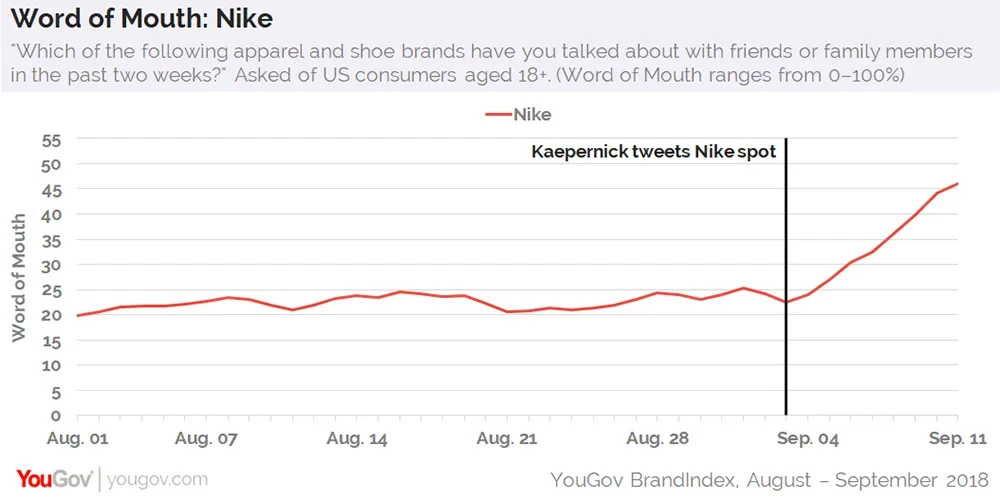 At the same time, early evidence suggests that fewer people are interested in buying what Nike's offering. Since Kaepernick's tweet, Nike's Purchase Consideration score — which gauges the percentage of US consumers aged 18+ open to purchasing goods from a specific brand when next in the market for clothing or sneakers — has dropped from 43% to 31%.
Brands that might benefit from this change in attitude are Nike's rivals. Following Kaepernick's tweet, New Balance, Under Armour, Puma, Adidas, and Reebok have all seen slight bumps in Purchase Consideration among shoppers who are not open to buying Nike. Adidas has experienced the largest increase, climbing from 8% to 18%. New Balance has experienced the smallest, moving from 26% to 31%.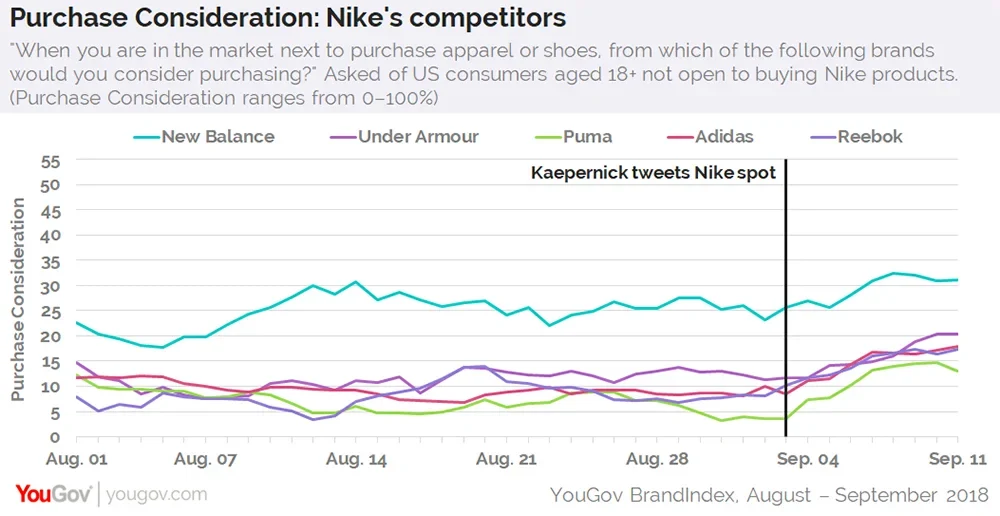 As noted earlier, YouGov data shows that current Nike customers have a more positive opinion of Colin Kaepernick than the general public. Furthermore, Nike customers also appear more receptive to brands taking a stand on current social issues than the average US adult.
Photo: Getty