Customers of the two CPG food brands disagree about companies getting involved in social issues
Two CPG food brands happen to be in the news these days for reasons unrelated to flavor, price, or health. Both are generating headlines due to the moment's all-consuming topic: politics.
The first is Minnesota-based Land O'Lakes, which faced boycott threats after news surfaced that the dairy company had contributed $2,500 to the re-election campaign of Iowa Representative Steve King, a Republican known for making divisive remarks on race and immigration. After mounting pressure, Land O'Lakes distanced itself from the lawmaker, stating in a press release that the brand would "no longer support Rep. Steve King moving forward."
The second is Vermont-based Ben & Jerry's, which launched a new ice cream flavor called Pecan Resist to celebrate "activists who are continuing to resist oppression, harmful environmental practices and injustice." The company called out the Trump administration by name, and pledged a total of $100,000 to organizations addressing issues such as gender inequity and climate change.
New numbers from YouGov Plan & Track suggest that US adults who identify as either current or former customers of Land O'Lakes products are more likely to disapprove of companies taking on political causes than to approve. Asked if they like brands that are willing to get involved in societal issues, 36% agreed and 44% disagreed. The opposite is true for Ben & Jerry's customers: 42% like it when brands get involved in societal issues; 37% don't.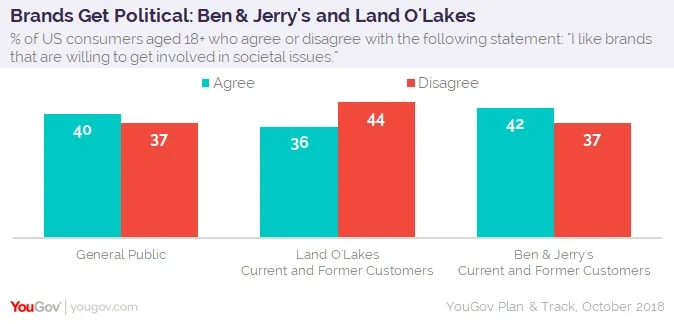 This difference in opinion doesn't necessarily come down to opposing political outlooks. Figures show that current and former Land O'Lakes customers are more likely to consider themselves ideologically conservative (35%) than either moderate (29%) or liberal (29%), while Ben & Jerry's customers are more likely to report being liberal (36%) than either moderate (30%) or conservative (28%). Overall, however, Land O'Lakes customers still skew slightly more liberal than the general public.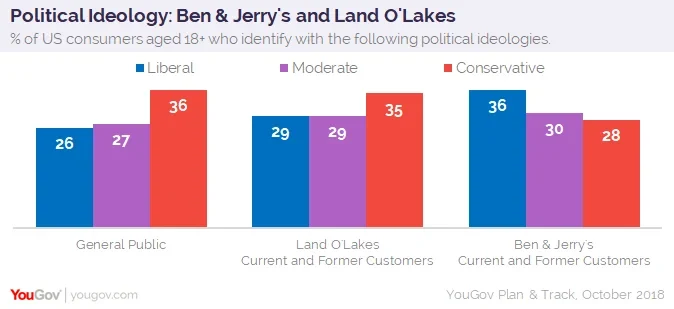 While both consumer groups are more likely than all US adults to lean liberal, one aspect that distinguishes them from each other is age. In total, the majority (56%) of current and former Land O'Lakes customers are 50 or over. The majority (58%) of Ben & Jerry's customers, on the other hand, fall between the ages of 18 and 49. Additional data confirms that younger consumers are more likely to support brands that get involved in political causes than older Americans.
Photo: Getty