Nearly one-fifth (17%) of people who live in the western US say pineapple is one of their favorite pizza toppings
Although it wasn't created here, pizza has become an immensely popular food for Americans. Many ate it recently while watching the Patriots play the Rams in the Super Bowl, and a few are probably having it again for dinner tonight. While pizza's popularity is undeniable with over two in ten (21%) saying they eat it "at least once a week", there's one topping that proves especially controversial: pineapple.
According to new data from YouGov Omnibus, 12% of Americans who eat pizza say that pineapple is one of their top three favorite pizza toppings. People who live in the west (which notably includes Hawaii, home of the ham-and-pineapple Hawaiian pizza) are particularly likely (17%) to say pineapple is one of their favorite pizza topping picks. People between 18 and 34 years old (15%) are also more likely to choose pineapple as a favorite topping, in contrast with only 9% of Americans 55 and older who responded similarly.
But nearly a quarter of pizza-eating Americans feel quite differently: 24% say that pineapple is one of their least favorite toppings. Northeasterners (28%) and people 55 and older (28%) are both particularly likely to say that pineapple is one of their three least favorite toppings.
Though pineapple may be a contentious pizza topping, it still fares better than a few others. The most abhorred pizza topping is anchovies, which 49% of people say is one of their least favorite toppings (in contrast, only 2% named it as a favorite topping). Eggplant also tends to be unpopular, with 30% saying it's one of their least favorites.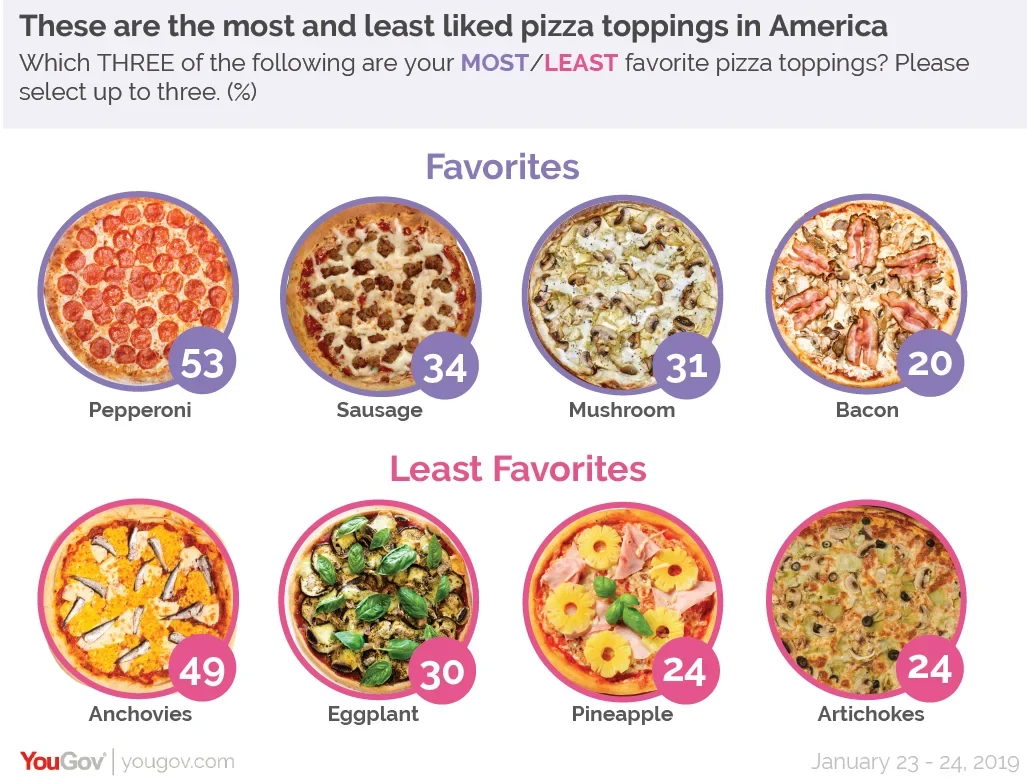 The most popular pizza topping in the US is pepperoni, with a majority (53%) selecting it as one of their top three favorite toppings. Sausage (34%), mushrooms (31%), bacon (20%) and mozzerella cheese/plain (20%) are other popular choices.
Though not quite as controversial as the beloved/hated pineapple, olives and chicken also proved to be dividing. Nearly as many Americans say olives are a favorite (12%) as say they are a least favorite (14%). Similarly, 8% say chicken is a favorite topping while 6% have it pegged as a least favorite.
Nearly three-quarters (73%) of Americans generally eat pizza at least once a month, with over two in ten (21%) saying they eat pizza at least once a week. Americans who are 18-34 (29%) are nearly three times as likely as those 55 and older (11%) to say they have pizza at least weekly.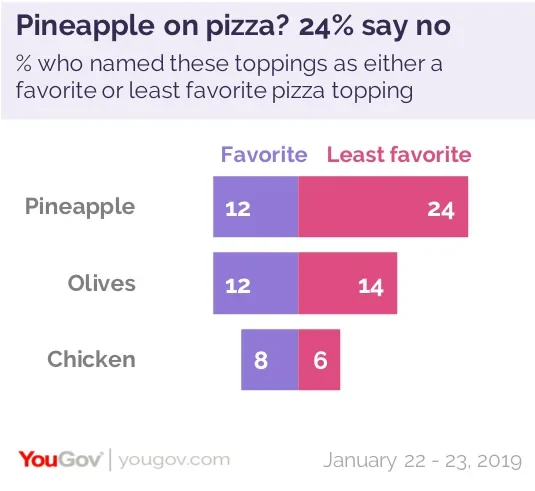 Underneath all the toppings and cheese, of course, is the crust. Regular-crust (33%) pizza is the most popular, followed closely by thin-crust (29%). One in ten (10%) say their favorite is deep-dish, also known as "Chicago-style" pizza.
Different regions of the US are particularly likely to enjoy different types of pizza crust. Regular crust is popular nearly everywhere, but especially in the Northeast (42%). Thin-crust tends to be more popular in the midwest (32%) and the south (32%) than in the northeast (22%) and west (29%). Though deep-dish isn't a particularly common pick throughout the country, it does find favorability in the midwest (16%), which encompasses Chicago: notably the home of deep-dish pizza.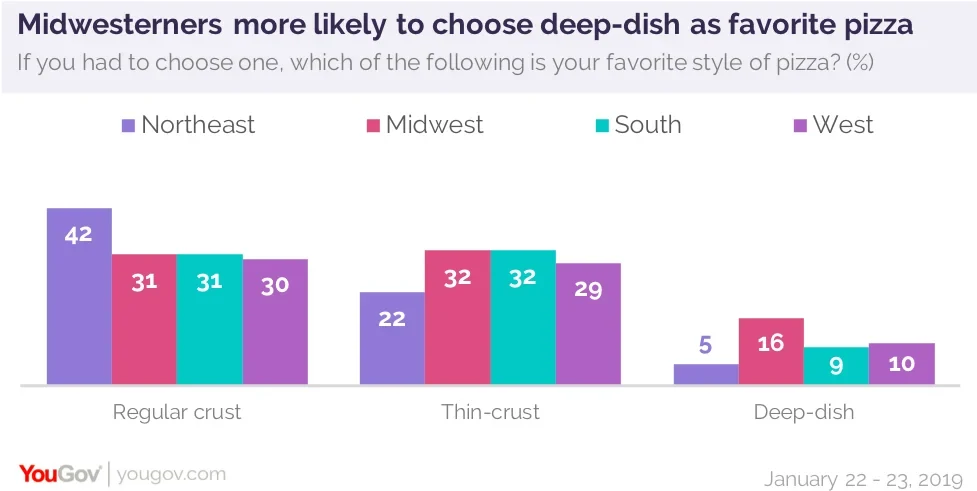 People in the northeast (54%) are also particularly likely to say they've purchased pizza from a local restaurant in their area within the last month, compared to 39% of midwesterners, 34% of southerners, and 34% of westerners.
Regardless of topping and crust, most Americans are eating more than one slice per sitting. Over one-third (36%) say they typically eat two slices of pizza during one meal, while an equal number (36%) say they eat three in one sitting. Nearly one in five (17%) eat four slices, while 5% eat five or more slices in one meal.
Those two-or-three slice eaters may find themselves with leftovers the next day. Nearly all Americans (93%) have a preference for how to eat leftover pizza. The most popular way to eat a leftover pizza is to warm it up in the microwave (40%), though 27% prefer to take things slow and warm it up in an oven or toaster oven. Another 16% eat it cold from the fridge, 5% let it come to room temperature, and 4% heat it in a frying pan.
See full results here.
Learn more about YouGov Omnibus.
Image: Getty