Brands showing the biggest boost in overall impression among female consumers include Ring, GNC, and Best Buy
No two consumer groups are identical. Consider, for example, the differences between women and men. When it comes to shopping, 75% of women say they make sure to utilize all sales, coupons, and deals, compared to 62% of men. Furthermore, 65% of women like to plan their weekly shopping trip, while the same is true for 55% of men.
As for brands commenting on current events — which seems to be happening more frequently these days — 49% of women like companies that are willing to get involved in social issues, and 72% appreciate it when companies have a moral message in their advertising. For men, these numbers come in at a lower 42% and 64%, respectively.
With distinctions like these in mind, data from YouGov Plan & Track reveals that US women aged 18+ have the most favorable opinion of Dawn out of over 1,700 brands examined for the 2019 Women's Rankings.
When asked if they have an overall positive or negative impression of the popular household dish soap, female shoppers gave the Proctor and Gamble brand an average Impression score of +62.8 on a scale ranging from -100 to +100 between February 2018 and January 2019. In last year's rankings report, Dawn finished in third place behind Band-Aid and Amazon with an Impression score of +61.3.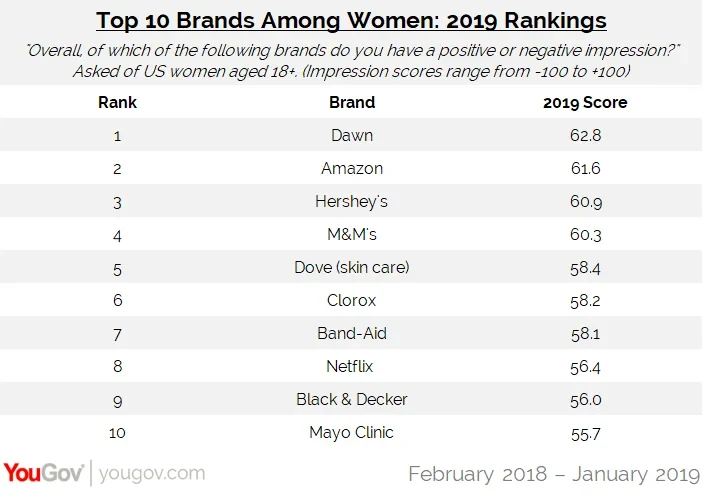 This year, Amazon came in second place with an Impression score of +61.6, followed by candy brands Hershey's (+60.9) and M&M's (+60.3). Additional YouGov data shows that 42% of women prefer candy over chips, compared to 34% of men.
New to this year's list are Dove (skincare), Black & Decker, and the Mayo Clinic. Gone are Google, Cheerios, and YouTube.
In terms of brands that experienced the greatest year-over-year increase in Impression score among US women aged 18+, the home security company Ring saw the biggest boost, climbing from +6.0 in 2018 to +14.3 in 2019 — a difference of 8.3 points.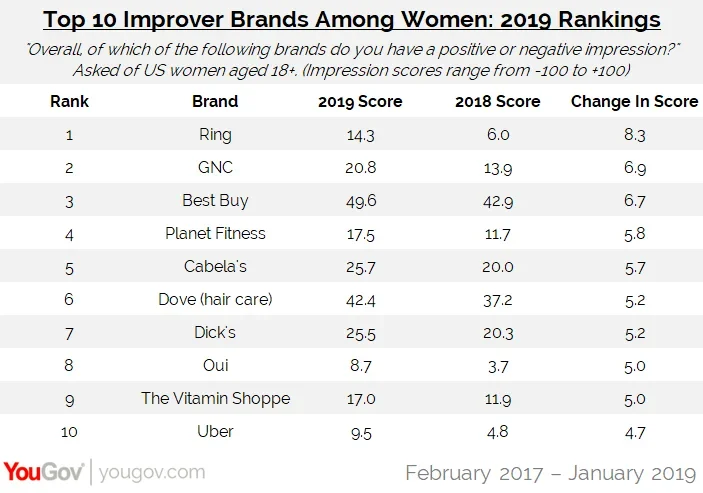 Other notable gainers in consumer perception include GNC (up 6.9 points), Best Buy (up 6.7 points), and Planet Fitness (up 5.8 points).
Photo: Getty