This month, Doordash is the brand that achieved the most significant improvement in its Ad Awareness.
DoorDash, a restaurant delivery company that launched its first national advertising campaign in mid-January, achieved the most significant improvement in its Ad Awareness among American consumers in February, according to data from YouGov Plan & Track.
In the middle of January, DoorDash's Ad Awareness score – which asks respondents if they have seen an advertisement for the brand in the past two weeks – was at 6%. By the end of February, the awareness score had risen to 10%. As DoorDash increased its television and social media advertising rollouts in January, its popularity also rose among all American age groups and regions.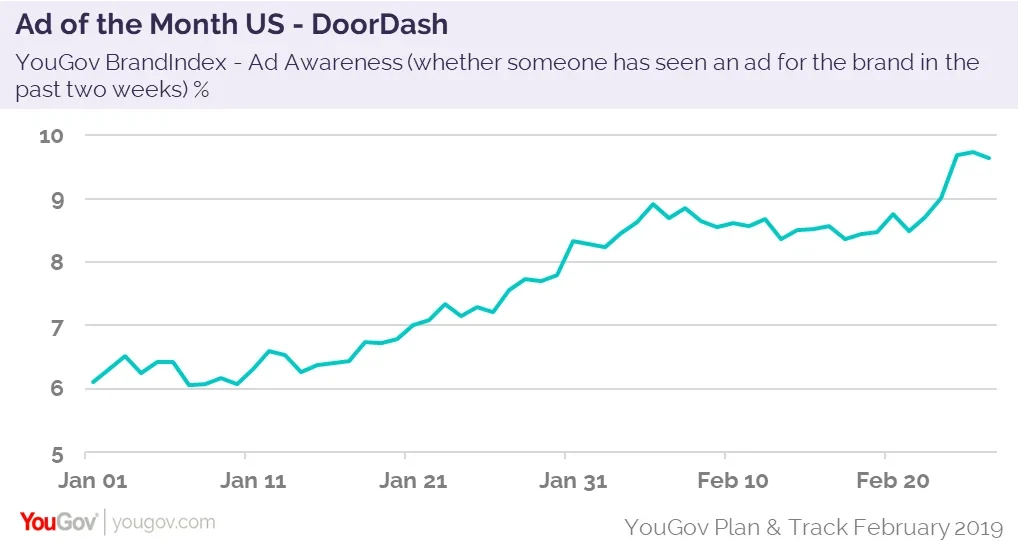 In DoorDash's national advertising campaign, titled "Delicious at Your Door," the brand highlights its ability to deliver popular restaurant brands like Wendys, Chipotle, The Cheesecake Factory, Buffalo Wild Wings, and True Food Kitchen. The commercials and the company's social media campaigns are slated to continue through March.
Watch: TV Ad: Delicious at Your Door from DoorDash on Vimeo.
DoorDash is a relatively young company, having only launched in 2013. According to YouGov data, only 39 percent of surveyed respondents had heard of the company. Data also indicates that Millennials are the most likely generation to hold a positive opinion of DoorDash, and women are slightly more likely to hold a favorable opinion of the delivery service than men. According to YouGov data, consumers who like Doordash are also fans of various sports personalities and television shows.
Learn more about YouGov Plan & Track