Sorry dads, it looks like the fix is in.
Most Americans admit they spend more on mom for Mother's Day than they do on dad for Father's Day (33%). Just 6% say they typically spend more on Dad, while 26% say they spend about the same amount for both holidays. But hey, dad probably doesn't mind. Almost one in five (19%) American fathers don't want a thing. "Nothing" was the answer chosen most by fathers surveyed in a YouGov RealTime research poll conducted in April.
You might otherwise consider something simple, like a card. Eleven percent of dads say they want a card more than anything. Another 7% of dads say it's electronics, while 6% would probably be happy to crack open a cold beer in celebration of the occasion.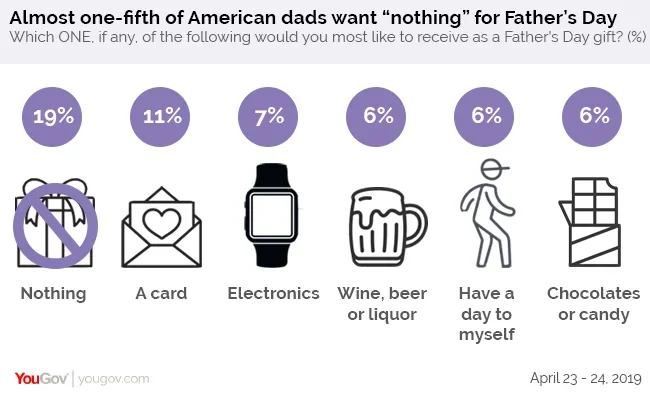 Another 6% of dads just want a day to themselves (which is also what 7% of moms wanted for Mother's Day last month), while 6% would also be happy to receive chocolates or candy for Father's Day.
One in 20 (5%) American fathers want a "keepsake gift," such as an engraved photo frame or another personal item. The classic go-to Father's Day gift is also an option: a new tie. Three percent of dads say that clothing is their top pick for the holiday. And 2% of dads will be thrilled with something homemade, so bring on the macaroni art.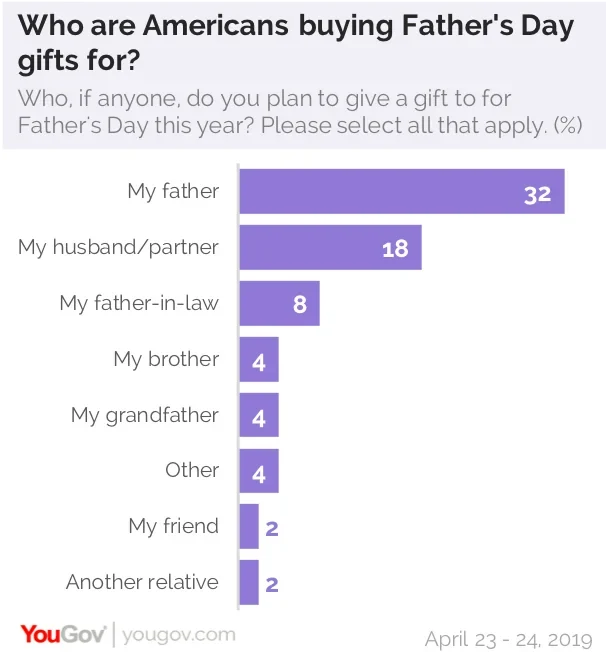 Almost one-third (32%) of Americans plan to give a gift to their dad for Father's Day this year. Nearly one-fifth (18%) plan to give a gift to their husband or partner to mark the occasion, while fewer plan to give gifts to their father-in-law (8%), brother (4%), or grandfather (4%).
See full results here and sign up to be a member of our panel and take surveys like this here.
Methodology: Nationally representative sample of 1,213 US adults, conducted online April 23 - 24, 2019.
Related: Gen Z hates when their parents tell stories about them
Image: Getty