Pride Month has officially kicked off, and many businesses may be considering how to connect with LGBTQ communities.
Some companies make it a priority to participate in LGBTQ community events, create workplace non-discrimination policies that include sexual orientation and gender identity, and recruit employees from LGBTQ networks and organizations. Nearly a quarter (24%) of Americans say they would be more likely to do business with companies that are known to be LGBTQ-friendly.
Certain customers are especially likely to do business with these companies: gay and lesbian individuals (71%), bisexual people (53%), liberals (52%), millennials (32%), and high-income earners (34%) are all more likely to spend their money with LGBTQ+-friendly businesses.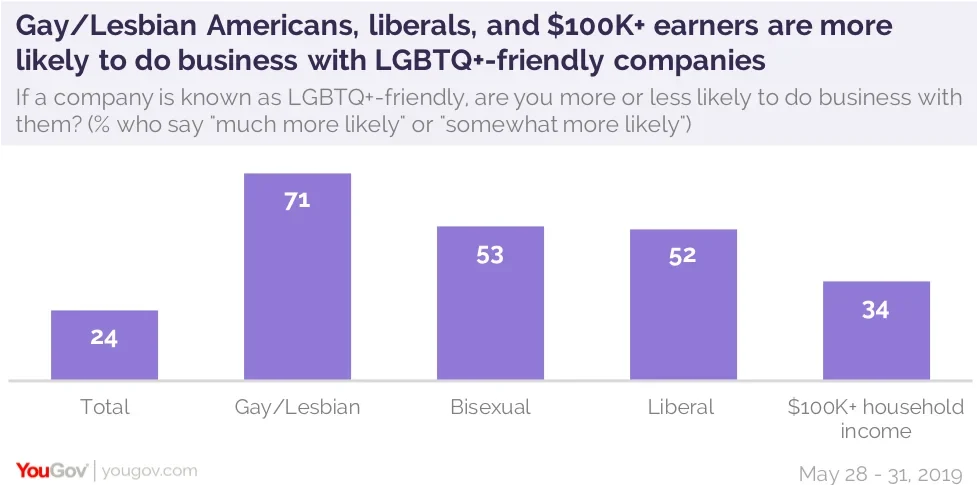 A plurality of Americans (44%) say a company's perceived friendliness to LGBTQ+ populations doesn't affect their purchasing decisions, while one in five (18%) say they'd be less likely to do business with such companies. Conservatives (40%) are particularly likely to say they're less likely to do business with LGBTQ+-friendly companies.
Advertising is one significant way for companies to communicate their values. Companies like Campbell's, Colgate, Ikea and Nordstrom are among the businesses that have featured same-sex couples in their advertising. A plurality (46%) of Americans say that seeing an ad with a same-sex couple wouldn't make them more or less likely to purchase a product, but some consumers are more likely to be affected by these advertisements.
Gay/lesbian people (58%) and bisexual people (38%) are considerably more likely than the general population (13%) to consider buying a product if the ad for it features a same-sex couple. Almost three in 10 (28%) liberals say the same, along with 18% of those who have an annual household income of $100K or more.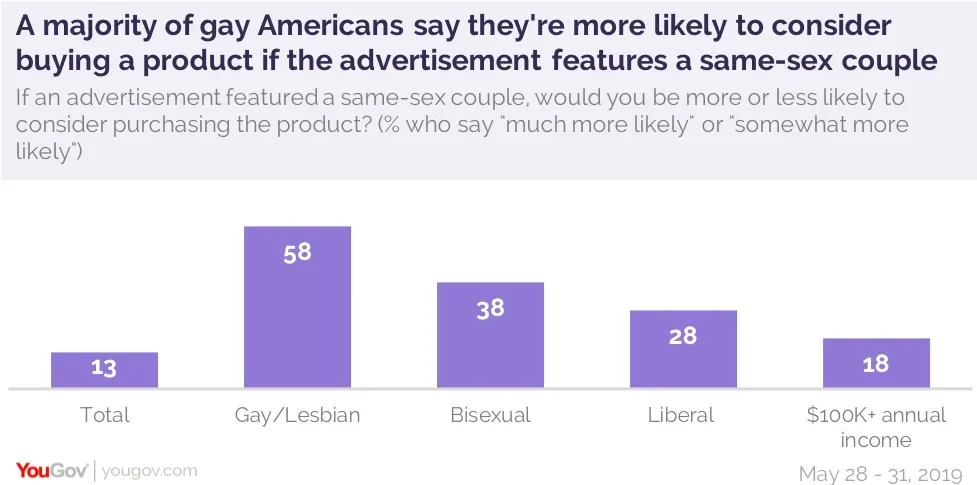 Nearly three in ten (27%) Americans say that seeing a same-sex couple in an advertisement would make them less likely to purchase the product. Slightly more than half (53%) of conservatives say this.
Brands may want to be thoughtful about how they choose to advertise during Pride Month. Half (50%) of Americans say that if a company debuts special Pride-themed gear or content (like rainbow-colored merchandise or special menu items, for example), they're likely to see that decision more as a marketing tactic than as a genuine reflection of the company's values. But gay men/lesbian women (30%), liberals (28%), and parents (26%) are among the most likely to see these actions as more authentic.