Sit back and pour yourself a generous glass of vino: it's wine o'clock somewhere.

New research from YouGov finds that most Americans (60%) enjoy at least the occasional glass of wine. About one-third (34%) drink wine at least once a month, though Millennials (46%) and those who live in urban areas (43%) are especially likely to consume wine this often.
What kind of wine is America drinking? Red wine (69%) is the most popular among wine-drinking adults, though majorities also say they like white wine (65%) or rosé (55%).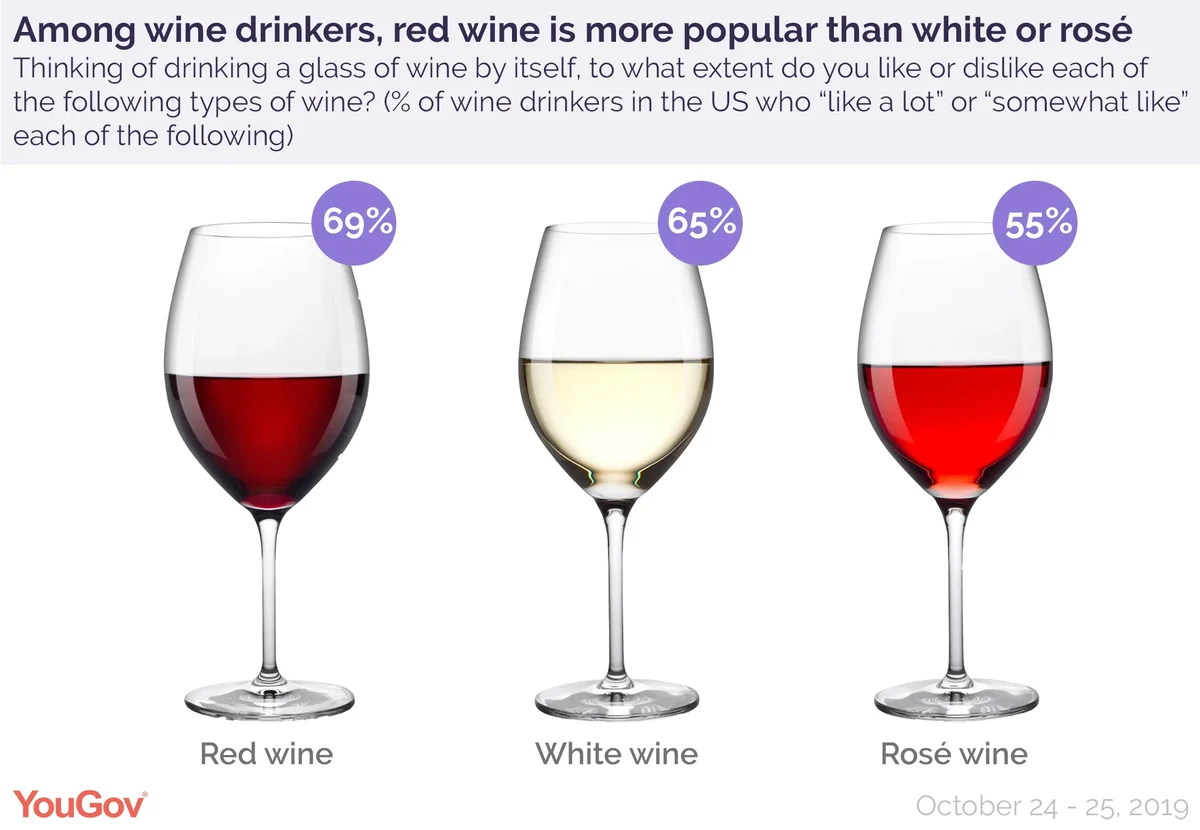 Among wine drinkers, the most popular kind of reds are Merlot (19%), cabernet sauvignon (18%), pinot noir (12%) and Zinfandel (12%).
As for the white wine list, Moscato (23%) tends to be the most popular pick. Chardonnay (17%), Riesling (14%), Pinot Grigio/Gris (13%), and Sauvignon blanc (11%) are other popular varietals.
When it comes to rosé wines, about one in five (19%) say they don't have a preference. But Zinfandel rosé tends to be the most popular, with 33 percent of rosé-drinkers claiming it as their favorite type.
But for most Americans, the varietal isn't the most important thing when it comes to choosing wine.
Two-thirds (66%) of wine-drinking Americans say that when they're purchasing a bottle, price is one of the most important factors. More than one-third (36%) say that the brand is important, while 24 percent say the alcohol percentage is something they care about.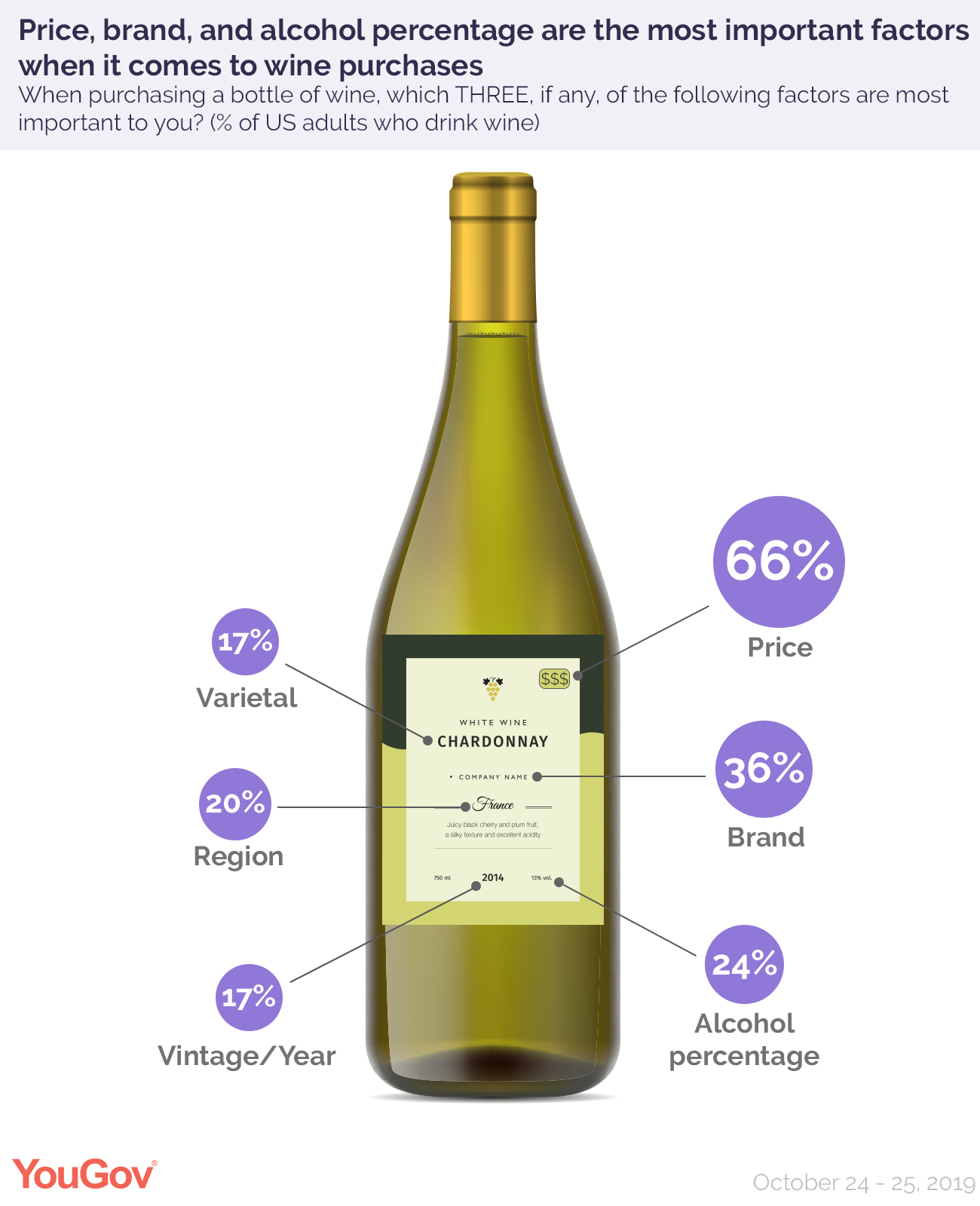 Just over one in five (21%) say that the reviews are one of the top three factors they care about when making a wine purchase, while 16% say the same about the bottle/label design.
With cost being one of the most important factors among wine-drinkers, it's unsurprising that most Americans are looking to spend less than $20 when they buy a bottle of wine.

One-quarter (24%) say they typically aim to spend less than $10 when buying a bottle of wine. A plurality (44%) aim to spend between $11 and $20, while just 23 percent of wine drinkers say they typically aim to spend more than $20.
One potential reason Americans may look to less expensive wines: most don't believe they personally can tell the difference between expensive and inexpensive wines.
Over half (57%) are not very confident (23%) or not at all confident (34%) that they would be able to distinguish between a $5 bottle of wine and a $100+ bottle of wine in a blind taste test.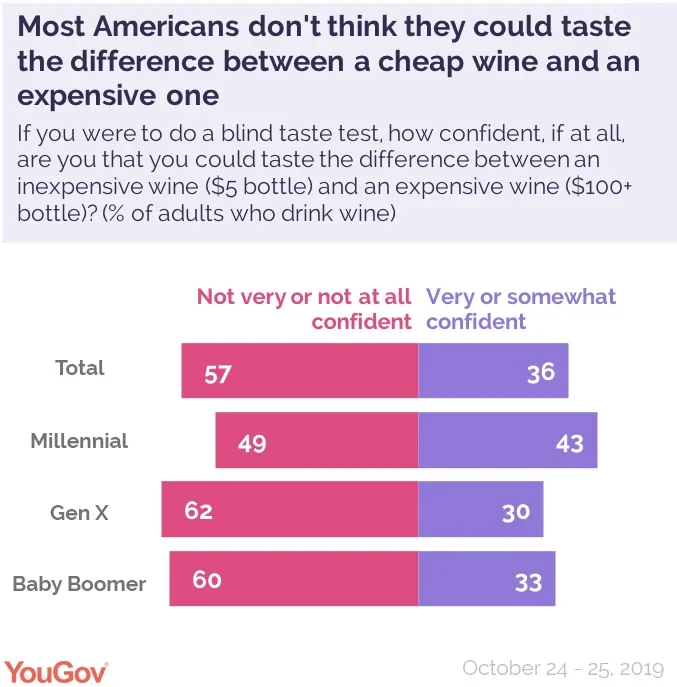 Millennials (43%) are more likely than members of Gen X (30%) or Baby Boomers (33%) to say they believe they could taste the difference between the two. But a larger number of Millennials (49%) are not confident they would be able to tell the difference.
Men (15%) are more likely than women (9%) to say they are "very confident" they could tell the difference between an inexpensive wine and an expensive wine.
See full results from this survey here.
Methodology: Total unweighted sample size was 1,179 US adults who are 21 or older, including 722 US adults who ever drink wine. The figures have been weighted and are representative of all US adults (ages 21+). Interviews were conducted online between October 24 - 25, 2019.
Related: Over half of millennials plan to take at least one leisure trip this winter