Americans like to get their holiday shopping done early.
On average, nearly a quarter (24%) of Americans do their holiday shopping in late November/early December around Black Friday and Cyber Monday, according to YouGov consumer data going back to 2015. In fact, 8 percent of Americans say they have shopped for some gifts on Black Friday and Cyber Monday.
For some, the shopping season never ends: 16 percent of Americans do their holiday shopping all year around.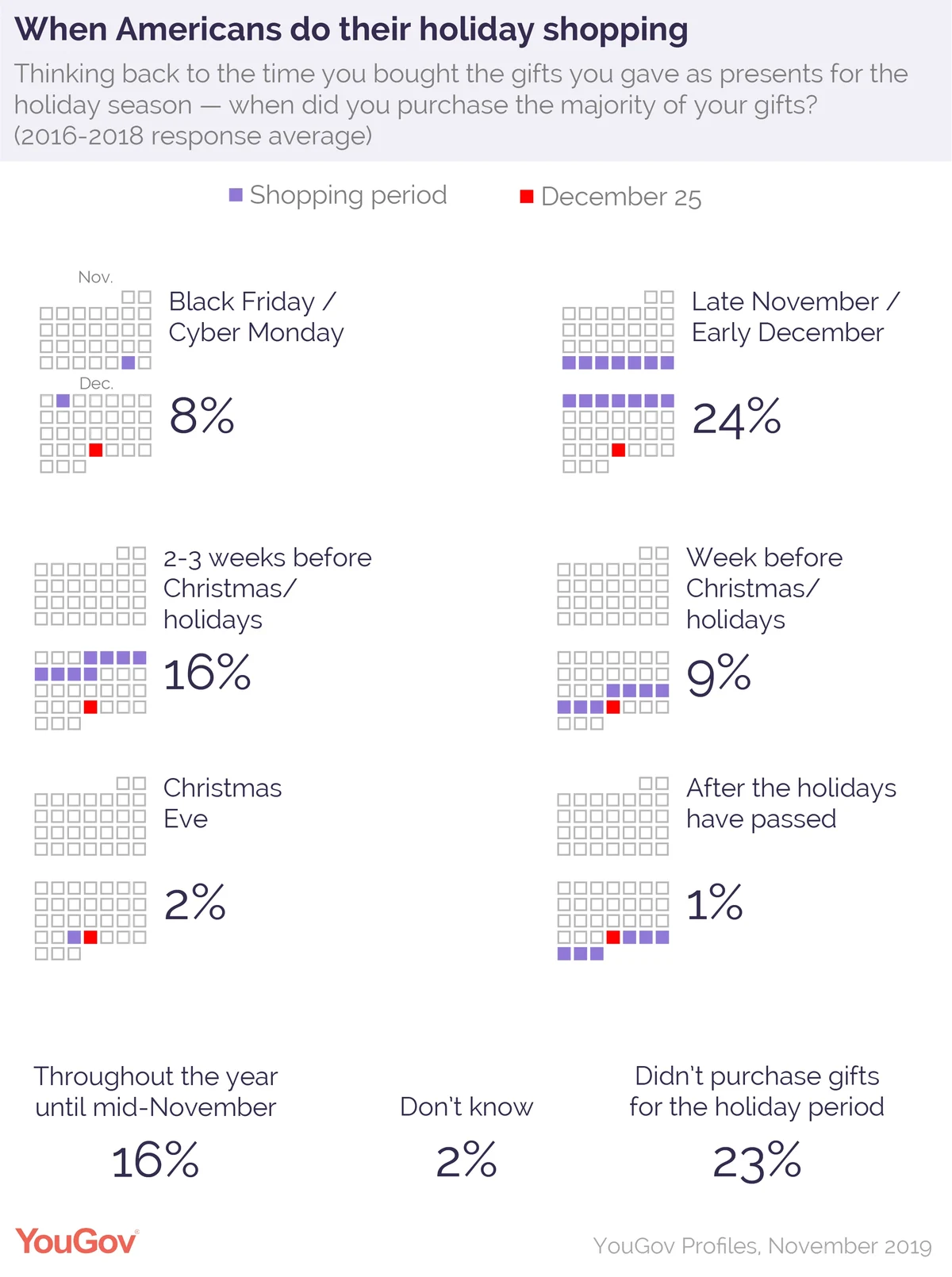 America's holiday shopping season seems to envelope the calendar more each year. This year, major Black Friday players, such as Amazon, Costco, Walmart and Target had already posted Black Friday deals at the beginning of November.
And new players are getting in on the early season action. Smackdab between Halloween and (the actual) Black Friday, savings website RetailMeNot announced a "Cash Back Day," offering users who sign up for the service up to 20 percent cash back at retail partners like HomeDepot, Macy's and Expedia. The company says the promotion will happen on the first Thursday of November each year.
Millennials are more likely than any other generation to shop on Black Friday or Cyber Monday during the Thanksgiving weekend, according to YouGov data. The majority are female.
How can retailers connect with Millennial Black Friday shoppers? YouGov data shows advertising on podcasts, in movie theatres and online (including apps, social networks and websites) is more likely to grab their attention than the average American's.
When do the rest of Americans shop? Sixteen percent of Amerians get the majority of their shopping done two or three weeks before the holidays, while nine percent wait until the final week before.
It's not just men waiting until December 24 to get the majority of their shopping done. In fact, it was a near-even split between female (53%) and males (47%) in 2018.
Unlike America's neighbor to the north in Canada, where Boxing Day is a major shopping day, the day after Christmas (and the days following) isn't the time to shop for Americans, as only one percent say they shop after Christmas or the holidays.