A San Francisco 49ers fan and Kansas City Chiefs walk into a bar.
What kind of beer do they order?
Funny you should ask, because we actually know that. YouGov's BrandIndex and TeamIndex tools tell us a lot about what these fans like. Both the 49ers fan and the Chiefs fan are likely to ask the bartender for either a Budweiser or Bud Light. These two beer brands have the highest percentage of current customers among fans of both teams headed for Super Bowl LIV at the Hard Rock Stadium in Miami on February 2.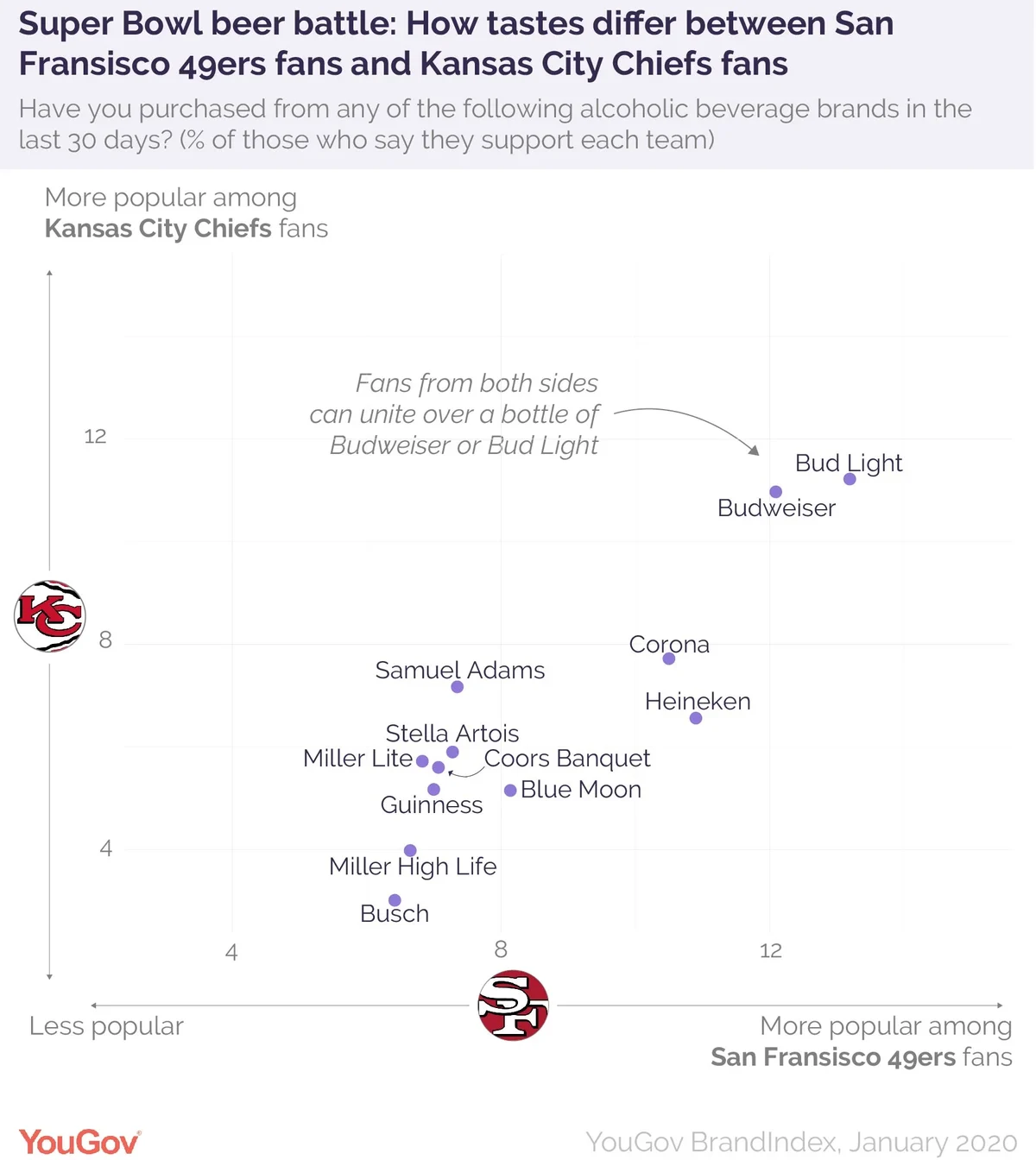 YouGov BrandIndex asks Americans every day about thousands of brands. Current customer data is based on the question: "Have you purchased from any of the following alcoholic beverage brands in the past 30 days?" We determine fans based on answers to the question: "Which, if any, of the following NFL teams do you support?"
After those two brands, the differences between the fan bases emerge. For example, San Francisco fans are more likely to grab a bottle of Busch or Heineken compared to their Kansas City rivals.
Anheuser-Busch InBev — the parent company to those two beer brands — has been the exclusive beer sponsor of the Super Bowl since 1988 and will air four 60-second ads during the game this year for Budweiser, Bud Light, Michelob Ultra and its new Bud Light Seltzer brand.
That effort seems to pay off, as awareness among Bud Light and Budweiser saw the highest jump of any Super Bowl brand in 2019, according to a recent YouGov analysis.
Setting aside team allegiances, Bud Light and Budweiser are still the favored suds among Super Bowl watchers (who are those who watched the big game live in 2019), followed by Corona, Samuel Adams and Coors Light.


According to newly released YouGov data, about three in 10 (31%) of US adults plan to drink beer during the game.