A healthy dose of humor. Celebrities for good measure. And just a dash of patriotism.
A look at this year's top Super Bowl advertising performers - those with the biggest week-over-week jump in Ad Awareness -- shows brands stuck to the basics, mostly avoiding political or wedge issues (save for the two political campaign spots by President Donald Trump and Democratic candidate Michael Bloomberg).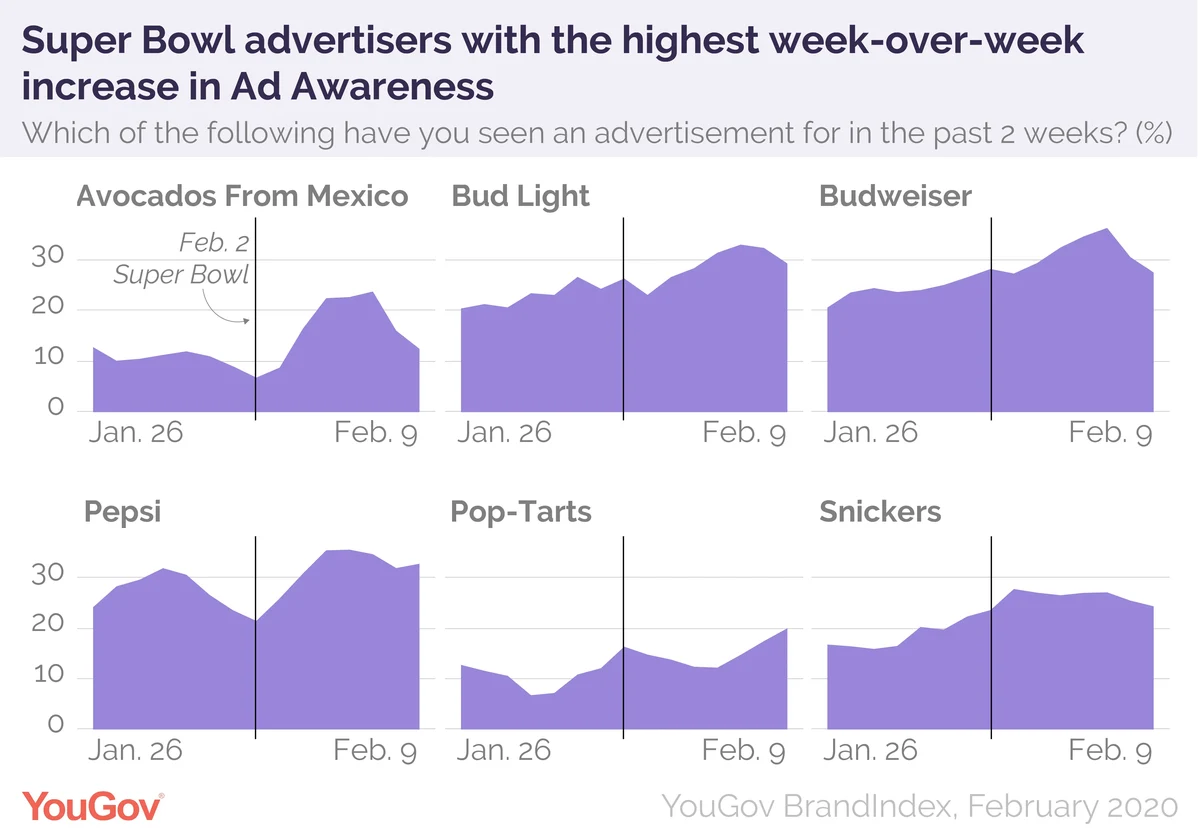 Snickers was the brand that came closest to politics when they declared that the "world is out of sorts," comedically lamenting a raft of social problems, from partisan politics to non-dairy milk. The spoof of the iconic 1971 Coca-Cola Hillside Super Bowl commercial helped vault the brand's week-over-week Ad Awareness by five points. A Super Bowl mainstay Avocados from Mexico also took a comedic tact that paid off. Its Avocado Shopping Network spot starring Molly Ringwald earned the brand a six-point jump in awareness from the week prior to the game.
Budweiser, a Super Bowl advertising stalwart, took a firm tug at the patriotic string by attempting to change what the term "Typical American" means. The flag-waving helped the brand with its six-point jump in Ad Awareness.
There was also plenty of star power among the top performers this year.
Rapper Missy Elliot was enlisted to be the face of Pepsi Zero Sugar, remixing The Rolling Stones' Paint It Black in its 30 second commercial. Pepsi saw a six-point jump in weekly average in Ad Awareness after the game. YouGov Signal data shows a 137 percent jump in online searches for Missy Elliot one day after the game.
Ad Awareness of Pop-Tarts started climbing well before game day as the brand released a teaser to its spot featuring TV personality Jonathan Van Ness. The brand saw a six-point week-over-week jump in ad awareness while YouGov Signal data shows the Queer Eye star saw a 51 percent hike in Wikipedia searches.
Thanks to a pair of humourous spots for its new hard seltzer starring rapper Post Malone, Bud Light saw a substantial seven-point hike in advertising performance.
Methodology: Ad Awareness is based on a three-day average with an average sample size of 213 US adults.