Cuteness sells -- and Planters' latest ad campaign is yet another example of that.
The Planters commercial -- one that killed off its iconic mascot in a teaser ahead of the Super Bowl only to resurrect him as Baby Nut during the big game -- is YouGov's ad of the month for February, registering the highest increase in Ad Awareness of any brand in February.
Ahead of its Super Bowl LIV spot by ad agency VaynerMedia, Kraft Heinz released a teaser showing the top-hat-wearing peanut die in a fiery explosion after falling off a cliff to save the lives of comedian Matt Walsh and actor Wesley Snipes.
During the brand's Super Bowl ad, a "funeral" was held for the late Mr. Peanut with other brand mascots in attendance including the Kool-Aid man and Mr. Clean. Baby Nut then emerges from the ground, making cooing sounds -- and then dolphin sounds.
"Just Kidding. I'm back," Baby Nut says.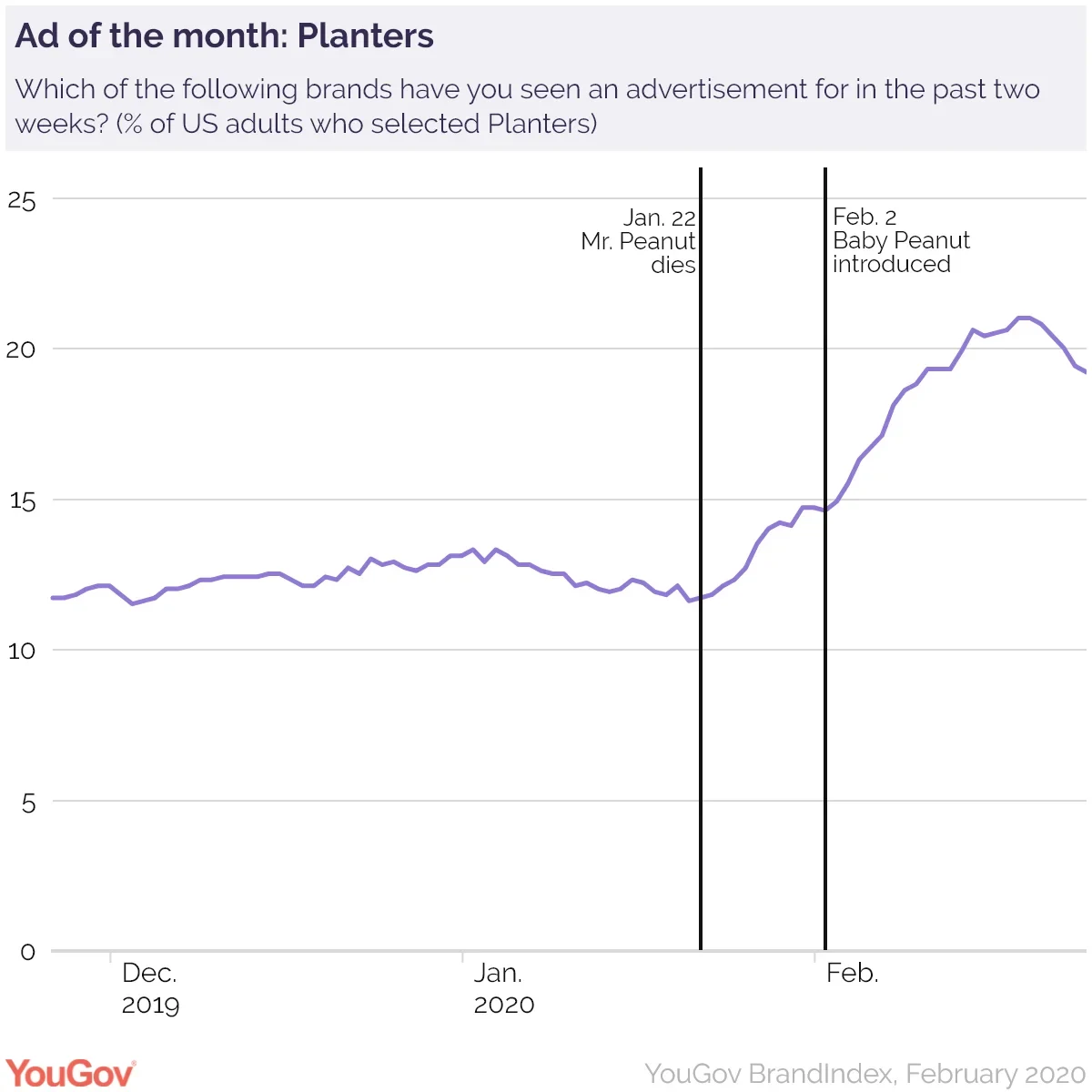 The marketing stunt earned the brand significant attention as ad awareness jumped 57 percent between January 22 when the initial teaser was released and February 19 when the awareness peaked. That timeframe is in line with a YouGov analysis of how long Super Bowl Ad Awareness generally lasts.
According to YouGov Signal data, which tracks online sentiment across several social media platforms and websites, chatter about Planters increased by 2,000 percent around the time of Mr. Peanut's death.
Planters is the 12th most popular food & snack brand and the 44th most famous, according to YouGov Ratings. Planters is described by fans as: classic, trustworthy, good quality, good value for money and attractive.
Methodology: Ad Awareness is based on an average daily sample size of 1,900 US adults on a 4-week rolling average.