The 2020 edition of YouGov's annual list of the top brands according to women is here, and some familiar names are back.
For the second year in a row Dawn dish soap tops the list of brands that make the best Impression on American women.
The dish soap brand scores a 60.6 on YouGov's Impression scale.
Each year, YouGov highlights companies that have the best impression on American women, which is calculated by asking which brands they think have a positive or negative feeling about. YouGov's Women's Choice is calculated by subtracting the negative responses from the positive responses and averaging these scores between February 1, 2019 and January 31, 2020.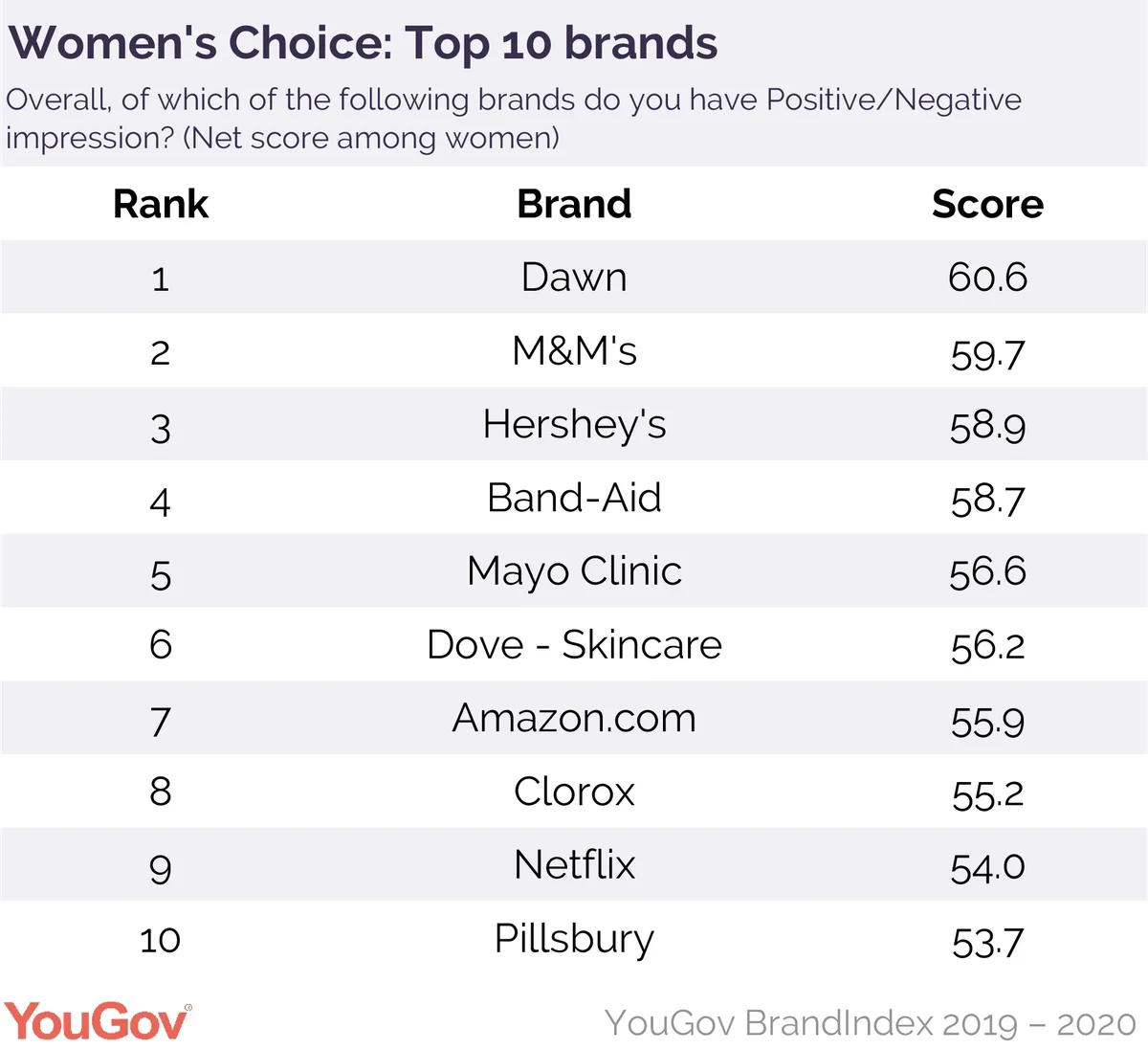 Dawn is among several other brands of which women have positive feelings.
Chocolate brands M&M's (with a score of 59.7) and Hershey's (58.9) earned the No. 2 and 3 spots respectively on this year's list, both inching up one spot from last year.
The chocolate brands are followed by Band-Aid (58.7) and Mayo Clinic (56.6). Rounding out the top 10 list are Dove Skincare (56.2), Amazon (55.9), Clorox (55.2), Netflix (54) and Pilsbury (53.7).
Levi's is top improver
Two well-known denim companies are among the brands that saw the highest jump in positive impression among women compared to last year. Levi's saw a 7.5-point rise in its score to 48.9, while Wrangler saw a 6.3-point hike to 32.4.
Growth among women for Levi's -- which went public a year ago -- is also reflected in the company's financials. Levi Strauss CEO Charles Bergh said during the fourth-quarter call that "women's and tops were particularly strong, each up 14% for the year."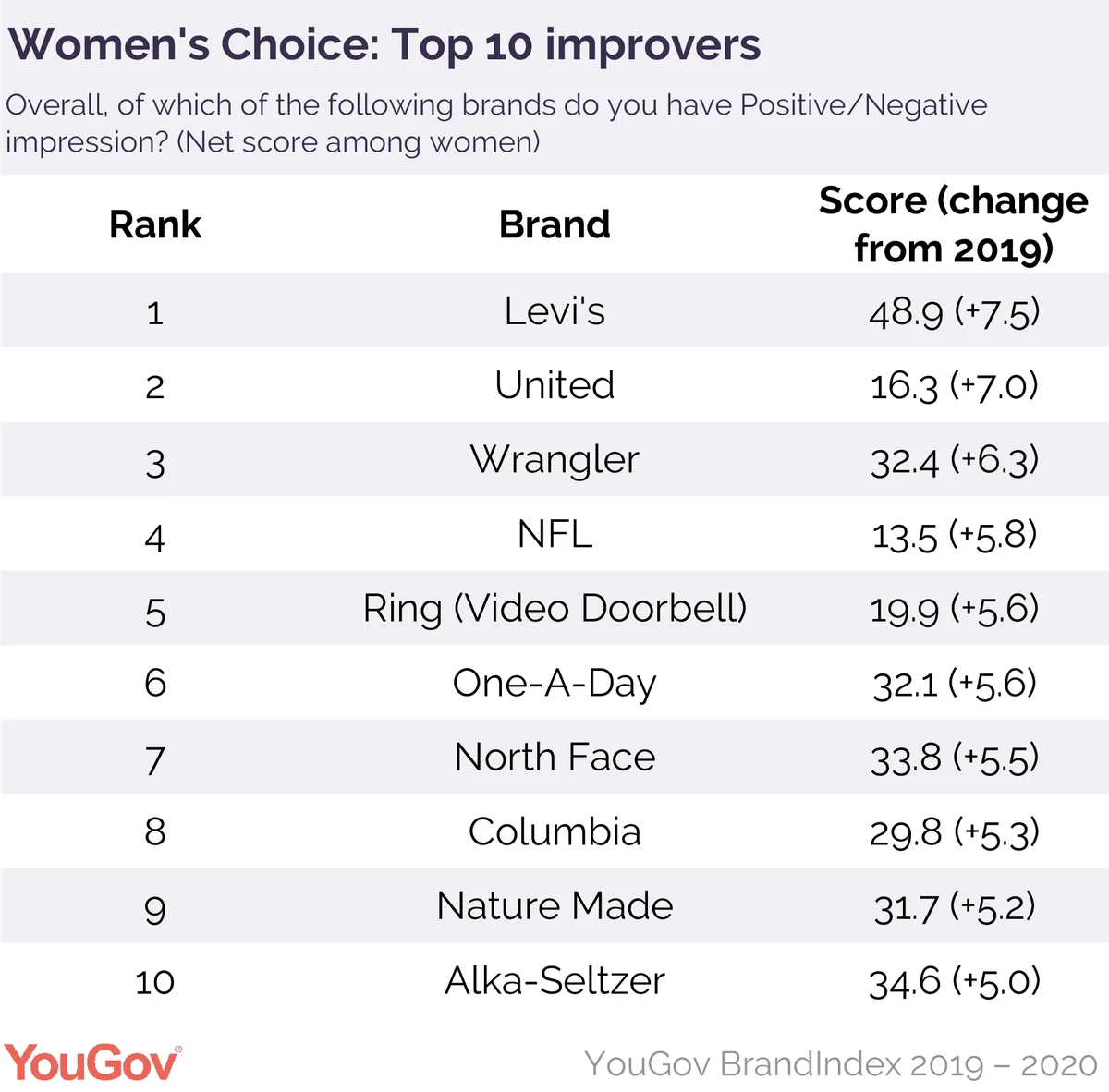 Women's impression of The National Football League (NFL) has also seen considerable gains, with its score rising to 13.5, marking a 5.8-point increase from last year's rankings. The league was also a noted improver in YouGov's annual Buzz rankings, released in January.
Other top improvers this year are United Airlines, Ring video doorbell, One-A-Day vitamin brand, apparel companies North Face and Columbia, as well as Nature Made and Alka-Selzer.
Methodology: The 1,750 brands in YouGov BrandIndex were ranked using the Impression score, which asks respondents, "Overall, of which of the following brands do you have Positive/Negative impression?" Scores are net scores, calculated by subtracting the percentage of negative responses from the percentage of positive responses for each brand.
The Women's Rankings chart shows the brands with the highest average Impression scores between February 1, 2019 and January 31, 2020. The Impression Improvers chart ranks the brands with the highest increase in Impression comparing the scores for this year and the prior 12 month period (February 1, 2018 and January 31, 2019). To be included the year over year variance must be positive. Scores are representative amongst women.
All Impression scores listed have been rounded to a single decimal place, however, we have used additional precision to assign ranks.
All brands must be tracked for at least 6 months to be included in the rankings, and must have been tracked for at least 6 months in the prior year's period (as well as being currently tracked) to appear in the movers tables.
Image: Dawn