It doesn't necessarily have to be 5 p.m. to crack open a beer, according to some Americans.
Data from a recent YouGov survey of 2,747 US adults shows roughly one in six (16%) consider noon the earliest acceptable time of day to have an alcoholic drink on non-working days. One in 10 (10%) say 5 p.m.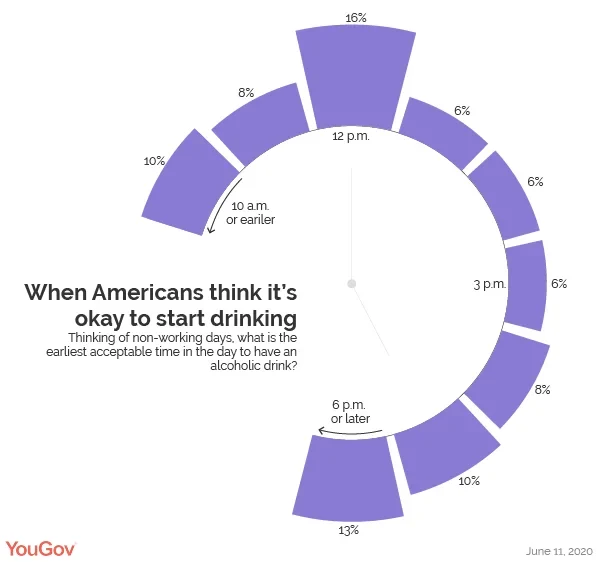 Most seem to believe that mealtimes are a good time for a drink, such as noon lunch and dinner at 6 p.m. or later.
Roughly one in eight (13%) say 6 p.m. or later is the earliest acceptable time, while nine percent of Americans say it's fine to grab a libation before 10 a.m. Men (13%) are more likely than women (7%) to say 10 a.m. or earlier is appropriate to raise a glass. Young Americans age 25-30 (17%) are also fine with morning drinks before 10 a.m.
What about beer drinkers?
Among YouGov Direct users who list beer as their favorite type of alcoholic beverage, noon is the right time to indulge for about one in four (23%). Same goes for liquor drinkers (22%).
Wine drinkers (13%) are more likely to say 5 p.m. is the earliest appropriate time to have a drink.
According to YouGov Profiles, a third (33%) of Americans identify as "special occasion drinkers," while roughly a quarter (26%) say they're "social drinkers" and 15 percent say they're "weekend drinkers."
Nine percent say they're "after work drinkers," five percent identify as "daily drinkers" and three percent are "anytime, anywhere drinkers."
Methodology: 2,747 US adults were interviewed through YouGov Direct. Results are weighted by gender and age to best represent the US population. This survey was conducted online between June 11 –12, 2020. Users considered beer drinkers is a group who said their favorite alcoholic beverage is domestic beer, imported beer, craft / microbrew beer. Liquor drinkers are those who listed rum, tequila, vodka, gin, scotch, bourbon or whiskey as their favorite alcoholic beverage.
Related findings
Image: Getty