From North Carolina to the lone star state, barbecue in America varies immensely – but what regional BBQ style do Americans like most?
According to a recent HuffPost/YouGov Poll, smoked brisket without sauce leads the way. About one in five (22%) of Americans say Texas style is their favorite regional type of barbecue. Carolina, Kansas, and Memphis style follow, all tied with 10 percent.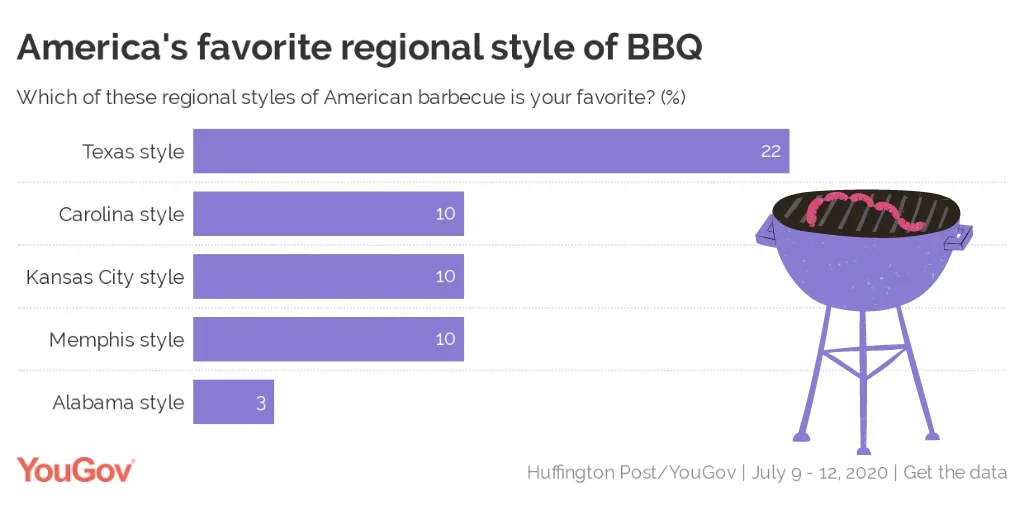 Midwesterners (19%) prefer Kansas City styled barbecue – known for thick molasses and tomato sauce. 15 percent of Americans in the northeast say Texas style BBQ is their favorite. In the South, Texas style dominates with one in four (26%) Americans stating it's their favorite, followed by Carolina style (16%). Americans in the West (29%) also agree, naming the lone star state their favorite.
Three percent of Americans said Alabama style barbecue is their favorite, making it the least liked regional BBQ style.
One in 10 Americans (10%) say they don't like barbecue at all, and 10 percent of Americans say another style of BBQ, not listed, is their favorite.
In addition to the regional BBQ style debate, half of Americans (55%) say barbecuing and grilling are two entirely different things, compared to 35 percent who say they mean the same thing.
Barbecue origins are also a hot debate among Americans. Nearly two in five (35%) Americans say American barbecue was invented by people in the United States. About one in five (19%) say American barbecue was brought to the United States by European immigrants.
One in three (33%) of Americans say barbecue originated from Native Americans. 12 percent say BBQ originated from Spanish settlers, and one in five (20%) say it originated from African Americans. The term "barbecue" originates from the Spanish word "barbacoa." The term was used by Spanish colonizers in the Caribbean to refer to the native way of cooking, and the method of slow cooking meat on a wooden platform.
See the toplines from this week's Huffington Post/YouGov Poll.
Methodology: The HuffPost/YouGov poll consisted of 1,000 completed interviews conducted July 9 - 12 among U.S. adults, using a sample selected from YouGov's opt-in online panel to match the demographics and other characteristics of the adult U.S. population.
Image: Getty