YouGov is a survey website where you can earn cash or gift-cards for completing online surveys about different topics. From politics and social issues, to what your favourite sandwich is. Join now and you can start earning.
The people have spoken.
America's top sandwich is the grilled cheese, according to the results of a YouGov survey that asked people to weigh in on their top sandwich choice.
The ooey, gooey grilled cheese – a comfort food staple – earned the most nods for "like" or "somewhat like" and came in with a 79 percent likeability rating. Food and Wine Magazine took a look at the regional breakdowns of our data on who likes the grilled cheese, and it's pretty much agreed upon nationwide.
Second place is for the birds in our survey. The humble turkey sandwich tied with grilled chicken at 75 percent on the likeability scale.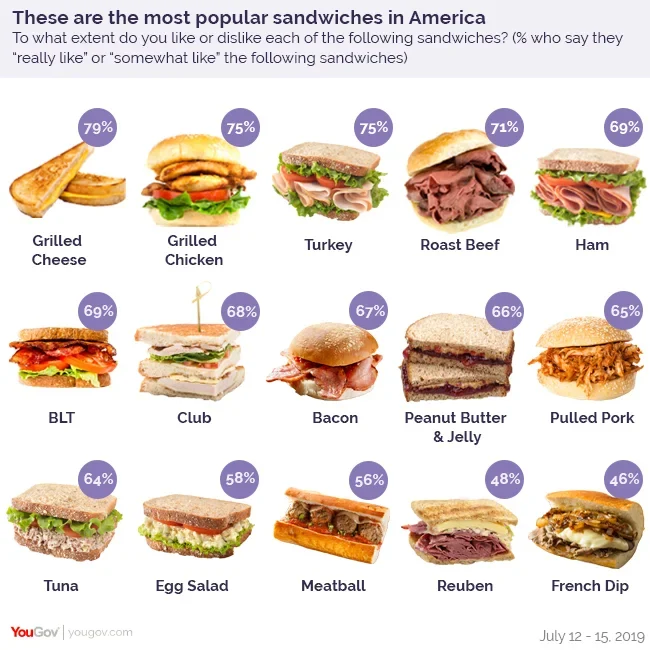 Despite having three sandwiches included in the survey that feature bacon, just one of those sandwiches -- the BLT -- was able to crack the top five in the national likeability scale with 69%. It tied with ham with 69 percent. The other two – the club and the bacon sandwich – ranked six and seven, respectively.
A school lunchroom staple takes the eighth spot on America's list of most liked sandwiches. Peanut butter and jelly beat out the meatball sandwich, the French dip and the Reuben.
But not everyone agrees on what's likeable. Regional differences exist.
For instance, people from the South liked grilled cheese more than the national average (82%).
People in the Northeast gave more love to the lobster roll (46% northeast vs. 35% nationally) and the meatball sub (65% northeast vs. 56% nationally) than the rest of America. In the West they seem to have a taste for the French dip. That sandwich drew 57 percent likeability from that part of the country vs. 45 percent nationally.
Midwesterners mostly fall in line with the national average on their choices and no significant difference existed in their tastes. But one stat did jump out from the Midwestern group. They don't seem to try too many different types of sandwiches. Asked about lobster rolls (41%), crab cakes (39%), cheese and tomato (27%), and Cuban sandwiches (43%) Midwesterners were more likely to say they had never tried these sandwiches.
Want to earn cash or gift-cards for taking part in our other research? Join YouGov now and get rewarded. Sign up is free and easy and you'll earn 3,000 points for your first two surveys.
Want to know more about how America feels about sandwiches? Take a look for yourself. Here's the full results.

Methodology: All figures, unless otherwise stated, are from YouGov Plc. Total sample size was 1223 adults. Fieldwork was undertaken between 12th - 15th July 2019. The survey was carried out online. The figures have been weighted and are representative of all US adults (aged 18+).
Photo: Getty Images