This month, California made the ambitious commitment to end the sale of new gasoline and diesel vehicles by 2035. YouGov data shows many Americans support the plan in principle. In fact, half (50%) of Americans say they would support a similar requirement in their own state, according to a poll of more than 8,000 Americans.
There was also backing across the generations. A significant number of millennials (58%), Gen X (50%), and Baby Boomers (46%) say they would get behind a complete ban on the sale of new gas-powered vehicles in their state.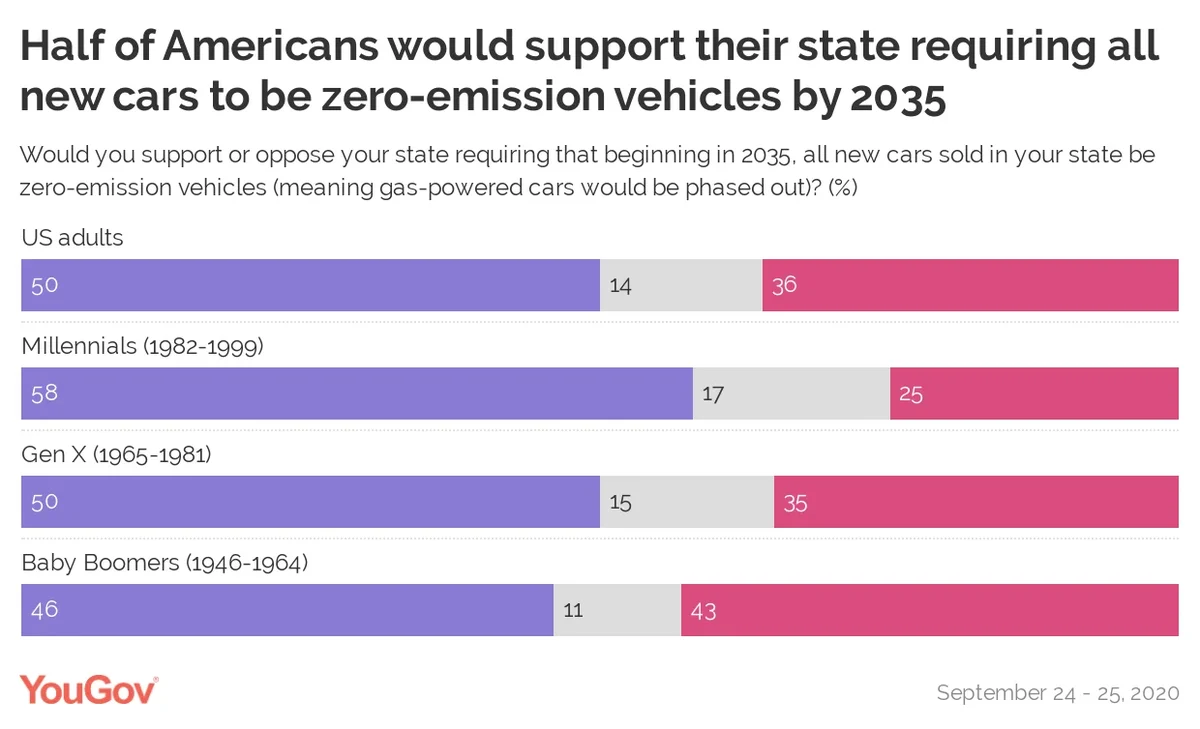 In fact, two-thirds of those in market for a vehicle say electric cars are the future of the motor industry. Still, most aren't likely to drive silently off the dealership lot in an electric vehicle.
YouGov data shows that among Americans likely to purchase a vehicle in the next 12 months, only 31% would consider a hybrid and 21% would consider a full-electric car.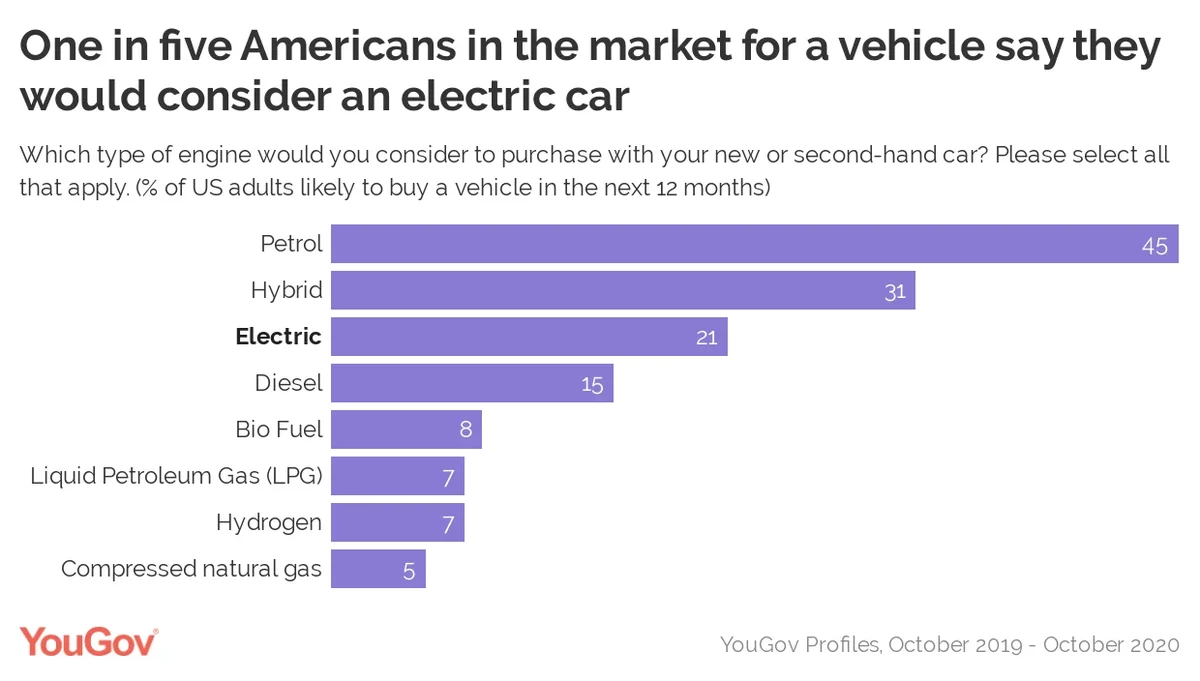 What's stopping them? Charging time (21%) and the hassle of charging (20%) are two of the top reasons why those in the market for a new vehicle would not consider an electric vehicle (EV). And then there is the cost which is a deterrent for 21% of potential buyers.
This makes the challenge facing marketers clear: quell range anxiety while justifying a slightly high price tag.
Other deterring factors include the cost of charging at home (18%), battery life (15%) and a lack of charging stations (17%). The state of California is home to 28,000 public charging stations, far more than any other state. New York has the next highest number. with just over 5,000.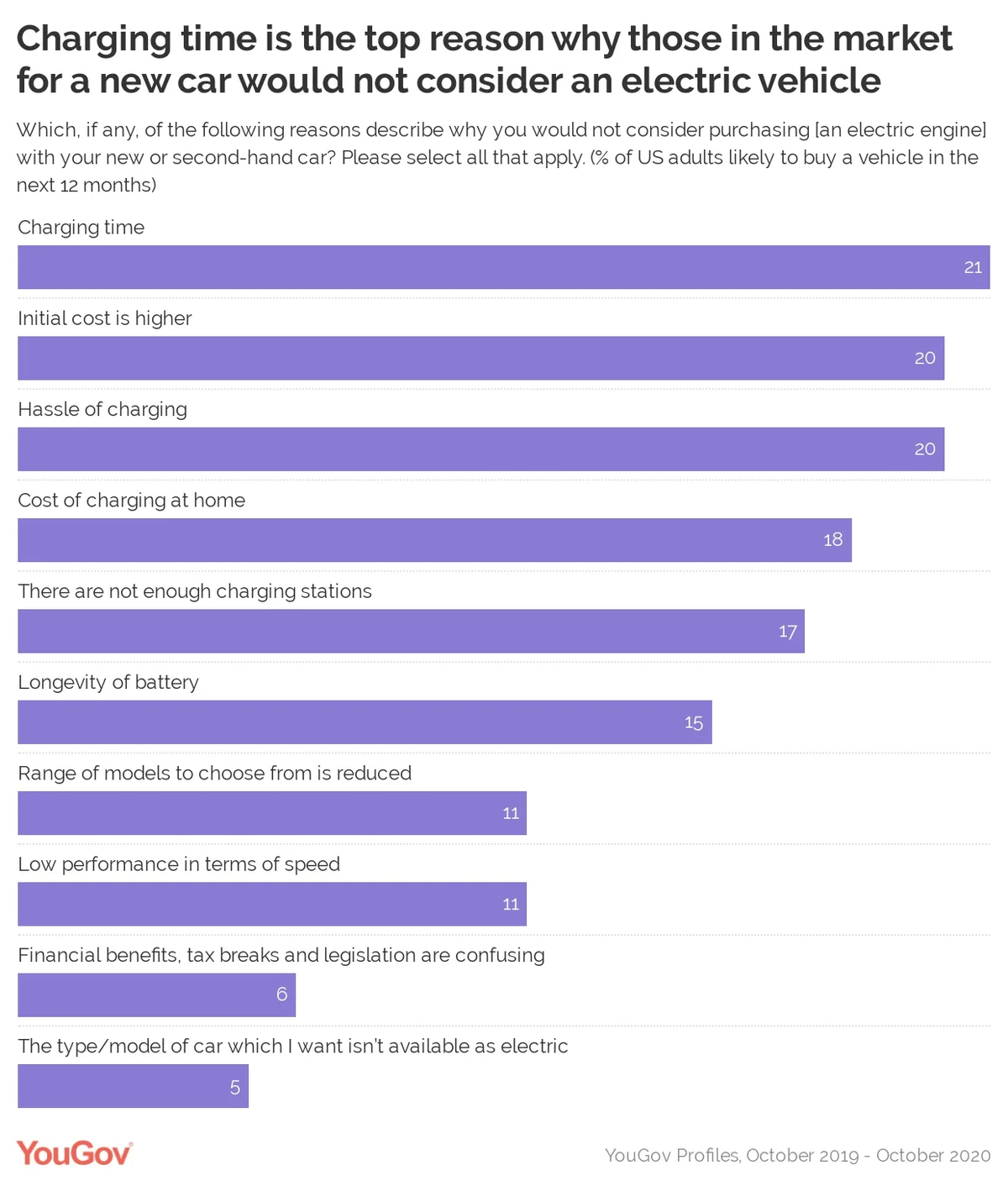 So why would they buy? What's the trigger? It isn't necessarily saving money on gas. Among Americans likely to make a vehicle purchase in the next 12 months, environmental protection remains the top reason why they would consider an electric vehicle (20%), ahead of low running costs (16%), and reduced fuel cost (11%).
Marketers looking to convert EV-curious consumers should keep the environmental message at the fore ahead of any cost benefit.
YouGov data also shows that among those who say environmental protection is a reason they would consider buying an EV, half (50%) say they consider Tesla to be a leader in sustainability and being environmentally friendly, followed by Toyota (30%), and Honda (19%).
The Covid-19 pandemic is likely to have an impact on appetite for electric vehicles, by way of prolonged decreased gas prices around the world, making the initial price of an EV less appealing.
That being said, state incentives to lower the cost of EVs have helped beef up demand in recent years, but aggressive measures like those California is proposing may finally force a massive permanent shift away from gas-powered passenger vehicles.
Methodology: Data on supporter for state legislation on gas vehicles is based on a sample of 8,125 Americans interviewed between September 24 – 25, 2020 and the sample of Americans in the market for a new vehicle is based on a sample of 8,255 Americans interviewed throughout the year between October 2019 and October 2020.
Image: Getty