America's Thanksgiving dinner favors the classics, according to a new YouGov poll ranking the top dishes from the holiday feast.
We determined the best Thanksgiving food by asking 1,300 Americans to choose the better of two dishes in a series of head-to-head matchups. The top item to emerge from the trials was America's Thanksgiving classic — turkey — which won 83% of its matchups.
Turkey was followed by mashed potatoes, which won 78% of its contests and narrowly beat out stuffing or dressing (77%) for the title of best Thanksgiving side dish. America's love of carbs continues with its fourth-place choice: bread or rolls (74%). Another popular entrée, ham, rounds out the top five dishes with its 67% win record.
The remaining top 10 were all sides. Scalloped potatoes (66%) and sweet potatoes or yams (65%) mark sixth and seventh place, an impressive showing for America's love of starchy vegetables. Green beans take the eighth spot (64%) closely followed by gravy (64%). The top 10 is finished off with a hearty helping of macaroni and cheese (62%).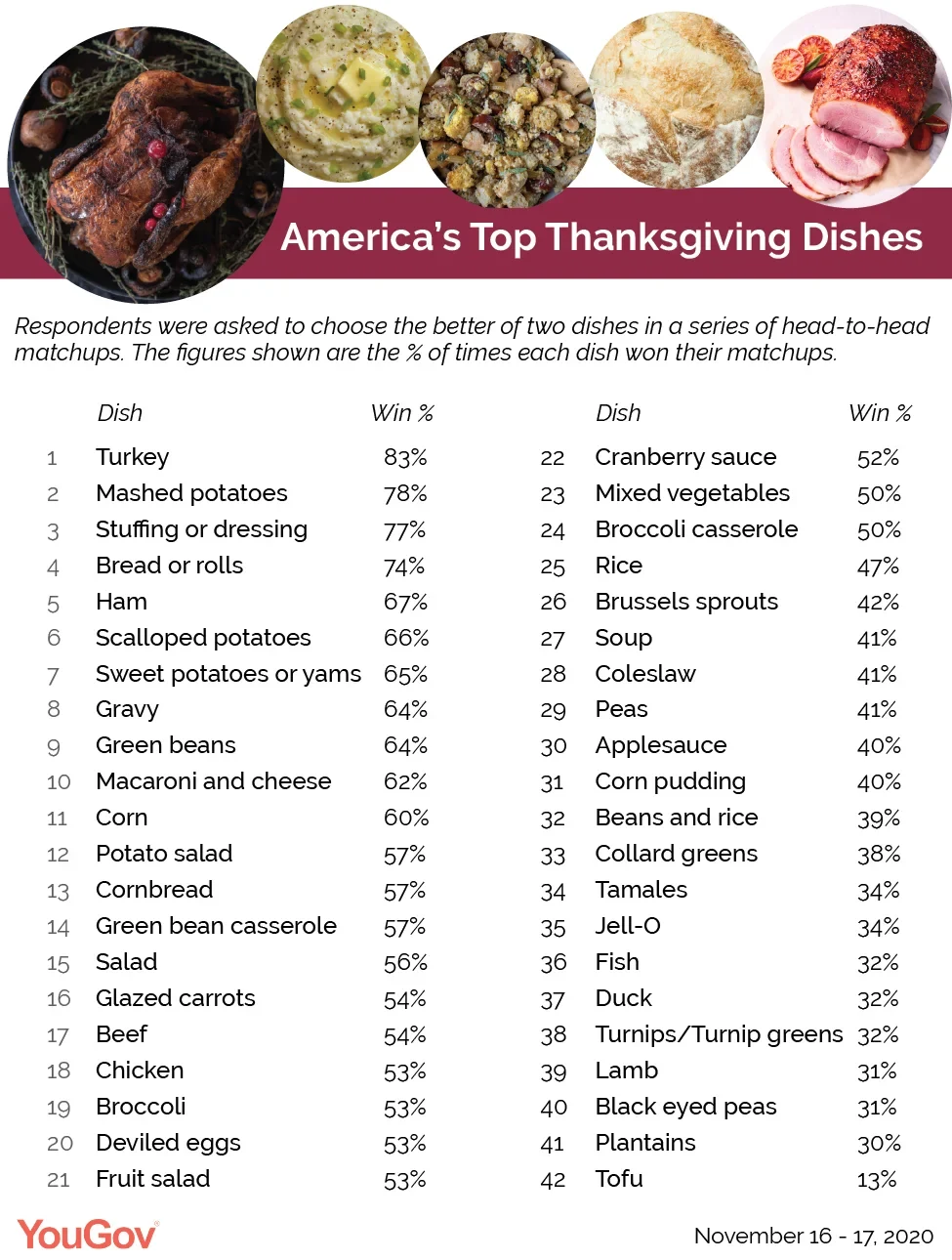 Impressively, regular corn (60%) took the eleventh spot over its sweet bread counterpart — cornbread (57%) — which also trailed behind green bean casserole (57%) and potato salad (57%).
America's Favorite Thanksgiving Dishes by Region
America's different regions can favor different local cuisines, and Thanksgiving dinner provides no exception. While turkey is the top selection in every region, side-dish challenger mashed potatoes are tied for first place in the Midwest (both winning 85% of matchups) and West (both winning 79%).
Southerners are more likely than Americans overall to choose stuffing or dressing in matchups (84% vs 77%). In fact, stuffing or dressing took the secondary spot for Southerners over mashed potatoes (73%). The South also favored turnips or turnip greens (43% vs 32%), collard greens (45% vs 38%), macaroni and cheese (69% vs 62%), and broccoli casserole (56% vs 50%) in Thanksgiving matchups.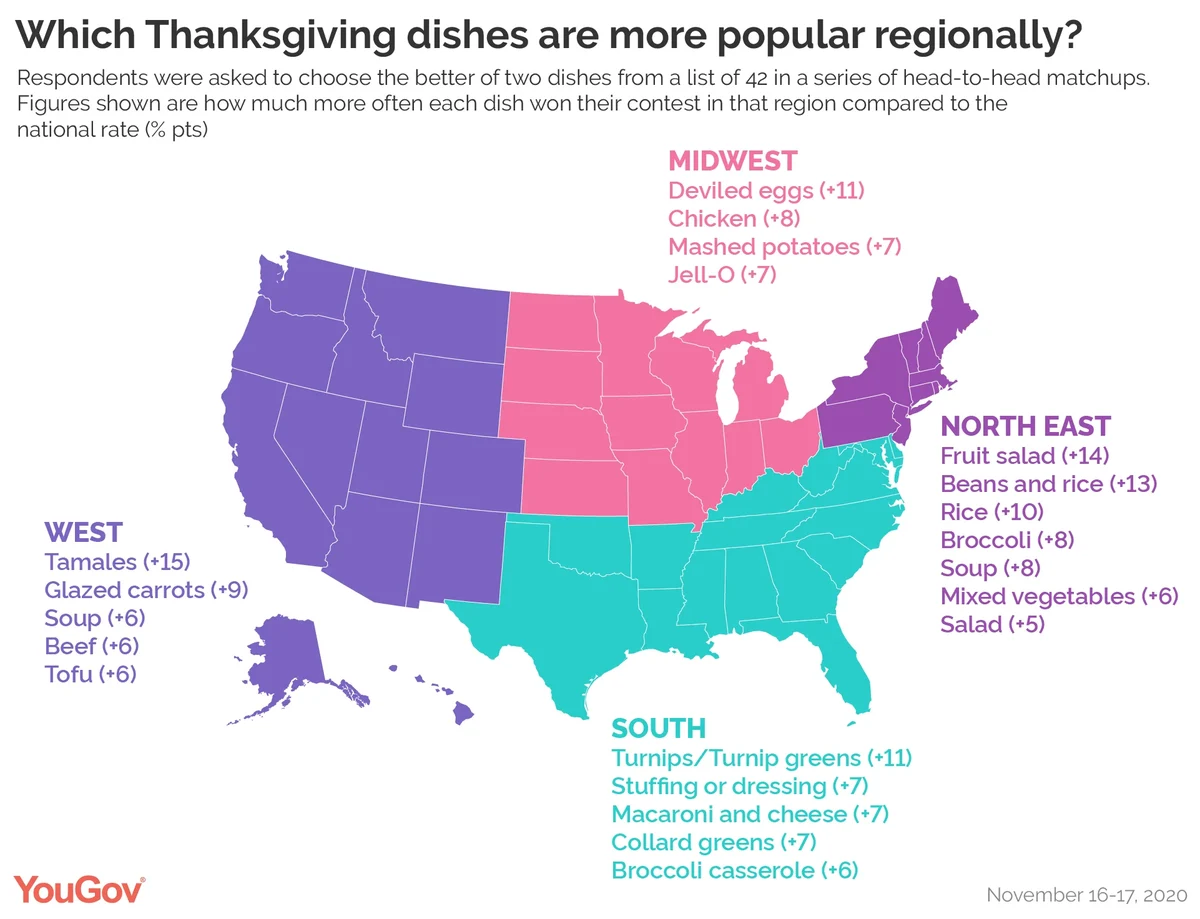 Northeasterners were particularly likely to select fruit salad compared to Americans overall (67% vs 53%), giving it their fifth-highest spot. Americans residing in the Northeast were also more likely to select beans and rice (52% vs 39%), rice (57% vs 47%), soup (49% vs 41%), broccoli (61% vs 53%), mixed vegetables (56% vs 50%), and salad (61% vs 56%) in their head-to-heads.
In addition to mashed potatoes, those residing in the Midwest were more likely than most Americans to hand a victory to deviled eggs (64% vs 53%) and Jell-O (41% vs 34%). They also selected chicken more often than the general population (61% vs 53%), though it still falls behind turkey (85%) and ham (66%) as a main dish in this region.
In the West, tamales are a more popular Thanksgiving dish than in the rest of the country (49% vs 34%). Westerners are also more likely than the rest of the country to enjoy glazed carrots (63% vs 54%), soup (47% vs 41%), or beef (60% vs 54%) at Thanksgiving. And while tofu was by-far the least popular Thanksgiving dish in the matchups with only a 13% margin of victory, Westerners were more likely (19%) than most to find it an acceptable Thanksgiving dish.
Contact uspress@yougov.com with questions about this YouGov Poll.
Related: America's Black Friday plans for the COVID-19 pandemic
Methodology: YouGov ran a survey consisting of 1,373 panelists. Every person was randomly assigned to see 14 different dishes, which appeared in seven head-to-head matchups. For each, respondents were asked to indicate the better dish of the two. In the instructions, we told respondents: "On each of the next few pages, you will see two Thanksgiving dishes. On each page, we would like you to select the Thanksgiving dish that you think is the better one. You will see 7 different matchups between Thanksgiving dishes." YouGov scored dishes by looking at their "win percentage" or how often they were selected as the better dish in a head-to-head matchup.
Image: Pexel