With winter approaching, many Americans are preparing for holiday comfort in the form of their favorite seasonal beverage.
A YouGov survey of 1,000 US adults who are 21 or older found the nation's favorite winter drink is a cocoa classic: hot chocolate. One-third of Americans (34%) select hot chocolate as their top holiday beverage. It is the top choice of women (35%), men (30%), and adults under the age of 50 (34%).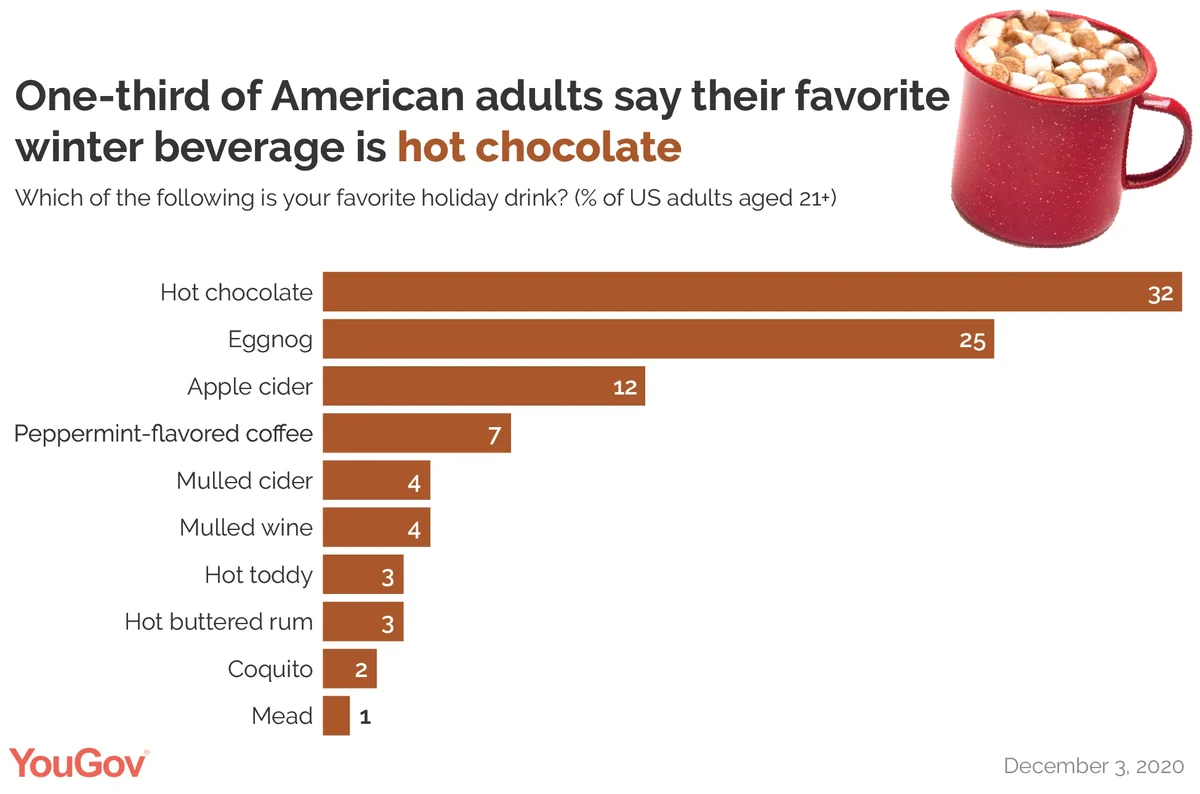 Eggnog is another popular drink around the holiday season, and one-quarter (25%) of Americans say it is their favorite seasonal beverage. Americans who are 65 years or older are more likely to enjoy eggnog (33%) than those between the ages of 50 to 64 (28%) or those younger than 50 (20%).
The third most-popular spot goes to apple cider, with 12% of Americans selecting it. The top three are trailed by peppermint-flavored coffee drinks (7%), mulled wine (4%), mulled cider (4%), hot buttered rum (3%), hot toddy (3%), coquito (2%), and mead (1%).
See the toplines from this YouGov Direct Poll
Related: Despite COVID-19, Americans don't expect the holiday season to be any more stressful than usual
Methodology: There were 1,000 US adults who are 21+ surveyed in this YouGov poll. Respondents were asked "Which of the following is your favorite holiday drink?" with the following response options shown in randomized order: Hot chocolate, Eggnog, Apple cider, Hot toddy, Coquito, Mulled cider, Peppermint-flavored coffee, Mulled wine, Hot buttered rum, Mead. There was also a Don't Know option. The survey was carried out through YouGov Direct on December 3, 2020 between 2:10 p.m. and 3:46 p.m. Eastern Standard Time. Data is weighted according to age and gender to be representative of adults 21+ in the United States. The margin of error is approximately 3.3% for the sample.
Images: Getty and Karolina Grabowska from Pexels