This past holiday season, US leisure travelers gave their highest satisfaction grades to Hampton Inn and Ritz-Carlton but for business travelers, there are several chains which ranked higher.
Marriott topped the business traveler rankings for satisfaction perception for December through the first week of January, followed by W, Doubletree, La Quinta Inn, Hyatt, Sheraton, Courtyard by Marriott, and Wyndham Hotels & Resorts and then Ritz-Carlton.
Two hotel brands appeared solely on leisure travelers' top 10 satisfaction list: the number one pick of Hampton Inn, and Hilton, which came in at number five. The two brands which appeared solely on the business traveler satisfaction ranking are number two --W Hotels -- and number 10 -- Four Seasons.
The top domestic hotel brands were measured with YouGov BrandIndex's Satisfaction score, which asks "Are you a satisfied customer?" All results are for U.S. adults 18+ and divided into two groups: consumers who have taken at least one leisure travel trip in the past 12 months, and consumers who have taken at least one business travel trip in the past 12 months.
Leisure traveler Satisfaction score: Hotels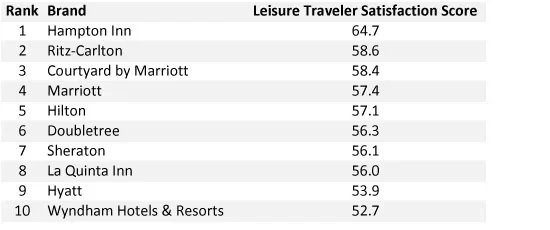 Business traveler Satisfaction score: Hotels