Blackberry is enjoying its best consumer perception in the US since September 2011 in the wake of its new smart phone line announcement. This brings the brand closer to the industry leaders, Apple's iPhone and Samsung's Galaxy.
The Blackberry brand has been picking up more positive feedback than negative from consumers since mid-January, after spending most of the past 14 months with predominantly negative scores.
Samsung's Galaxy's brand perception has been moving steadily upwards since early 2012. The iPhone hit its perception peak in October with the introduction of its latest model, but has been unable to maintain its momentum, and has been falling since the beginning of this year. The iPhone's recent perception decline, and the rise of the Galaxy, puts both phones neck-and-neck, while the Blackberry seems to be getting back in the race.
Blackberry, iPhone, and Galaxy were measured with YouGov BrandIndex's Buzz score, which asks "If you've heard anything about the brand in the last two weeks, through advertising, news or word of mouth, was it positive or negative?" All results are for adults 18+.
Blackberry was hovering around the zero mark from December through mid-January before rising to its current Buzz score of 7. Ahead of Blackberry is Samsung's Galaxy brand at 16, which started January 2012 with a Buzz score of 2.
Apple's iPhone brand reached its 2012 peak with a 38 Buzz score, on October 1st, when the iPhone 5 was launched. Its Buzz score has recently been on a slide, seemingly coinciding with its latest quarterly financials, a falling stock price and press articles questioning its "cool." In the third week of January, the iPhone's Buzz score slid from 27 down to its current 17, just a point ahead of Samsung's Galaxy and 10 points ahead of the Blackberry.
Over a similar period (April 2012 through March 2013) YouGov InvestorView data shows that loyalty rates for smartphone owners likely to purchase a new handset displayed a similar, if less marked, pattern to Buzz scores. When asked what phone they were likely to purchase within the next 6 months 18% of Blackberry owners expected to purchase another Blackberry in the quarter April-June 2012, rising to 43% in Jan-March 2013. Loyalty for iPhone owners dropped from 92% to 85% over the same period, while Galaxy's improved from 46% to 53%.
Buzz scores: iPhone, Blackberry, Galaxy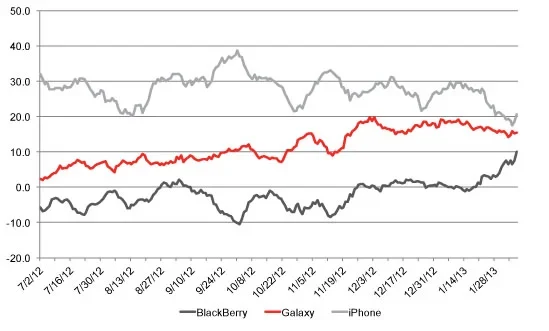 Loyalty rates: iPhone, Blackberry, Galaxy among consumers likely to purchase a handset in the next 6 months