Infiniti may have found a brand savior with its new Q50.
After lagging behind rivals for a long time, the Nissan-manufactured luxury car brand made an impressive perception run from the end of June through late September with in-market car buyers around the time of the introduction of its 2014 Q50 sedan.
While spending much of 2013 in a close race with Acura in perception, Infiniti broke free around September 1st on an upward trajectory that Acura couldn't match. And during the last week of September, Infiniti's perception matched up with Lexus for the first time all year and hit its high for 2013.
Since the first quarter of this year, Infiniti's purchase consideration with car buyers moved closer to its competitors, who were slumping from late spring through mid-August.
The whole luxury car category, which also includes BMW, Mercedes, Cadillac, Audi and Volvo, has been in a bit of an overall purchase consideration slide with in-market car buyers. The sector average slipped from 12% to 10% over these past four weeks
Acura, Infiniti, Lexus and the luxury car sector average were measured with two of YouGov BrandIndex's scores: Buzz score, which asks respondents, "If you've heard anything about the brand in the last two weeks, through advertising, news or word of mouth, was it positive or negative?"; and Purchase Consideration, which asks respondents: "When you are in the market next to purchase items in this particular category, from which of the following brands would you consider purchasing?" All results were screened for adults age 18+ who are in the market to purchase a car anytime over the next six months.
YouGov BrandIndex's Buzz score ranges from 100 to -100 and are compiled by subtracting negative feedback from positive. A zero score means equal positive and negative feedback. Purchase Consideration scores are measured from zero to 100%.
Buzz: Acura, Infinit, Lexus, car makers luxury sector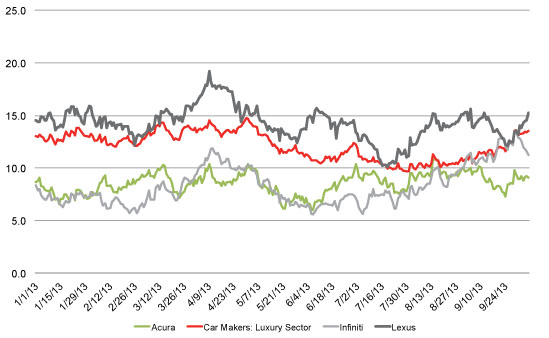 Purchase Consideration: Acura, Infinit, Lexus, car makers luxury sector