A Supreme Court judge is set to review the case of Freddie Lee Hall, a mentally challenged man who was sentenced to death for participating in a rape, robbery, and two murders. The Supreme Court will have to decide if Hall's I.Q. is too low for capital punishment. Nearly half of Americans believe (45%) that there should not be a minimum I.Q. required for someone to face the death penalty, but mental disabilities should be considered during sentencing according to the YouGov Omnibus survey conducted October 25th-28th 2013. Furthermore, only 28% of Americans agree that the I.Q. tests are an accurate method of measuring intelligence.
Nearly 7 out of 10 (68%) Americans are in support of the death penalty for individuals convicted of murder. 49% of Americans believe that individuals convicted of murder should only face the death penalty depending on the case, while 19% of Americans favor the death penalty for anyone convicted of murder in all cases.
Overall 19% of respondents surveyed indicated that they completely opposed the death penalty for persons convicted of murder in any case. Americans living in the Northeast are mostly likely to oppose the death penalty for those convicted of murder, with nearly a fourth of respondents (24%) saying that they did not support the death penalty for murder convictions.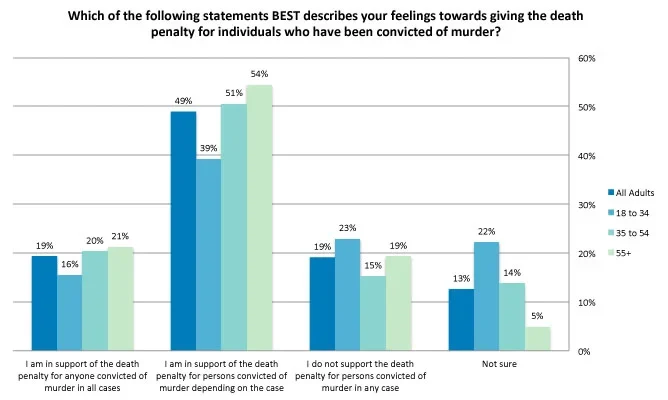 White Americans are most likely to support the death penalty for murderers with 3 out of 4 respondents who identified themselves as white stating that they supported the death penalty for those convicted of murder in either all cases or depending on the case.
For further information about poll results, and for details about methodology and omnibus services, please email omnibus.us@yougov.com.
Find the full results here.