With Thanksgiving and holiday booking season in full swing, the closest thing to a hot budget hotel chain these days may be Best Western. The economy chain pushed itself to the top of the advertising awareness food chain in its category and is being rewarded with the second highest purchase consideration scores by leisure travelers - an indicator of possible increasing sales in the near future.
With airlines, however, there is only one which is clearly delivering the goods with both metrics: Southwest Airlines. Heading into holiday booking season, the carrier maintains a wide lead over a second grouping of airlines – American Airlines, United Airlines, and Delta.
YouGov BrandIndex measured two popular travel categories – economy hotels and domestic airlines -- as perceived by adults 18 and over who have either spent at least one night in a hotel for personal reasons over the past year (hotels) or have taken at least one domestic leisure air trip in the past year (airlines). Each brand is charted by combining YouGov BrandIndex's Purchase Consideration ("When you are in the market next to purchase, from which of the following brands would you consider purchasing?") and Ad Awareness ("Which of the following have you seen an advertisement for in the past 2 weeks?").
Both Ad Awareness and Purchase Consideration scores are measured as percentages, from zero to 100%.
Economy Hotel: Ad Awareness, Purchase Consideration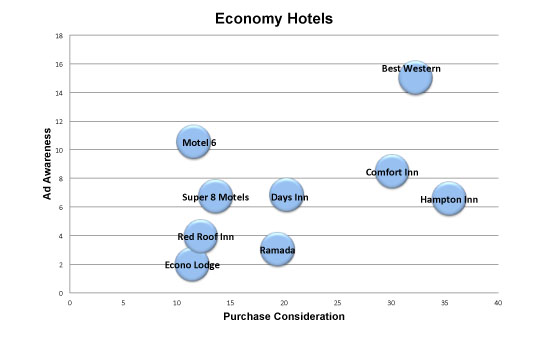 Hotel Rankings
Best Western's hospitality-themed "Stay With People Who Care" campaign launched in February, followed by a series of three-minute online mini-documentaries about the personal lives of Best Western hoteliers around the world. Recently, Best Western launched a mobile location-based ad campaign in the state of Washington, which has seen its click-through rate go as high as 2.3%, according to Mobile Commerce Daily.
Best Western leads the budget hotel category in Ad Awareness with 15%, and its Purchase Consideration is 32%.
The budget hotel chain with the highest Purchase Consideration (35%), but with only middle of the pack Ad Awareness scores with leisure travelers (7%), is Hampton Inn. The chain launched a millennial-targeted 30-second digital video campaign in June that aired on MTV.com and Hulu.
The economy hotel brands with the lowest leisure traveler ad awareness also had the lowest purchase consideration nationally: Econolodge and Red Roof Inn.
Airlines: Ad Awareness, Purchase Consideration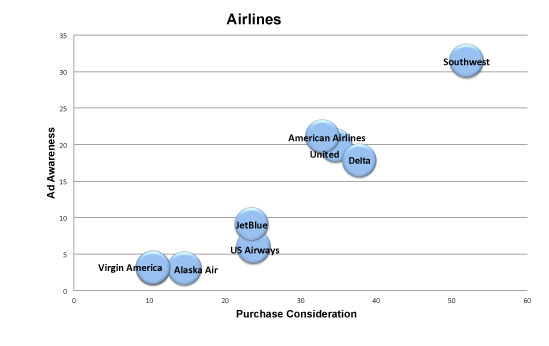 Airline Rankings
Southwest pretty much stands alone in domestic airlines, where it leads in both Purchase Consideration (52%) and Ad Awareness (32%). The airline most likely benefited from its new "If It Matters To You, It Matters To Us" campaign which aired during NFL broadcasts on FOX and CBS touting free in-flight live TV to watch games.
The pack of airlines behind it – American Airlines, United Airlines and Delta – has Ad Awareness in the 18% to 21% range, with Delta having a slight edge in Purchase Consideration (38%) compared to the other two, which hover in the 33% to 35% range.
Jet Blue represents the middle ground – 9% Ad Awareness and 24% Purchase Consideration.
As with budget hotels, the airlines with the lowest Ad Awareness scores had the smallest Purchase Consideration scores as well. With these measurements, Alaska Air came in just ahead (Ad Awareness of 3%, Purchase Consideration of 15%) of Virgin America (3% on Ad Awareness, Purchase Consideration of 11%).