The top four sportswear brands all seem to be resonating with consumers with their latest advertising and marketing campaigns.
Adidas, Nike, Reebok and Under Armour have all seen their perception rise since early August, and their ad awareness with consumers has increased during the same time period - an indicator that the advertising is driving improved perception.
The four sportswear companies have pursued a range of consumer initiatives over the past several months, coinciding with the launch of fall sports season.
Nike's consumer perception more than doubled from early August through the end of September and has stayed at these levels, while its ad awareness has jumped around 50%. In March 2012, Nike replaced Reebok as the NFL's official uniform provider. Its latest ad campaign featuring Calvin Johnson and featuring Sean "Diddy" Combs as Johnson's alter ego was produced by Wieden and Kennedy.
Reebok's perception scores more than doubled in the early fall while ad awareness went up by a third. The company went straight after the performance basketball scene, debuting its now Pumpspective Omni shoes with its "Game Recognizes Game" campaign featuring NBA superstar Jason Terry and young up and coming players. Reebok and Foot Locker teamed up for a crowd-sourced video contest for the relaunch of its classic shoe, the Reebok Pump.
Adidas saw its perception score nearly triple, yet they are at half the level of leader Nike. Ad awareness rose to keep them neck and neck with Reebok these past few months. The company outfits many of the top college football teams, highly visible in many hours of weekend and prime time TV exposure. Adidas fall campaign centered around Washington Redskins quarterback Robert Griffith III's rehab from a severe knee injury at the end of last season.
Under Armour made the smallest leap in perception and ad awareness in the group. They may still be the official sponsor of the NFL's Scouting Combine, but the manufacturer was already sneaking in their branded visor clips into games via Carolina Panthers quarterback Cam Newton and others. This past July, Under Armour unveiled their new "I Will" global advertising campaign, kicked off by a "Ready For August" spot is executive produced by former Baltimore Ravens linebacker Ray Lewis, while last month, Lindsey Vonn promoted fall weather gear.
Adidas, Nike, Reebok and Under Armour were measured with two of YouGov BrandIndex's scores: Buzz, which asks respondents, "If you've heard anything about the brand in the last two weeks, through advertising, news or word of mouth, was it positive or negative?"; and Ad Awareness, which asks, "Which of these brands have you seen an advertisement for in the past two weeks?" All respondents were adults age 18 and over.
YouGov BrandIndex's Buzz score ranges from 100 to -100 and are compiled by subtracting negative feedback from positive. A zero score means equal positive and negative feedback.
The Ad Awareness scale is from zero to 100%.
Buzz: Adidas, Nike, Reebok, Under Armour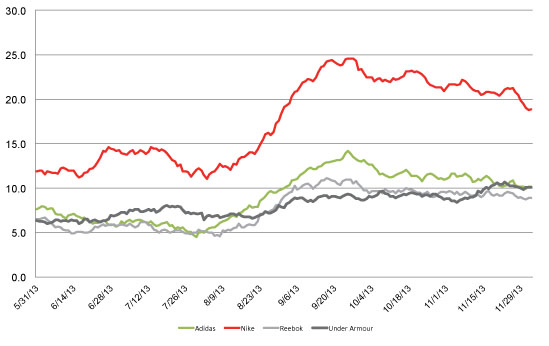 Ad Awareness: Adidas, Nike, Reebok, Under Armour