You can call it a rum punch: Captain Morgan has made a jump in consumer purchase consideration over the past 30 days to arrive right behind rival Bacardi, a strong signal that sales could be on the rise for the Diageo brand.
While its annual Halloween-timed campaign featuring 17th-century buccaneer costumes didn't seem to move the meter much, Captain Morgan's rowdy ads urging "Be Like The Captain" and a plethora of online holiday drink recipes seem to have had greater impact. Purchase consideration jumped 58% between mid-November and early December, while product buzz scores grew by a third.
Bacardi still maintains a slim lead in purchase consideration over Captain Morgan. The rum brand launched its own global history-themed "Untamable" campaign in mid-November, just as Captain Morgan was taking off. But it appears to have had a negligible impact on purchase consideration, but it did correspond with an increase in buzz – what people hear through ads, news stories and via word of mouth – up 57%, but still falling short of Captain Morgan's mark.
Currently, both Bacardi and Captain Morgan place comfortably above the major spirits sector average in both purchase consideration and product buzz metrics.
Bacardi leads the rum category, with a 35% share of the volume sold in the U.S. in 2012, followed by Captain Morgan, with a 23% share, according to Euromonitor International.
Bacardi, Captain Morgan and the major spirits sector were measured with two of YouGov BrandIndex's metrics: Purchase Consideration, asking respondents "When you are in the market next to purchase products in this category, from which of the following brands would you consider purchasing?" and Buzz, which asks "If you've heard anything about the brand in the last two weeks, through advertising, news or word of mouth, was it positive or negative?" All respondents were age 21 and over.
YouGov BrandIndex's Purchase Consideration scale is from zero to 100%.
Purchase Consideration: Bacardi, Captain Morgan, Major spirits sector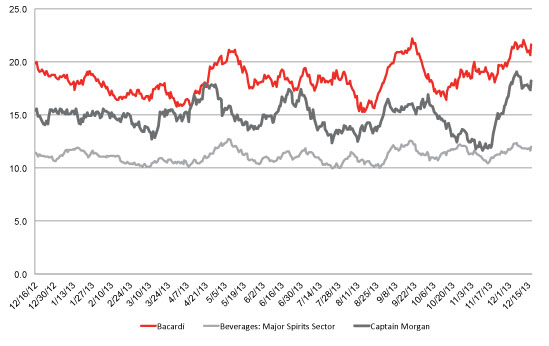 Buzz: Bacardi, Captain Morgan, Major spirits sector