Highly viral ads from retailers don't necessarily equal great sales or value for consumers in the end.
Case in point: Kmart's "Ship My Pants" spot logged 8 million views on YouTube over the past eight months, spinning off two sequels including a new one for this Christmas shopping season.
BrandIndex research shows not only has Kmart hovered above the country's biggest retailers in ad awareness for the first half of this year, but they began pulling away from their competition in early August and scores have recently soared.
However, with analysts currently saying this is the most discounted holiday season since the country was in a deep recession, Kmart's consumer value perception has plunged over the past 30 days.
Along with below average tracking in purchase consideration – BrandIndex's key measurement of potential future sales -- it's a combination which may not bode well for parent company Sears Holdings, despite how well known the ad campaign is.
Perhaps there was some wider truth to Belus Capital Advisors equities analyst Brian Sozzi's early November posted photos from four visits to New York City area Kmart's: all of them showed empty shelves, disarray, and dusty merchandise.
Luxury chain Saks is the other major retailer to lose significant value perception over the past month, but by a far smaller margin than Kmart.
Both Gap and Banana Republic lead the way in value perception increases over the past 30 days.
YouGov BrandIndex measured 18 of the most popular national retail chains as perceived by adults age 18 and over. Each retailer is charted by combining three of YouGov BrandIndex's most relevant scores: Value (""Does it give good value for what you pay?"), Purchase Consideration ("When you are in the market next to purchase, from which of the following brands would you consider purchasing?"), and Ad Awareness ("Which of the following brands have you seen an advertising for in the past two weeks?").
YouGov BrandIndex's Value score ranges from 100 to -100 and are compiled by subtracting negative feedback from positive. A zero score means equal positive and negative feedback.
The Purchase Consideration and Ad Awareness scales are from zero to 100%.
Value: Kmart, Big holiday shopping stores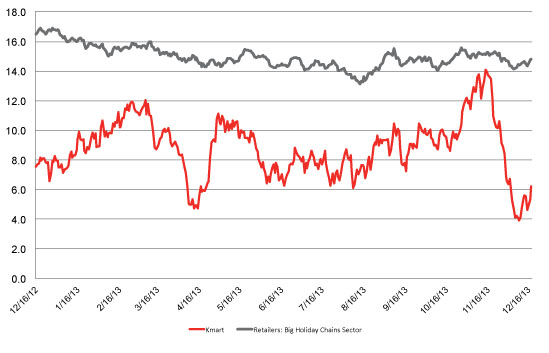 Ad Awareness: Kmart, Big holiday shopping stores