During the spring, both Lexus and BMW leapt into a substantial lead over their luxury category rivals with potential car buyers in purchase consideration levels, a key measurement in potential sales.
Mercedes Benz is in an unusual position: while it has consistently ranked in the top three luxury car brands in overall brand health throughout 2014, this has not translated into robust purchase consideration. Currently, Mercedes lags nearly the entire luxury car sector in this important sales metric.
For Lexus, this has been a huge bounce back from a first quarter slide that briefly took them down below brands like Infiniti, Audi and Mercedes Benz. They have gone from 6% of US likely car buyers saying they would consider the brand in mid-February to 16% currently.
Combined with possessing the second highest levels of luxury car category brand health with potential buyers as measured by YouGov BrandIndex, Lexus is well positioned for a memorable spring to summer season. Lexus has touted its "always on" marketing strategy in the trades, focusing on a new model in the line-up each month.
BMW's purchase consideration surge with potential buyers began two weeks before Lexus, rising from a 9% in early February to a virtual tie with Lexus at 16% now. The timing coincided with the car maker prominently viewed during the Sochi Olympics bobsled races, having built six two-person vehicles for the U.S. team. BMW maintains the top position of brand health in the luxury car category, as measured by YouGov BrandIndex.
Infiniti, in the market for a new ad agency, has the opposite challenge as Mercedes: they've also seen a recent mini-surge in purchase consideration, taking them from the bottom spot to being right in the mix with most of the other luxury brands. However, their brand health has been near or at the bottom of the luxury car group for the year to date, so the incoming agency has its work cut out for it.
Acura, Audi, BMW, Infiniti, Lexus and Mercedes Benz were measured two of YouGov BrandIndex's scores: Index, the research firm's centerpiece score of brand health, an average of component scores Quality, Value, Impression, Satisfaction, Reputation, and Willingness To Recommend; and Purchase Consideration ("When you are next in the market to purchase in this category, from which of the following would you consider purchasing?"). All respondents are adults age 18 and over who are in the market to make an auto purchase over the next 12 months.
Purchase Consideration scores are expressed as percentages, with a range of zero to 100%.
Index: Luxury Autos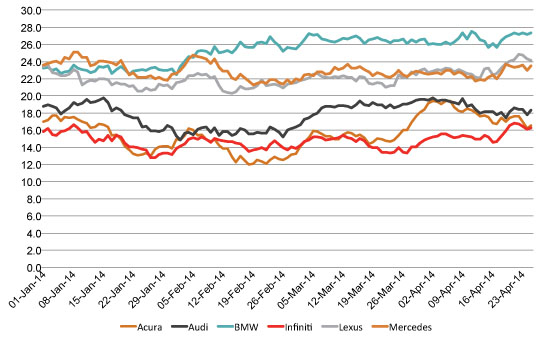 Purchase Consideration: Luxury Autos