E*Trade's six-week-old campaign touting the financially-savvy "Type E" customer has drawn increasingly positive buzz and ad awareness, although it has yet to move consumer purchase consideration.
After dropping its long-running talking baby campaign, E*Trade shifted gears into perhaps less frivolous territory, even tapping actor Kevin Spacey for one spot. All the signs point to the new spots driving attention for the brand: the discount brokerage's ad awareness rose from 26% of all adults 18 and over at launch time to peaking at 32% two weeks ago, and overall consumer perception has ramped up 50%.
However, if the desired result is more sales, the purchase consideration metric has essentially remained flat – when the same adults 18+ demo is in the market for a product in its competitive financial category, levels crept up slightly in early campaign stages to between 7% and 8% of them considering choosing E*Trade, and that only recently tailed off to the pre-campaign 6% level.
E*Trade was measured with three of YouGov BrandIndex's scores: Ad Awareness ("Which of the following brands have you seen an advertisement for in the past two weeks?"), Buzz ("If you've heard anything about the brand in the last two weeks, through advertising, news or word of mouth, was it positive or negative?"), and Purchase Consideration ("When you are next in the market to purchase products in this specific category, from which of the following would you consider purchasing?"). All respondents are adults age 18 and over.
While Ad Awareness and Purchase Consideration are measured in percentages ranging from zero to 100%, Buzz is measured from 100 to -100, with a zero score means equal positive and negative feedback.
E*Trade's Buzz score rose from 8 when the campaign launched in early April and peaked on May 6th with a 12 score. The Buzz score has since moved slightly down to 11.
Buzz: E*Trade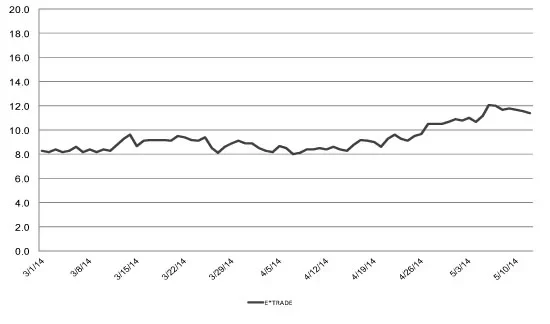 Ad Awareness: E*Trade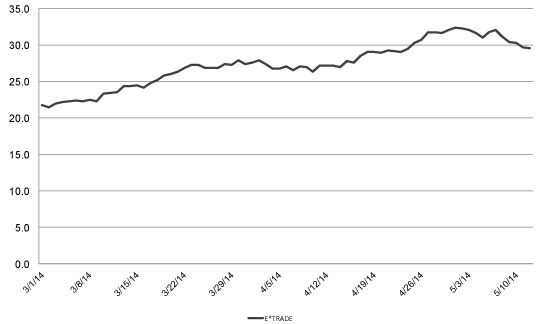 Purchase Consideration: E*Trade