Costco has jumped from last year's number 14 position to take the top spot as this year's best perceived brand by LGBT Americans.
The Human Right Campaign gave Costco a score of 90 out of a possible 100 points in its most recent Corporate Equality Index Rating, an assessment of LGBT policies in the workplace, And job site Glassdoor just cited Costco as one of the three best companies to work for in America because of their pay and benefit packages.
Netflix held steady in the second place spot, while like Costco, Panera Bread made a big jump, from number 19 last year to number 3 this year. Last fall, Panera CEO Ron Schaich took what is known as the "SNAP Challenge" – eating at poverty levels for $31.50 for one week. The chain is known for donating their unsold food to local hunger relief and recently announced they are removing all artificial ingredients by 2016.
Apple and Subway both re-appear on the top 20 ranking after not being on it last year. Debuts on this year's top 20 ranking include Ace Hardware, Subaru, Lowe's, Johnson & Johnson, V8 juice, Home Depot, Maytag and Bose. V8 also debuted on this year's best perceived brands by fathers that YouGov BrandIndex released earlier this month.
The top five brands which made the biggest perception gains with LBGT consumers overall since last year are, in order, Carnival, Walmart, Exxon, BP, and Abercrombie + Fitch, none of which appear on this year's top 20 ranking.
Falling off of the top 20 this year: Target, Kindle, Google, Aflac, Android, iPhone, HBO, and M&Ms.
All 1,400 brands in the YouGov BrandIndex brand universe were measured with the company's Buzz score, which asks respondents "If you've heard anything about the brand in the last two weeks, through advertising, news or word of mouth, was it positive or negative?" All results were filtered for respondents who identified themselves as lesbian, gay, bi-sexual or transgender. Scores from April 1st through June 10th were averaged to create the ranking. Those scores were compared to scores from the same period one year ago to calculate the top movers list.
YouGov BrandIndex's Buzz scores range from 100 to -100 and are compiled by subtracting negative feedback from positive. A zero score means equal positive and negative feedback.
Buzz: LGBT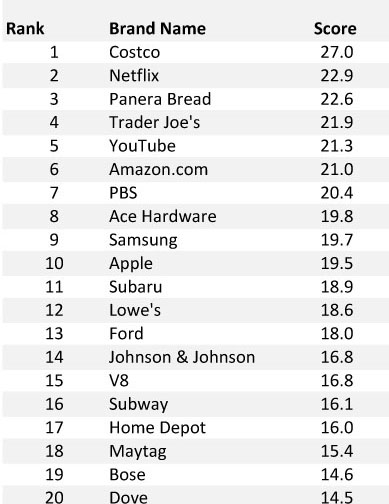 Buzz Improvers: LGBT