A voluntary nationwide recall of 30,000 cases of hummus has brought Sabra to its lowest consumer perception point in more than two years.
Sabra had been leading two of its main rivals – Athenos and Tribe -- throughout that period but after the recall, Sabra dropped below both of its competitors.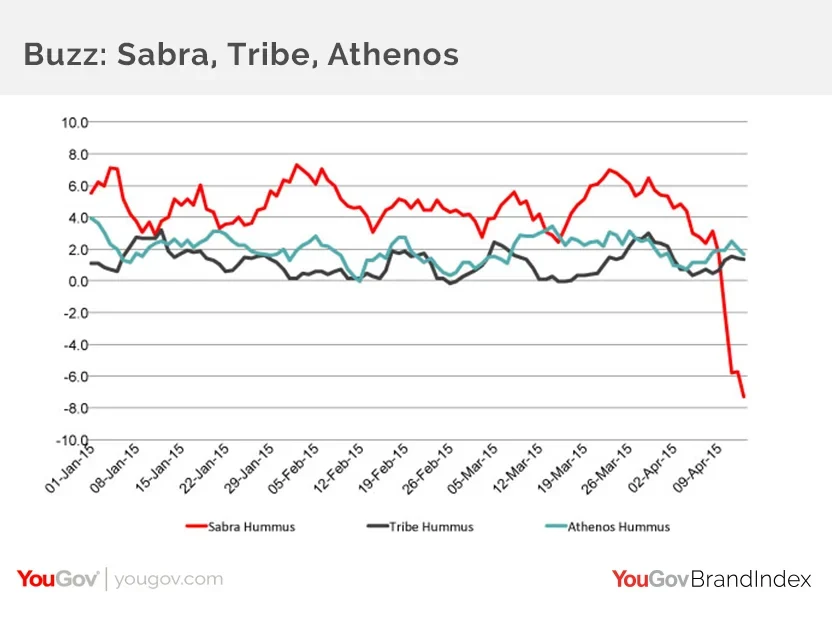 YouGov BrandIndex used its Buzz score to measure perception, which asks respondents: "If you've heard anything about the brand in the last two weeks, through advertising, news or word of mouth, was it positive or negative?" A score can range from 100 to -100 with a zero score equaling a neutral position.
Even though no illnesses were reported, Sabra's Buzz score fell from a 3 on April 6th to -7 as of today.
Also, word of mouth levels for the brand nearly tripled from 3% of adults 18 and over talking about the brand with friends and family to 8%.
Other YouGov BrandIndex metrics were impacted, but not as dramatically: 12% of consumers said they'd consider purchasing Sabra products the next time they were shopping for Mediterranean food products, down from 16%; and Sabra's Recommendation score fell from 16 to 13 (based on the same scale as Buzz). In both cases, Sabra maintained its lead over both Athenos and Tribe.